I took a bit of an unplanned blogging break over the past few weeks, but I'm back and ready to catch up!

March wasn't very spring-like in NYC this year. We had a snowstorm, and a lot of cold, rainy days. But we made the most of the clear—if chilly—days, when they appeared. We spent one of them at the Brooklyn Botanic Garden. We have a membership there, and I love to visit off season, when there aren't many visitors and you can roam the grounds in peace. We'll go back soon for the Cherry Blossoms, which will also be lovely but much less peaceful.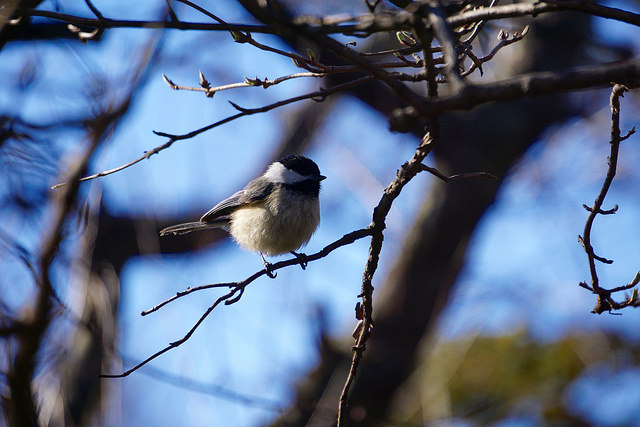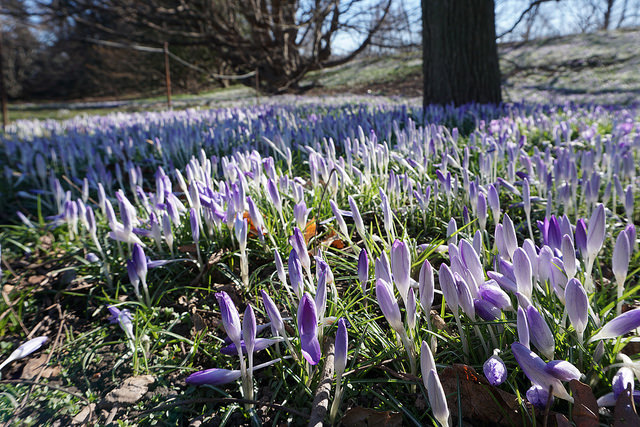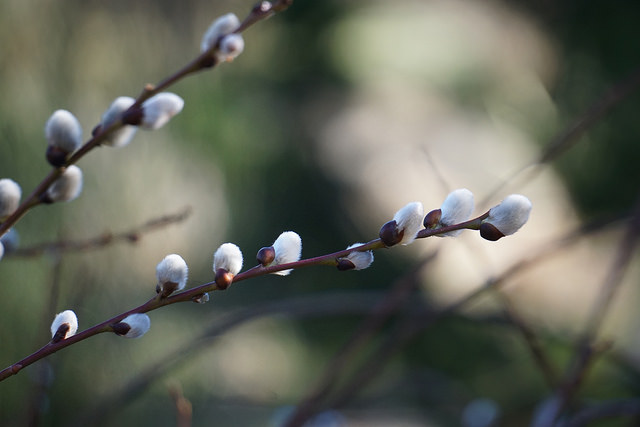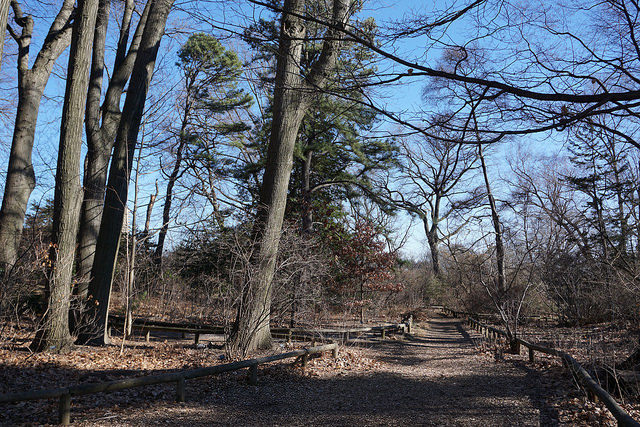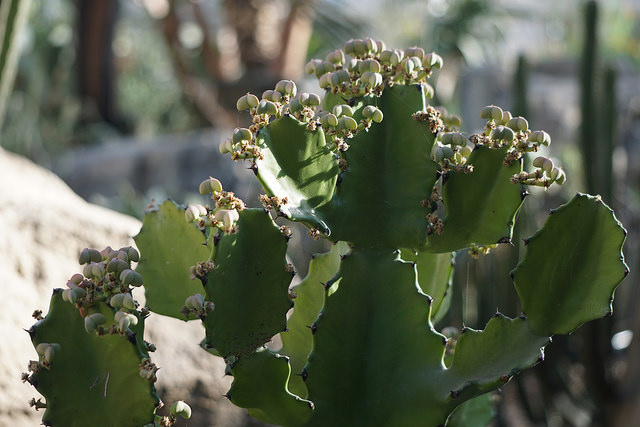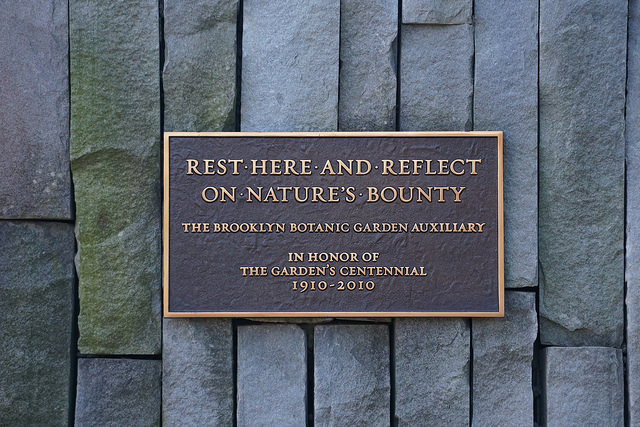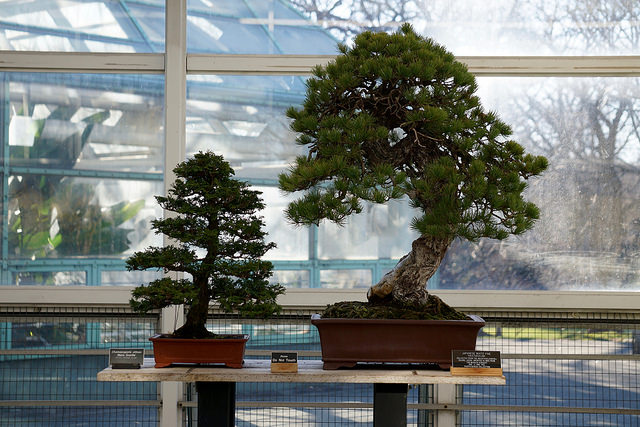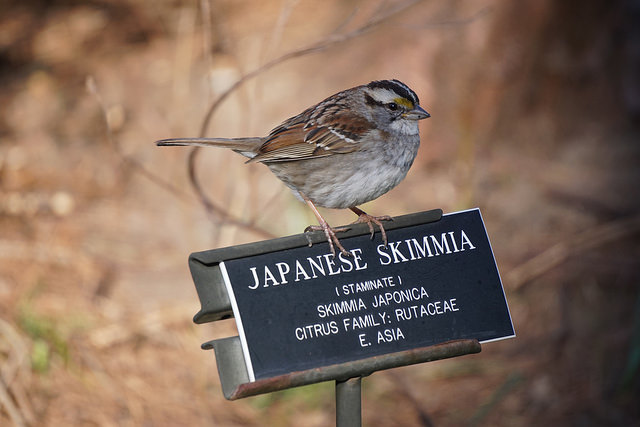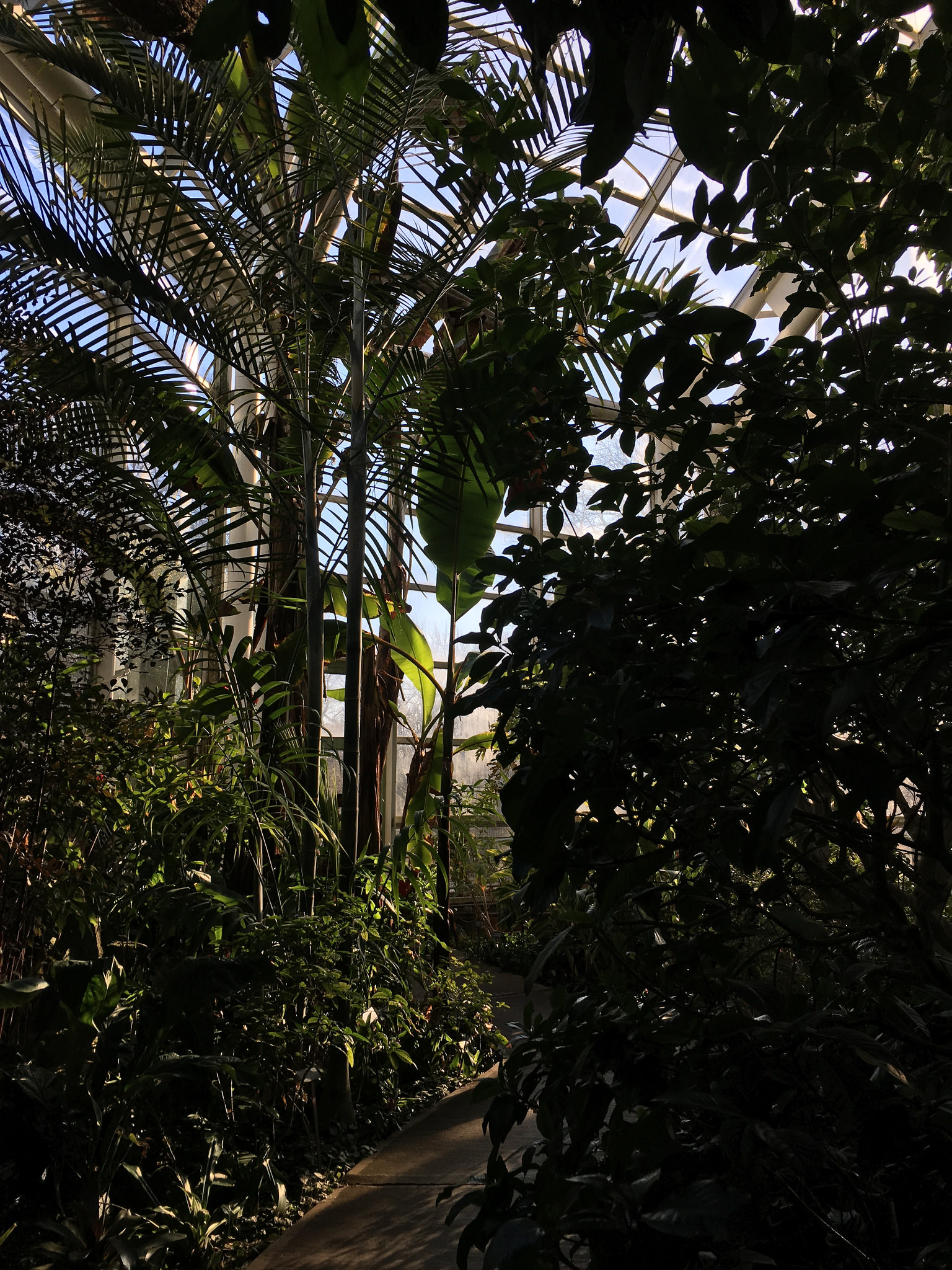 I've started Gone with the Wind, I'm tackling it the way I do most giant classics: reading along with the audiobook. It's a 49 hours, but I'm enjoying it very much. It's an epic, captivating story. I read a lot of other books before I started this one at the end of March, so I have a lot of work to do to get my monthly reading recap up!


Here are my 2017 resolutions (in bold) and, in italic, the progress I made – or didn't make – on them in March:
Go to the gym (or work out elsewhere) 3 times per week. We're getting back into the grove. Not consistently going three times per week yet, but getting there. The warmer weather is helping: I'm able to run outside in the mornings before work.
Try yoga. Give it a real shot and go several times or try different classes. If that fails, try regular stretching at home. No progress here yet. And no good excuse.
Go to meditation classes at Etsy, regularly (at least once per week). Good progress here – I went to nearly every class at Etsy in March.
Start a writing habit (IE: set amount of time daily for just writing: set a timer, turn internet off). For both blogging and personal writing. Haven't started yet. All I've wanted to do is read, so I've been going with that urge. 
Eat an apple every day. Well – I had to stop eating apples. I ate about 65 – basically one a day, and then my stomach decided it had enough and began to rebel – hurting like crazy. My GI said my stomach can't digest all the fructose, and I had to go on a special diet to recover. I have to change this resolution to eat "fruit" every day – I can switch to fruits that are easier on my stomach, such as bananas and berries. It's frustrating when your body rebels against your good intentions. 
Start cooking healthier meals. More veggies and greens, less carbs. The special diet I mentioned in #5 has made this difficult too. Will get back on track when I can eat normally again. 
Make 12 new recipes. I made three new recipes in March: roasted beets, Irish soda bread, and braised pork chops. (More on the latter two below.)
Spend less time on social media at home – especially in the evenings and on weekends. Put phone out of reach. Ok progress here – about 3 evenings a week (I'm keeping a log), I put my phone in the other room and don't touch it. 
Volunteer regularly (at least once per month). I volunteered in March – again to help women from Sudan practice English conversation at the Arab American Family Support Center. 


– The Month: February 2017
– Polysyllabic Spree: February 2017
– The March Trilogy by John Lewis, Andrew Aydin, Nate Powell
– Collecting Books: Books I Couldn't Purge


Etsy spots of the month:


I made a lot of hearty meals in March, figuring that if the weather was going to stay cold, I'd keep the kitchen warm all day roasting pork and potatoes. These delicious meals kept us warm and cozy, and made great leftovers to bring to work throughout the week.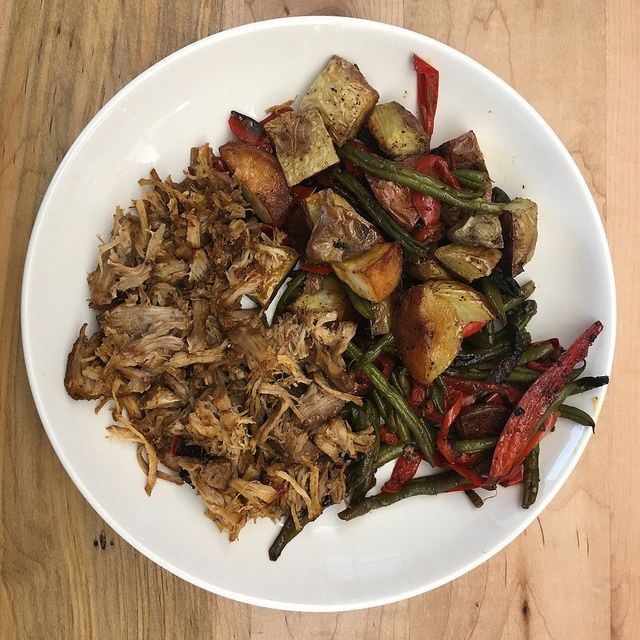 Graham and I like to celebrate the changing seasons by planning special dinners for the solstices and equinoxes. It's nice to pause to mark the passing of time, and I am happy to live in a place with four distinct seasons. We plan out what we want to eat, and I like to try out at least one new recipe. This year I tried two: Irish Brown Bread and Braised Pork Chops. Graham bought flowers on his way home from work, and we cooked a delicious meal. In addition to the bread and the chops, we made mashed potatoes, deviled eggs, and green beans. It was a lovely dinner.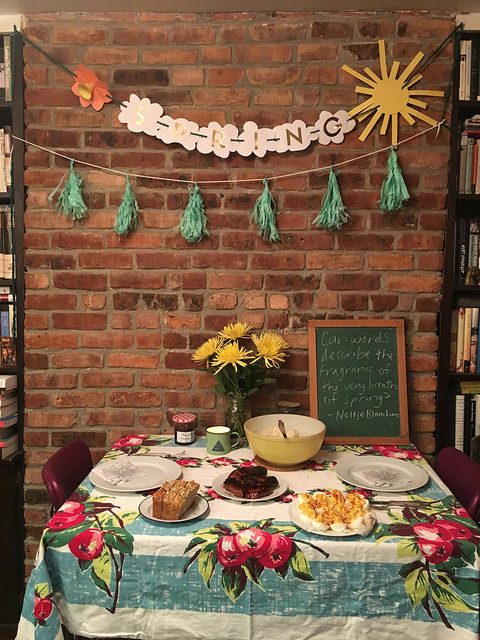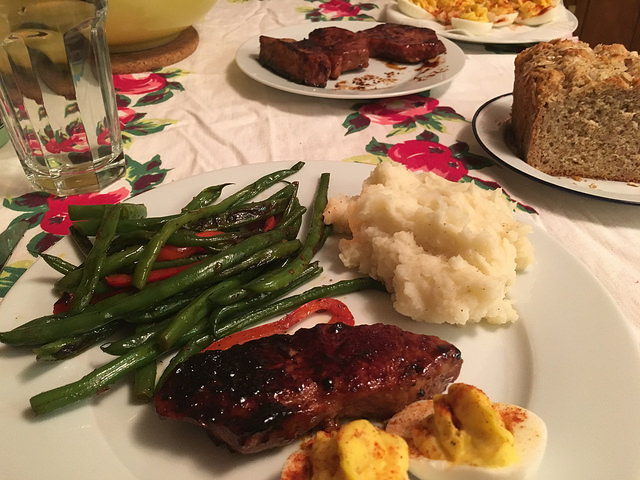 It's so nice having an Alamo Drafthouse in Brooklyn, it makes the perfect weeknight date: tucking into some great food while watching movie. I went to see Beauty and the Beast with Dara and Chris, and I loved the magical, funny, beautiful retelling. At home, Graham and I have been obsessively watching The Great British Baking Show.


I'm not listening to much besides the 49 hours of Gone With the Wind I mentioned above, but I have been trying to keep up with my favorite podcasts, and I have In Such Good Company by Carol Burnett checked out from the BK library on Overdrive, waiting patiently for me to finish with Scarlett.

//
And that's the month! I hope you're enjoying spring, wherever you are. (Or autumn, if you're in a different hemisphere.)