When I moved from Hoboken to Brooklyn in 2011, I carefully weeded my book collection before moving it across the Hudson and East rivers. I didn't keep track of how many books I said goodbye to then, but it was probably 10-15% of my collection. I set up my apartment in Brooklyn (the one Graham and I still live in) with room to continue to grow my book collection: the living room has two very large built in bookcases on one wall, and I bought two big Billy bookcases from IKEA for the bedroom, as well as one of the little ones. For a few years my books fit comfortably on these 25 shelves. Until they didn't. I had to start double stacking the paperbacks into the Billy shelves – masking the true size of my collection. Books were stacked on my coffee table and nightstand. There was no room for more books.
In 2015, when I got back from traveling around the world, I read The Life Changing Magic of Tidying Up and started purging clothes, mugs, DVDs, and – of course – books. I wrote about that process in general here, and specifically about the books here. (Graham owns about 5 or 6 books, and I occasionally ask him if there are any he'd like to purge to make more room for all the new books I bring home. Writing that sentence makes me feel horrible, so I vow to stop doing so henceforth.)
I got rid of 252 books during that initial purge in 2015, and have since shed 223 more. The easiest to go were the ones I'd simply lost interest in. I was no longer interested in reading some of the books I bought 11 years ago when I first discovered Strand and its 18 miles of books. My reading tastes have changed, I have changed.
After the books I'd lost interest in were removed, the weeding got harder. Now I had to confront mortality. There were books that I'd enjoy reading if I could read 500 books a year, or if I was immortal, or could take my books with me into an afterlife. But I was still buying 80-100 books a year, re-reading favorites, and checking books out from the library. And so the next phase of purging involved coming to terms with having limited time to read and choosing to identify the books that were so low on my list of reading priorities that realistically they'll never be read – not so long as all the other books are still there.
But along the way, I found a few books in my possession that I doubt I'll ever read, but that I can't bring myself to purge. There are two specifically, and both involve meeting the author of said books:
The Castle in the Forest by Norman Mailer
When I first moved to NYC nearly 11 years ago, I went through a phase where I attended huge numbers of book events. The first friend I made in the city was also an avid reader, and she frequently came with me, but I'd also go alone. About 8 months after I moved to the city Normal Mailer had an event at Barnes and Noble to promote his latest book. I'd never read anything by Mailer, but he had won the Pulitzer Prize twice and my midwestern bookish soul jumped at the chance to see any literary lion who participated in free book events.
Whenever I go to a book signing, I always stress a little about what to say to the author during your 30 second window of conversation, while he/she is signing your book. Usually I just mumble some appreciation of a particular work I like best, but in Norman Mailer's case, I hadn't read anything of his (still haven't). So after I listened to him read from The Castle in the Forest, which was a little boring (I kept saying to myself: You're listening to Norman Mailer read. This is cool. Don't be bored), I stood in line and waited my turn to meet him. When I got to the front, I told him I liked his performance on Gilmore Girls. That's what I had to say to a very old man who has won two Pulitzers: I liked your cameo on Gilmore Girls. He looked at me curiously, and then said "Thank you."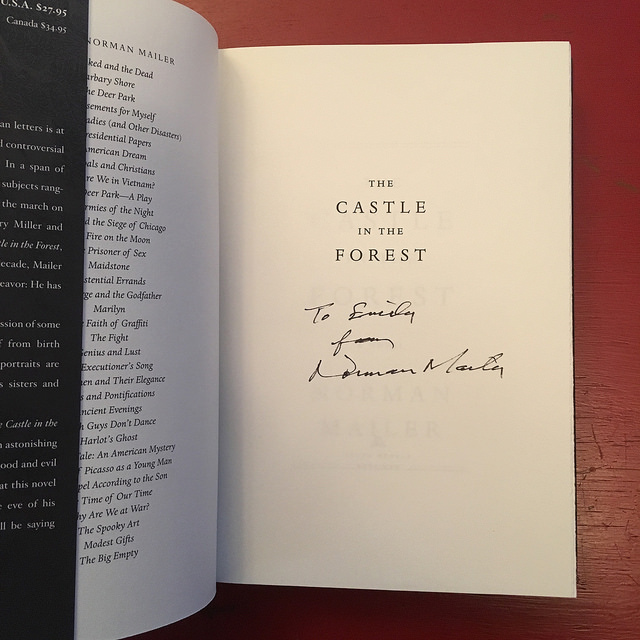 I doubt I'll ever get around to reading The Castle in the Forest — I do want to read some of his work some day, but I am most interested in reading The Executioner's Song. But I can't get rid of this book, it reminds me of the earnest, nerdy, awestruck girl of 22 who told Norman Mailer that she liked his performance in Gilmore Girls. He died later that year, and I'm glad I went to see him at one of his last events.
Dave Barry's History of the Millennium, So Far
I went to see Dave Barry around that same time. I grew up reading his syndicated newspaper column, and his writing always made me laugh. And that's exactly what I told him when I got to him in line and presented my book for him to sign. He seemed delighted to hear that, and maybe that's what prompted him to inscribe my copy: "For Emily, a goddess"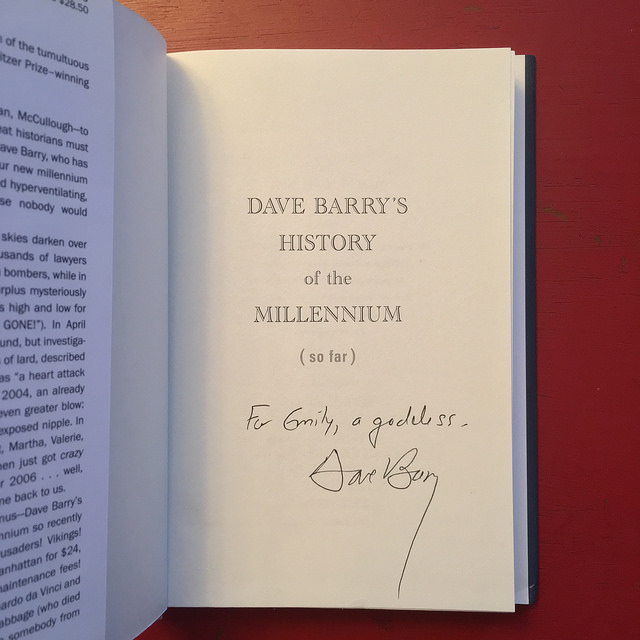 Dave Barry still makes me laugh, but I don't keep many of his books on my shelves anymore, except for this one. When an author calls you a goddess in his inscription, you hang on to that book.
//
What about you, reader, are there books on your shelves you may never read, but can't bare to get rid of?
(Featured image above is Library books by faungg's photos CC BY-ND 2.0.)