February held many wonderful books – I packed a lot of great reads into the shortest month of the year. Here's a look at what I read and what I bought last month.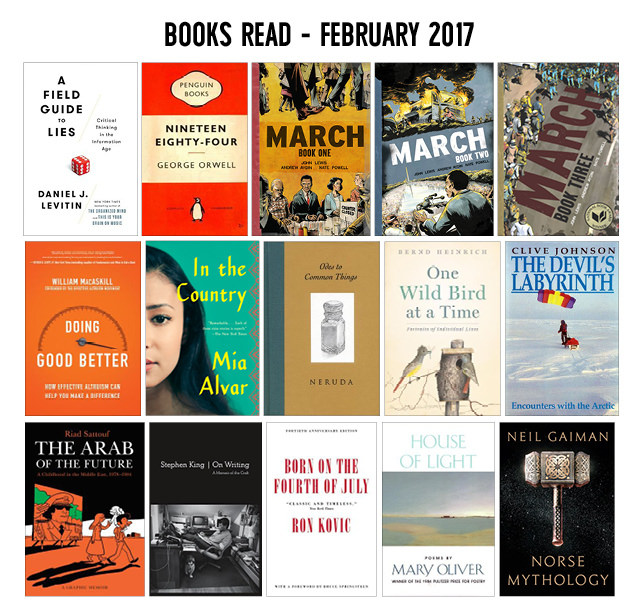 Books Read: 15
NON-FICTION
A Field Guide to Lies by Daniel J. Levitin was the first of six audiobooks I listened to in February. It aims to provide the reader with basic guidelines about how to evaluate statements, claims, and data for truth and plausibility. A lot of the tips are common sense, but it provided interesting ideas to mull over, and tips to keep top of mind in this crazy world of alternative facts.
I also listened to Doing Good Better by William MacAskill, which outlines a methodology for those who want to learn how they can do the most good they possibly can – "most good" meaning most impactful, in this case. I didn't agree with everything he said, and was skeptical about the feasibility of other ideas, but it did help me think about ways to donate money and energy to causes that will have extremely beneficial results. I'm not going to stop donating to causes I care about that may have less impactful results, and I'm not going to stop recycling or turning out unneeded lights just because those have a very low single person lifetime impact. But I did enjoy learning about causes and organizations I can donate to that will have big results, and it's a very interesting book.
One Wild Bird at a Time by Bernd Heinrich was audiobook number three – a lovely account of a life spent in the pursuit of wild bird observation. If that idea interests you, you will like this book. I love reading books about the things people are passionate about, and it's even more of a treat when their passions align with my own.
I'm enamored with arctic exploration, but up until now I've never read any stories about modern exploration. At the time Labyrinth: Encounters with the Arctic by Clive Johnson was written (mid 1990s), no one had ever traveled to the north pole and back on foot, unsupported. This is the story of his attempt, and it's an invigorating, astonishing, and fascinating read.
I'd never read any Stephen King before diving into On Writing, and I think it was the right place for me to start. This is a wonderful, wonderful book. It starts with a bit of memoir that focuses on his path towards the writer's life, and then flows easily into his practical and wise advice on storytelling and writing. It seems indispensable for anyone who wants to write, and also of interest to people who just enjoy the end result and want to learn more about the process. I also think it set me up well for finally reading one of his novels: I'm pondering starting with 11/22/63 or The Stand.
Born on the Fourth of July by Ron Kovic was another February audiobook, and I enjoy listening to Kovic's memoir about his time serving in Vietnam, and his time at home after — learning how to live with a life changing disability and his journey into anti-war activism. He switches perspectives in the book a few times, which is a bit jarring on audiobook, but I got used to it.
FICTION
Nineteen Eighty-Four has been on my TBR list for many years, and like many others I felt like it was the right time to pull it off the shelf and see what it has to teach us. It's a fantastic novel in its own right, and there are scary parallels to the world of Twenty Seventeen. I read it during the beginning of February when I was already on high alert from everything in the news, and spending time immerse the fictional world of Oceania heightened my sense of paranoia and doom.
In the Country by Mia Alver is a fantastic collections of stories about Filipino life, both in the Philippines, and as immigrants abroad. Each story is unique and powerful, but I think I liked Shadow Families best – a story about social class and status in the world of Filipino women living in Bahrain.
I read / listened to Norse Mythology by Neil Gaiman — what an enchanting escape it was to immerse myself in the world of Norse gods and mythology. It's also always a treat to listen to Neil Gaiman read his own work on audiobook.
GRAPHIC NOVELS
I picked up a copy of The Arab of the Future: A Childhood in the Middle East, 1978-1984: A Graphic Memoir by Riad Sattouf at my mom's library while I was in Michigan, and read it in one day. I enjoyed Sattouf's account of his unique childhood – growing up with a French mother and Syrian father, moving frequently between rural France, Syria, and Libya, and I'm looking forward to reading the sequel.
POETRY
I've been feeling a need to expand my poetry horizons lately – I've been reading (and loving) a whole lotta Mary Oliver of late. So I picked up Odes to Common Things by Pablo Neruda. It was pure delight – charming poems about everything from dogs to french fries. It also meets the "Read a collection of poetry in translation on a theme other than love" category in the Read Harder Challenge.
And then I went right back to Mary Oliver and devoured House of Light.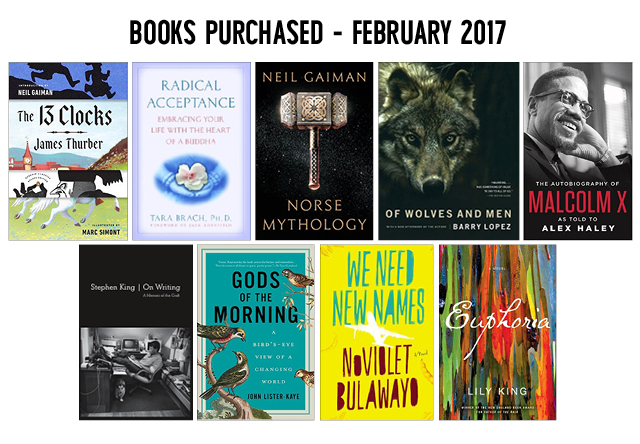 I've read The 13 Clocks before, but have been wanting to re-read it, and so could not resist buying it when I saw this lovely new Penguin Classics edition. I've heard great things about Tara Brach's Radical Acceptance for years, and have been enjoying her guided meditations in the Insights Timer app, so I finally grabbed a copy. I bought Neil Gaiman's Norse Mythology in audio and print (you know I'm excited for a new release when I get it in both formats). I can't remember why I bought Of Wolves and Men by Barry Lopez, but I did. I meant to read The Autobiography of Malcolm X with the Social Justice Book Club in February, but I missed the boat. I own it now though, and have already started it. I bought On Writing by Stephen King while in Michigan so that I could read it while I traveled to and from Oregon, and bought Gods of the Morning at the same time because it looked interesting. I found We Need New Names and Euphoria for $1 each at the Friends of the Library bookstore at the Kalamazoo Public Library – one of my must-visits every time I'm in my hometown.
//
That's February! Cheers to great reading in March.