In honor of Black History Month, I read the March trilogy by John Lewis, Andrew Aydin, and Nate Powell. "March is a vivid first-hand account of John Lewis' lifelong struggle for civil and human rights, meditating in the modern age on the distance traveled since the days of Jim Crow and segregation. Rooted in Lewis' personal story, it also reflects on the highs and lows of the broader civil rights movement."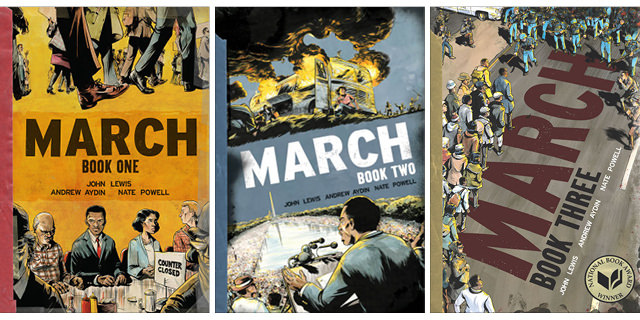 I had three big personal takeaways from reading this powerful trilogy of graphic novels:
1. I loved learning more about the civil rights movement. Reading them made me realize that I've been focusing most of my social justice reading on non-fiction that describes the experiences and struggles of African Americans in recent years, and that my knowledge of the history of the movement is at a high school level, at best. This trilogy was a great first step in rectifying that.
2. It was fascinating to read about the practice of nonviolence protesting. I didn't realize how much of an actual practice this was — not just a philosophy. Before organized protests, organization leaders would guide all participants in nonviolent training. This focused on role playing – taking turns hurling insults, hatred, and verbal and physical abuse at each other while you practice not responding, not rising to violence or hateful speech even when it's endlessly in your face. It was moving to learn more about this intense preparation.
3. While immersed in this story, I studied the images of the white people who came out to the protests, sit ins, and freedom rides to jeer, throw rocks, spit, or worse. I looked at their drawn faces on the page and tried to understand what motivated people to descend to this level of open hostility and hatred. To bomb churches and murder four schoolgirls. To start fires, beat people within inches of their life — sometimes further. I viewed their actions as barbaric and had a hard time wrapping my head around the fact that this happened in living memory. Then I looked up from my book and saw news reports of Jewish cemetery destruction, bomb threats to community centers where children are cared for, worshippers at a mosque shot as they are praying, and of course the continuing line of African Americans killed at the hands of police. Not only did this happen within living memory, the same thing is once again emerging from the shadows, feeling bolder about being out in the open.
I highly recommend reading this story – it's engaging, beautifully told, and full of dedication and courage. We need to look to history for insight, knowledge, and motivation as we confront our future, and our demons, as we continue on the never-ending march toward human justice.
//
Add this trilogy on Good Reads.
Featured image above is of participants marching in the civil rights march from Selma to Montgomery, Alabama in 1965. Source: Library of Congress, public domain.