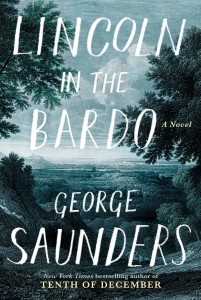 If you're already a fan of George Saunders, close this and any other reviews and just go read Lincoln in the Bardo. If you already adore his unusual and incredible short fiction, you can trust that you'll enjoy his first novel as well, and dive into its pages without knowing anything else.
I say that because going into this one knowing nothing at all is so much fun. It's such an unusual novel – if you're like me you'll spend the first 15-20 pages wondering what the heck is going on, and feeling a smidge uncertain. But you'll go with it, because George Saunders is a genius, and then somewhere between pages 20 and 40 you'll fall in love with this story and the unique way it's told. That was my experience anyway.
But if you really want to know more – fine. I'm happy to tell you. This is a novel set in a graveyard over the course of a single night. Most of the characters are dead. They are spirits trapped in a graveyard in a state of limbo, or Bardo (the Buddhist term). The spirits unite that evening in a common goal: to save the soul of Willie Lincoln.
The idea for this story originated from a small piece of historical fact – it was reported (at the time) that Abraham Lincoln returned alone to the graveyard where his 11 year old son was buried earlier that day, and held the corpse in his arms. The idea of that grief, that amount of tenderness and humanity, that moment in history, becomes the backbone of this novel, and a fictional world grew and weaved in and around that moment.
The cast of characters and the vivid, moody setting makes this novel feel theatric, but it also reads like an oral history. The three main characters — besides Willie and Abe — are spirits, and they gradually tell us their stories and reveal why they are in denial over (or resisting) "moving on." They act as our guides in this strange world, and they reluctantly realize it's up to them to help make sure Willie moves on. (The souls of children aren't meant to linger.) Interspersed between their narrations are sections that feature curated sources of information about the Lincolns, Willie's illness and eventual death, and the period after. These historical "asides" add depth and context to the story we're watching unfold.
As our night in the graveyard progresses, the cast of characters expands as we meet more spirits and learn the sources of the wrongdoings or pain that they suffer from. We learn the reasons they haven't "gone on." The energy in the graveyard swells with Lincoln's visits, and the urgency of our guides' mission increases.
George Saunders is a fan of Vonnegut, and often gets compared to him. This novel is bursting with the humanism, kindness, and kookiness that both men epitomize, but it's not heavy-handed. It is honest and heartbreaking and uplifting, all at once. Both men create fantasy that demonstrates our shared humanity, sometimes better that realistic fiction could.
If you still want to know more – I'd recommend reading Colson Whitehead's beautiful review in the New York Times Book Review. And then read this unusual, empathetic, fascinating, wonderful story. It's a treat.
//
I received a review copy of this book from the publisher.