My reading year started off pretty decent, although the books read count for the month seems more impressive than it is – three of these books were very short, and I listened to the bulk of Born to Run in December. I found it hard to focus on reading in January, and spent much longer than I intended to buried in deep dark media and news holes. I've been working on making more time to disconnect in February, so perhaps the shortest month of the year will be a better month for reading.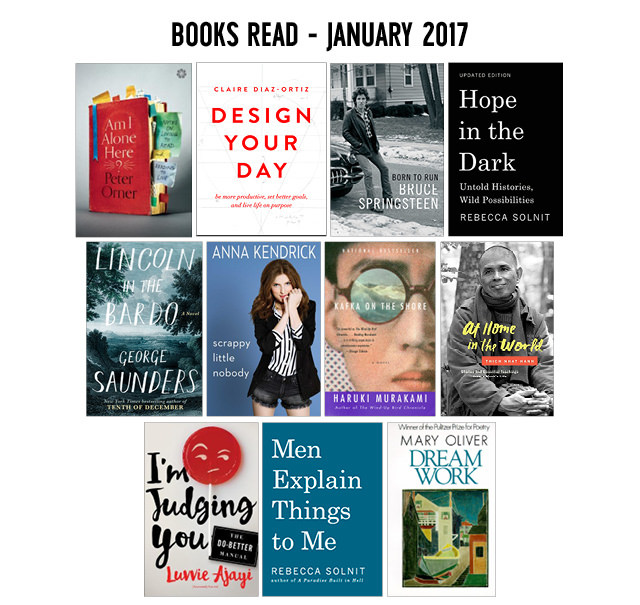 Books Read: 11
Already Reviewed: Am I Alone Here? by Peter Orner
NON-FICTION
Design Your Day by Claire Diaz-Ortiz is a cute little book about productivity. Its focus is on how to structure your day to make time for your real priorities. Nothing in this book is particularly new or revolutionary, but it's so short and accessible that it serves as a helpful refresher of good strategies for being more productive and staying focused on the right things, and was a nice book to read in January while I was busy setting goals and resolutions for the year ahead.
I listened to Bruce Springsteen's autobiography Born to Run on audiobook. It's a great book, and I think listening to it on audio (Bruce narrates it) elevates the experience tremendously. The same skill for storytelling that he brings to his music shines in the stories he shares from his life. I also appreciated how open he was about his struggles with depression.
I read Hope in the Dark by Rebecca Solnit along with The Social Justice Book Club, and I couldn't have read it at a better time. This book made me think about progressive movements in a new way, and by the end I was a little more hopeful. As Solnit says, the future is dark, and that's a good thing — it means we don't know what it holds, and we can remain hopeful about our possibility of helping to shape it.
I needed something light and easy to focus on for my next audiobook in January, and settled on Anna Kendrick's memoir Scrappy Little Nobody. I didn't love this one, but it did what I wanted it to: it provided a very light listen that kept me entertained.
At Home in the World is Thich Nhat Hanh's latest book, and it's his closest to a memoir. It's structured like many of his other books – short chapters filled with stories and examples from his life, but this one is more personal. He shares his experience during the Vietnam war, and how his practice has guided him through the most difficult times in his life. I highly recommend this one to fans of Thich Nhat Hanh, or anyone who wants to discover his work – this one is a great place to start.
I listened to I'm Judging You by Luvvie Ajayi. I first heard of Luvvie from her interview on Nerdette, and I enjoyed listening to her "Do-Better Manual." The beginning has some highs and lows – she starts out with lighter topics, such as social media behavior and personal hygiene. Some of these sections had me laughing out loud, and some fell a little flat. But any unevenness fell away as she moved on to weightier topics like social justice and feminism, and I loved listening to her passionately expressed point of view.
My final audiobook of the month was Men Explain Things To Me, also my second Rebecca Solnit book of the month. This one is a very short collection of essays about feminism, and I loved several of the included essays. A few essays were harder for me to follow, possibly due to listening on audiobook instead of having a print copy in front of me.
FICTION
George Saunders, one of my favorite writers of short stories, has written a novel — Lincoln in the Bardo. I plan to tell you about this one soon in a review, if I can get my act together.
I picked up Kafka on the Shore by Haruki Murakami because it met three of my 2017 reading goals: it's a "Read My Own Damn Book" pick (I've owned it for over 6 years), it's a non-American author (my goal for 2017 is to read books from authors of 20 different nationalities), and it qualifies as a Read Harder Challenge selection ("Read a book that is set more than 5000 miles from your location"). Like all Murakami's writing, it's strange and beautiful, and I enjoyed it a lot. I switched on and off with the audiobook, which deepened the experience of being immersed in this world, and the audio was particularly excellent during the sections told from Nakata's point of view.
POETRY
I read an early collection of Mary Oliver: Dream Work. I'm a devoted fan of her work, but I do think I prefer her mid to late collections of poetry over her earliest work. It was still a lovely collection though.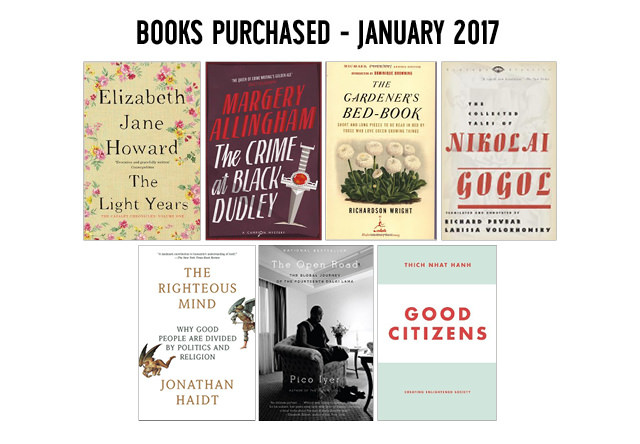 Three of my January purchases were a direct result of reading Slightly Foxed #52: The Light Years by Elizabeth Jane Howard, The Crime at Black Dudley by Margery Allingham, and The Gardener's Bed-Book by Richardson Wright. I'm especially eager to start The Light Years – it's book one in a family saga series set in England before, during, and after WWII. My mom has already read the first several books in the series and recommends them highly.
Buying the collected stories of Gogol has been on my list to buy for a while, but after reading Am I Alone Here? I needed to get a copy ASAP to read The Overcoat.
I bought the final three books: The Righteous Mind: Why Good People are Divided by Politics and Religion by Jonathan Haidt, The Open Road: The Global Journey of the Fourteenth Dalai Lama by Pico Iyer, and Good Citizens: Creating Enlightened Society by Thich Nhat Hanh, at McNally Jackson the weekend the travel ban was announced and my feelings of despair manifested itself in many ways, including book purchases.
//
That's January in books!