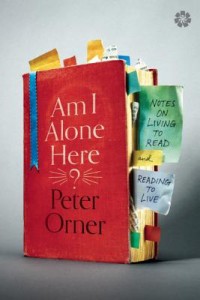 There are those who enjoy the meta experience of reading about reading, and those who don't. I am of the former category. Despite having hundreds of unread books packed onto shelves around my apartment, I will still buy and read an account of someone else reading books. Reading is one of the most important aspects of my identity, and spending time immersed in the world of someone else who feels that way makes me feel inspired, and — like the idea raised by this title, less alone. It's not dissimilar to why I love the book blogging community.
For example – what book lover could read this paragraph and not identify with this situation in some way:
"When I returned home with my new laces, I found myself freed up once again to choose a new book out of the infinite dark that constitutes all the unread books in the universe. I'm daunted by the possibilities. Maybe this time I will find the one book that will save me from myself. Sometimes, as a kind of temporary solace, and also to stave off the commitment issues I have with new books, I go for something I've already read and loved before I resume the search for the one book that will save me from myself. Today, I reached for William Maxwell, a man who, I'd argue, never published a dishonest sentence in his life." (page 102)
So as soon as I saw Am I Alone Here? Notes on Living to Read and Reading to Live by Peter Orner at a bookstore, I bought it and read it. Orner helps elevate this genre by removing the boundaries between his reading life and his actual life. The events in his life influence his response to literature, and vice versa. This is a hard book to describe, but the best way is probably half memoir / half essays on reading and literature — mixed together without boundaries.
The best writing about reading is kind of like having a reading coach. Someone who digs deep into the meaning of literature and inspires you to dig deeper yourself. He made me think about authors I've read in a new way, and laid groundwork for discovering new writers. He made me think more critically about the literature I read, and helped expand my idea of what talking about reading could look like.
Some sections could double as blurbs from the New York Times Book Review:
"At a time when so many writers are turning inward (including this one), Gallant reminds us that fiction writers must — in order to create lasting characters — imagine people who are as inconsistent, as foolish, as rash as we are out here beyond the page." (page 217)
But some section are much more informal:
"This morning I woke up with a voice roaring in my ears, as if some wayward angel were talking into a bullhorn from a celestial Library of Congress: Eudora Welty is badass. Preach to the people this incontestable gospel.
I know, I love her, too, but listen, at the moment I'm asleep.
No, no go, shout from the mountaintops so that the people.
The people? What people?
All the people. Every single one of the people." (page 61)
I just don't know how any bookish person doesn't grin when they read that.
If you want a book that will provide companionship to the introverted book nerd within you, that will inspire you to read more widely and deeply, and that will — like the best literature — bring to the surface the joy and sorrow from your own life, then I don't think you'll find much better than this collection.
If you're curious about this book, I'd recommend listening to Peter Orner's interview on KCRW's Bookworm podcast.
//
Author photo by Pawul Kruk.