Oh hello. Normally January is one of my favorite months of the year – I love the fresh start, new calendars, and taking time to think through goals and plans for the year ahead. But the gloom of January 20 and the weeks that have followed, combined with a bad cold or flu that I couldn't shake for weeks, made this a challenging month. But there were still a lot of highlights – Graham and I celebrated our first wedding anniversary, I marched on Washington with some of my best friends, I took a lovely work trip to our Hudson office, I volunteered, I served on a jury for the first time in my life (an experience that made me feel good about our democracy, despite the inconvenience), and I read 11 books.
I also made good progress on some of my goals and resolutions – I've decided to start a section in these monthly recap posts to share progress on my goals – I think reporting on them more often will make me feel more accountable, and ensure that I'm reflecting on them monthly.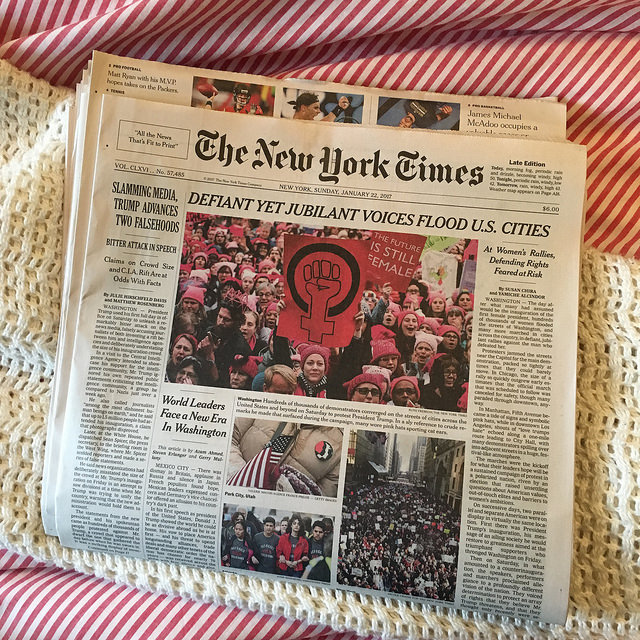 I've been meaning to read Nineteen Eighty-Four for years, and I wasn't the only one who decided to crack it open this month – it appears that Orwell's sales have soared recently. I'm also reading another recently popular choice: the March series by John Lewis – I'm on book two of this powerful trilogy.


Here are my 2017 resolutions (in bold) and, in italic, the progress I made – or didn't make – on them in January:
Go to the gym (or work out elsewhere) 3 times per week. Fail. Graham and I went to the gym once this month. This was mainly due to have a wheezing cough the entire month, but this needs to improve greatly in February.
Try yoga. Give it a real shot and go several times or try different classes. If that fails, try regular stretching at home. No progress here yet. I had a yoga date scheduled with a friend, but she got sick and I used her absence as an excuse not to go. 
Go to meditation classes at Etsy, regularly (at least once per week). Etsy's meditation program was on hiatus in January, so no progress here. It's starting up again in February. 
Start a writing habit (IE: set amount of time daily for just writing: set a timer, turn internet off). For both blogging and personal writing. Haven't started yet. 
Eat an apple every day. Finally – a goal I made progress on! I ate 27 apples in January. 
Start cooking healthier meals. More veggies and greens, less carbs. I need to rewrite this goal into something more tangible and measurable, but I didn't do very well on it in January. I cooked a lot more at home, but we ate way too many potatoes and not enough broccoli. 
Make 12 new recipes. I made one new recipe in January – Quinoa Chicken Parmesan Soup. It was delicious.
Spend less time on social media at home – especially in the evenings and on weekends. Put phone out of reach. Another goal that's not very measurable. Overall I didn't do very well with this one in January – the news was so appalling it was hard to look away, and disconnecting made me feel disengaged. I need to work on a better strategy to help me stay sane and give myself time to recharge. 
Volunteer regularly (at least once per month). Achieved! I volunteered in January – helping women from Sudan practice English conversation at the Arab American Family Support Center. 
I also decided to try going 30 days without eating sweets, which I started on January 3rd. I didn't give up sugar entirely – I avoided high sugar foods like granola bars, but I didn't avoid things like bread or ketchup that often have a gram or two. I mainly just wanted to stop the madness inflicted by my sweet tooth in December – there were treats and cookies everywhere, and I lost all willpower to say no to anything. I used this 30 day period to reset and re-learn some self control. The only treat I had during this 30 day period was towards the end: dessert at our anniversary dinner, which I had decided in advance could be a planned exception. Then I tacked on an extra day to my goal and went 31 days to make up for it. It felt so good to relearn how to say no to treats – it was liberating to walk right by boxes of cupcakes or donuts. Now I need to figure out how to find balance – allowing myself to have desserts or treats occasionally without going nuts.


– My Word of the Year: 2017
– Polysyllabic Spree: December 2016
– The Month: December 2016
– 2016 Books and Reading Recap
– Christmas in England
– The 10 Most Important Non-Fiction Books I Read in 2016
– Marching on Washington, and Beyond


Etsy spots of the month:
Every time I turn around there's a new fantastic enamel pin, but this Feminist with a To-Do List one might be my favorite.
I tend to use regular old fashioned buttons on my backpack though, and I've recently added this Black Lives Matter button and this Biblophile button to my bag.


My first Eatsy of the year was this delicious plate full of mediterranean goodness: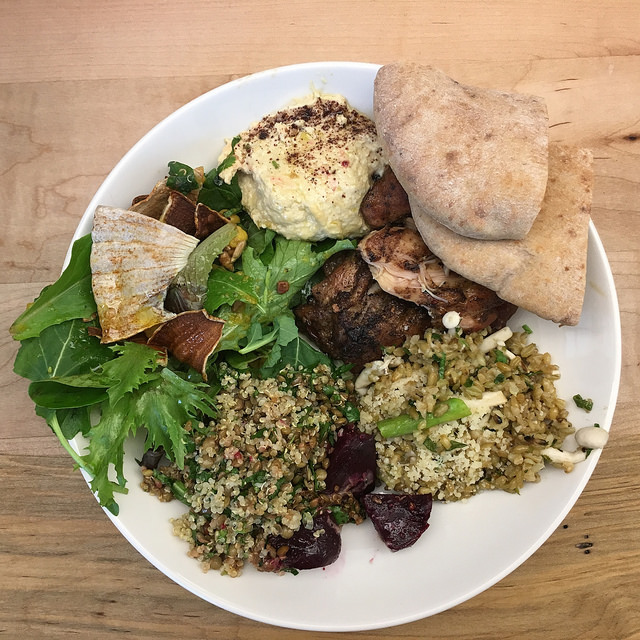 Graham and I celebrated our one year wedding anniversary by going back to the place we ate our first meal as husband and wife – Rubirosa. We went to town and ordered everything our stomachs desired – mozzarella sticks, arugula salad, cavatelli (shown below), a double lasagna, tiramisu, and zeppole with chocolate and strawberry dips. It was cozy and delicious.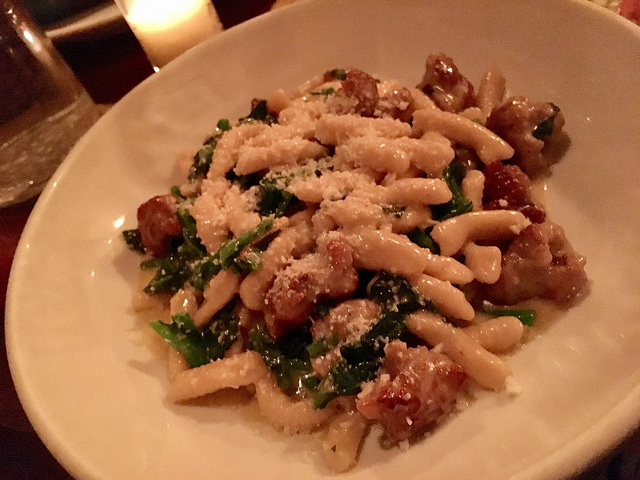 One of my favorite NYC restaurants, Westville, opened up a location in Dumbo by my work. This is amazing and dangerous, because Westville has my favorite mac and cheese in the world: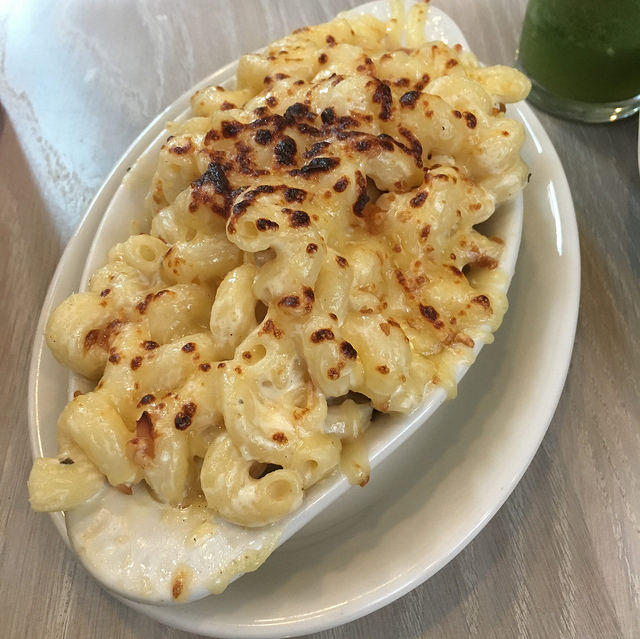 And finally in other gluttony related news, I had Jury Duty this month, and one of the days that I served I decided to treat myself to lunch at Hill Country Chicken: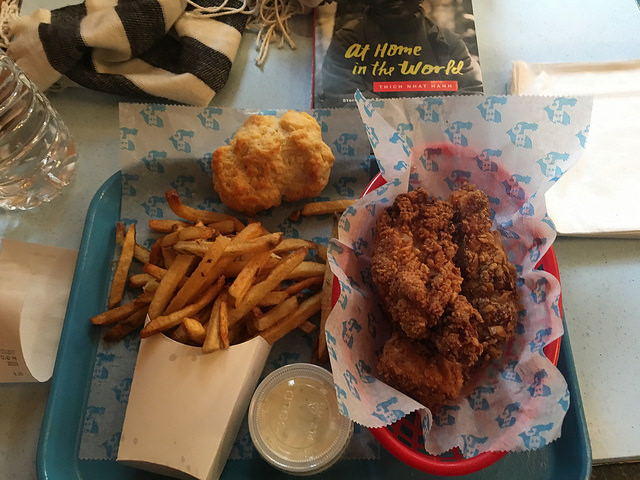 I've mainly been watching a history course from The Great Courses Plus: History of Russia: From Peter the Great to Gorbachev. I've really been enjoying reading Russian classic literature during the last few years, but I've found that my lack of knowledge about Russian history has prevented me from fully comprehending the full scope of the literature I've been reading. I've watched 9 of 36 lessons so far, and I'm learning a lot. I'm going to try to tackle War and Peace as soon as I'm done with the course, while the history is fresh in my mind.
In lighter viewing, Graham and I have also been enjoying the new season of Comedians in Cars Getting Coffee.


I'm currently listening to Doing Good Better: How Effective Altruism Can Help You Make a Difference by William MacAskill. I chose this to help me focus as I start to choose which causes and organizations I want to get more involved with. So far it's largely concerned with the ways to most effectively donate money if you want to have the biggest impact on improving human lives – a fascinating topic.

//
And that's the month – sending positive vibes out for a good February!