Last weekend, I woke up at 2:30am so that I could get on a bus and travel down to Washington DC to participate in the Women's March on Washington.
This post will mainly focus on sharing my experience of participating in this March and what I plan to do next, but I will briefly share a few of the biggest reasons why I marched: I marched for true equality and protection for women of all races and gender identities around the world, I marched because black lives matter and women's rights are human rights. I marched for refugees and immigrants. I marched because the future and well-being of the next generation is under immediate and serious threat from climate change, and the environment is being sacrificed for the temporary profits of big corporations. I marched because our President said these things about women while running for office. For these, and many other reasons, I marched.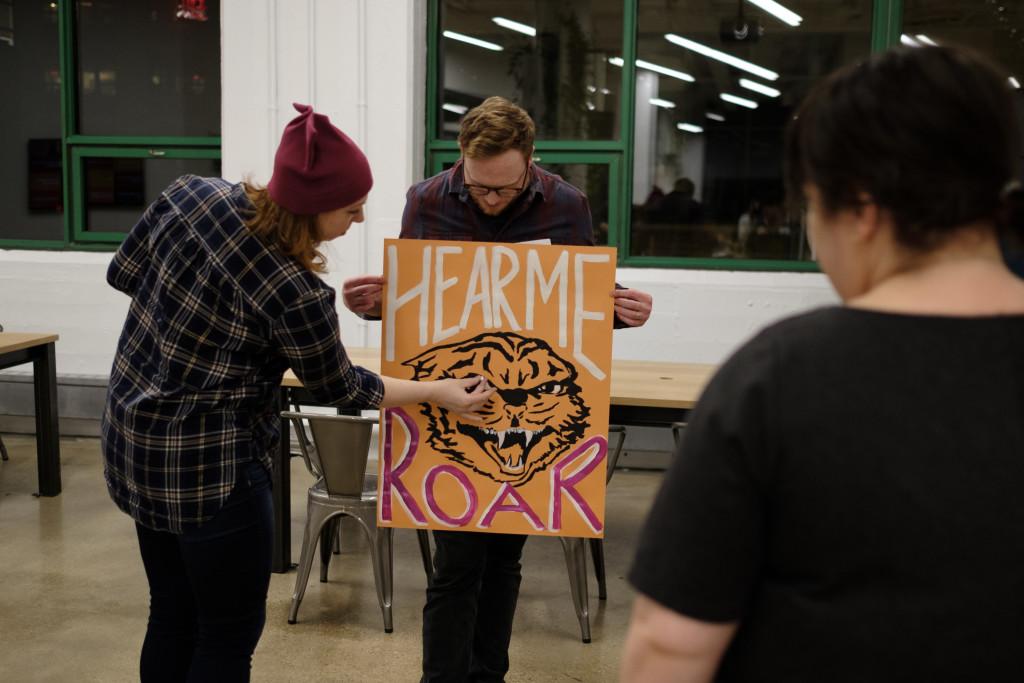 Photo of my friends making March signs by Zhi-Da Zhong.
In the week leading up to the March I was a ball of anxiety. I feared someone who wished us harm would come to the March with a weapon. I feared Trump supporters still in the area following the inauguration would cause conflict. I feared the day would be chaos, or that something would happen to me or one of my best friends I was traveling with, or the many wonderful ladies and men I knew who were also marching around the world. I worried about the logistics of taking care of our basic needs that day. There is no end to the things my brain finds to worry about.
But as soon as I got off the bus in Washington, I was at ease. I stepped down from the bus into a giant parking lot that would fill up within the next few hours with 1200 buses. I walked into a group of women wearing pink pussy hats and immediately met two women from my hometown, Kalamazoo, Michigan, who had traveled over 10 hours to be there. It was a sea of people filled with joy and positive energy. I stopped worrying.
The metro trains were too packed to take when we arrived, so we followed a parade of thousands of women and walked the two miles to Capitol Hill through beautiful residential streets. Most houses had MLK quotes displayed on yard signs in their front garden, and many had pride flags flying. People who lived in those houses stepped outside with their morning coffees, or with their dogs, and waved at us and cheered us on.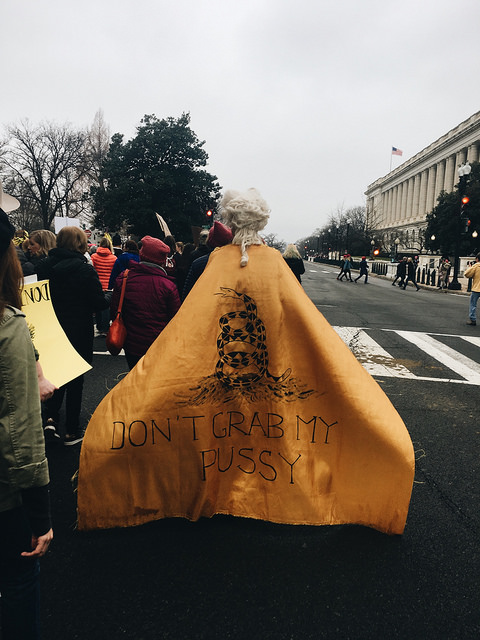 We got to the Capitol and stopped to take some photos before heading on to join the half million (!!!) people assembling on the mall.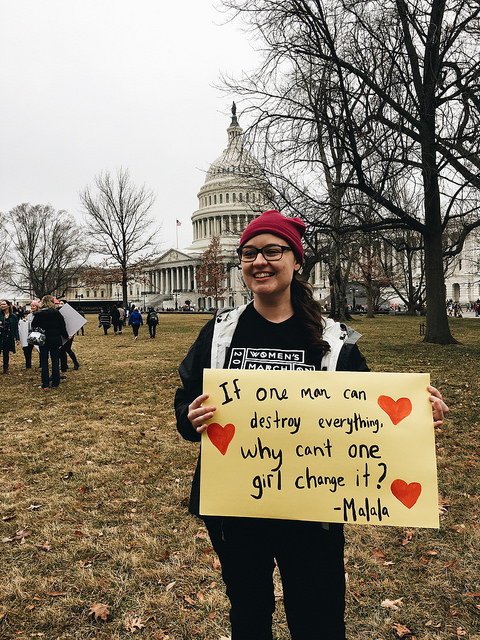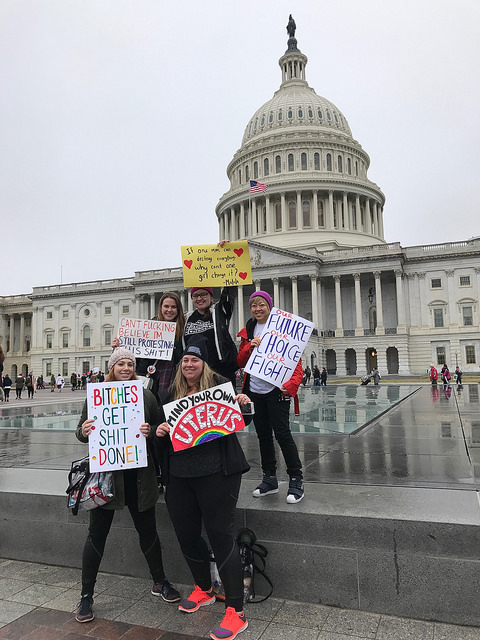 As we walked down to the mall, we spotted (future president?) Corey Booker. We had a major fangirl moment, and I shook his hand and thanked him for being there. Dara excitedly told him that she's about to move to his state. He was so kind and gracious, I'm guessing he took about 10,000 selfies that day.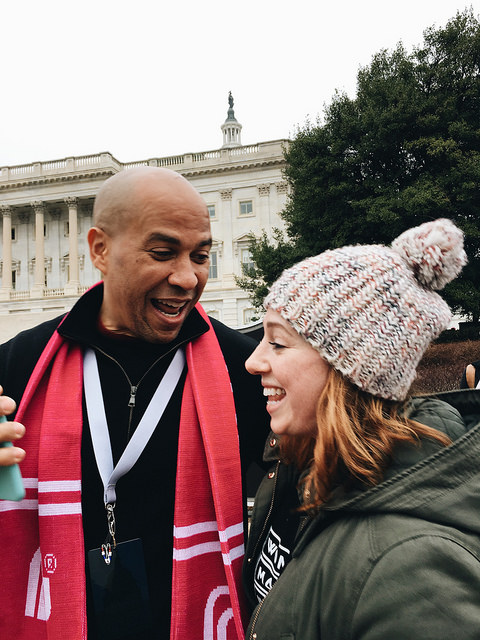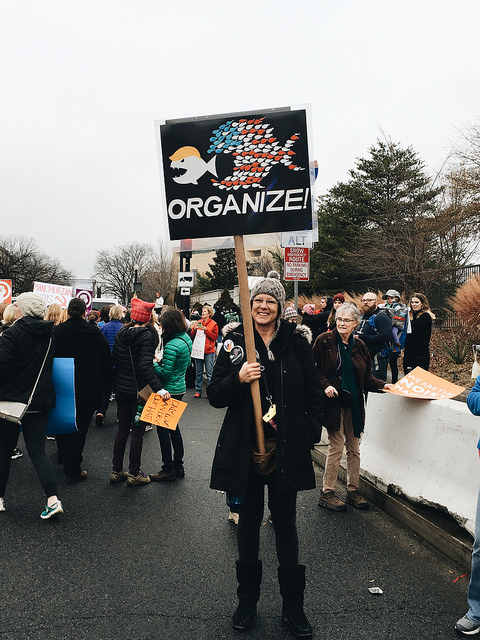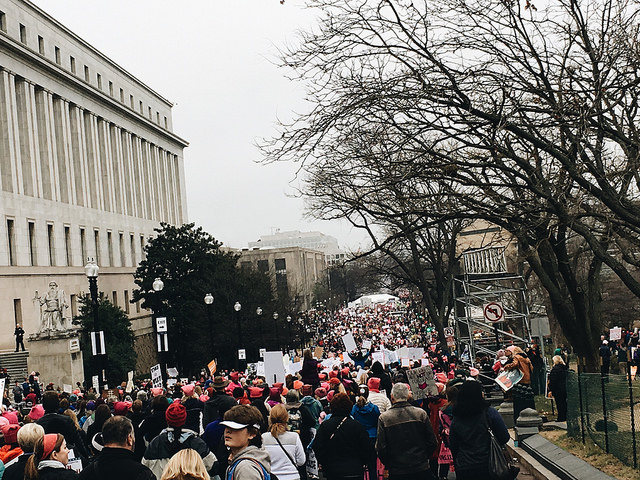 Our progress towards the mall was immediately halted as we joined a sea of people. The energy and positivity radiating out from those surrounding us filled us with joy and adrenaline, I felt wide awake and full of beans despite the lack of sleep. We slowly worked our way around the crowds and onto the mall – and then got stuck. We couldn't move out of the crowd (we tried and failed – ran into walls of people so thick there wasn't room to squeeze through), and so just stood waiting for several hours. Cheering, chanting, and engaging with the people around us – all of whom were kind and respectful. I literally could not get out of the crowd, but I didn't feel scared. Everyone surrounding us was devoted to the safety and well-being of every other person there. If someone accidentally bumped your arm, they gave you a sincere apology.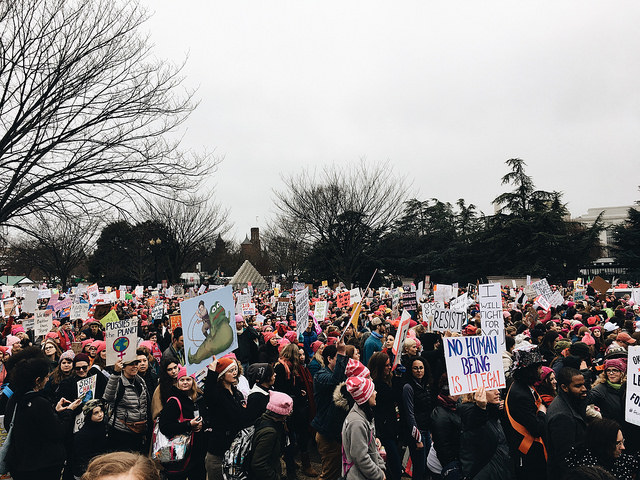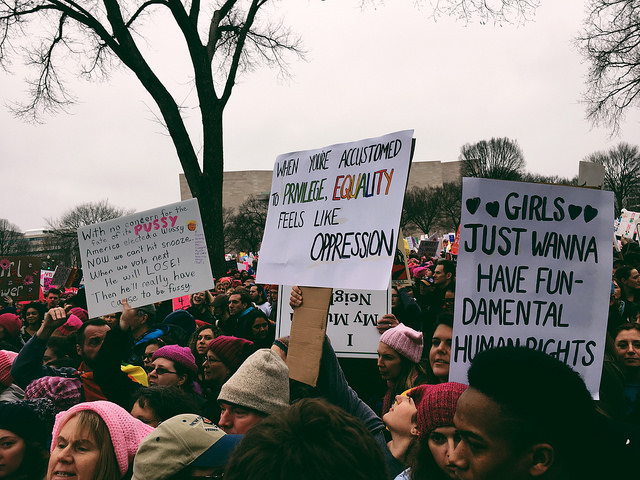 We found out (via text messages with Graham – the data networks were overloaded and we couldn't get any news or info on our phones) that the crowd was 3 times the size they expected and too big to march the planned route. We ended up marching (very slowly) along an alternate route, out to the streets of downtown, north of the mall.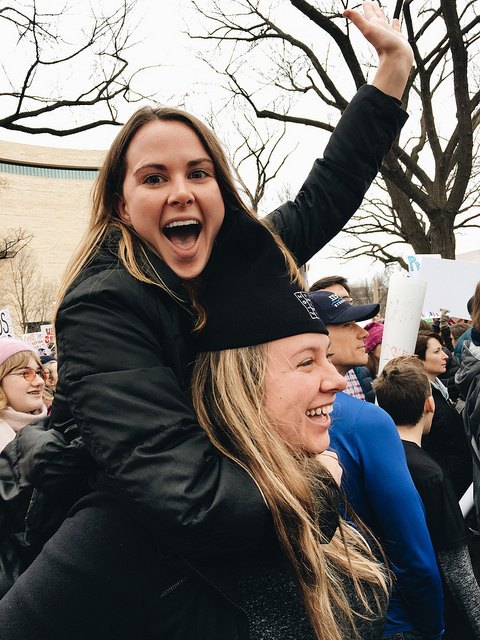 I got back on the bus at the end of the day, exhausted, elated, joyful, and full of hope. I've never participated in something more American than this. I've never been in a bigger crowd. Our voices were heard, and we celebrated our right to peacefully assemble and show up for our beliefs. I met a diverse group of women and men from all over the United States, all with different backgrounds, ideas, and passions – but we were all united in the belief that we want American policy to protect the rights and well-being of each and every one of us and preserve the planet for the future generations to come.
I've heard a lot of criticism that we Marchers need to "be the change" and "DO something" if we don't like what's happening, rather than protesting. We did something. We put our bodies where our beliefs are. Close to 5 million people attended Marches on all 7 continents. You can't ignore us. We clearly did something, we made our opposition —and Donald Trump — extremely uncomfortable seeing the size of our numbers and our willingness to stand up for what we believe in. And we're doing more than just showing up last Saturday. We've flooded Congress with phone calls. Paul Ryan had to shut down his phone system. The ACLU and Planned Parenthood have had unprecedented numbers of donations, many from first time donors. Mail and phone calls are flowing in to public service men & women at all levels of government. We showed up to peacefully protest, and now we're getting to work for our causes. Some of us are preparing to run for office.
If we don't agree politically, and somehow you're still reading this far, here are a few books I'd recommend reading if you want to understand why we marched. I don't recommend these in hopes that you'll change your long-standing political beliefs. I recommend them because when Donald Trump won, reading books about people who feel differently than I do helped me develop more compassion for people I disagree with. These are just a few titles among so many that are worth reading, but they are powerful books:
"Reading gives you an opportunity to understand someone else's perspective, no matter how much you disagree with it. I wish that everyone had the opportunity to try to inhabit someone else's experiences for a few hours, and literature is a great way to do that. Books are especially useful because the depth of engagement that someone has with a book allows them to really stay with it and to spend some time with that different perspective."
–Lisa Lucas, executive director of the National Book Foundation, in an interview with the Chicago Review of Books
//
So – what will I do now? The news coming out of Washington made my head spin this week – it felt like a steady stream of punches to the gut. The backlash to the March on Facebook was disheartening at times, rage inducing at other times. But then I read this piece from a long time activist that Andi shared. If you haven't read it – I highly encourage you to do so. It provides tangible advice about how to balance staying sane and staying outraged. How to channel your passion and outrage into meaningful activism and not burn out. I've read it several times already, and will continue to refer back to it whenever I need to.
After the election, I made a conservative news feed column within my personal TweetDeck set up, and I read it daily for perspective and to hear opinions that are different than my own. (It's also very helpful to see how the GOP positions their plans to their base, as well as how it gets reported on Fox News and other conservative commentators.) I'm selecting the 2 or 3 causes that I will personally take up and get actively involved with. I'm volunteering with organizations I care about. I will continued to READ. Books with diverse perspectives and voices. And I pledge to do my best to engage in conversation publicly in a mindful way.
I'm far from perfect. I didn't write the above paragraph for a pat on the back. I get sucked into unproductive social media scrolling black holes of despair. I feel hopeless. I get filled with rage and shake my fists at home on my couch. I think hateful thoughts when I get mad. But I pledge to do my best to be mindful of this negativity when it happens. To stop and breathe. To disconnect when I need to. To pursue truth relentlessly and use my best judgement and common sense. To always strive, despite the first thoughts in my brain, to share my beliefs constructively. And above all, to channel this passion into action.
Thank you to all those who lead by example and help re-teach me to do that, every single day.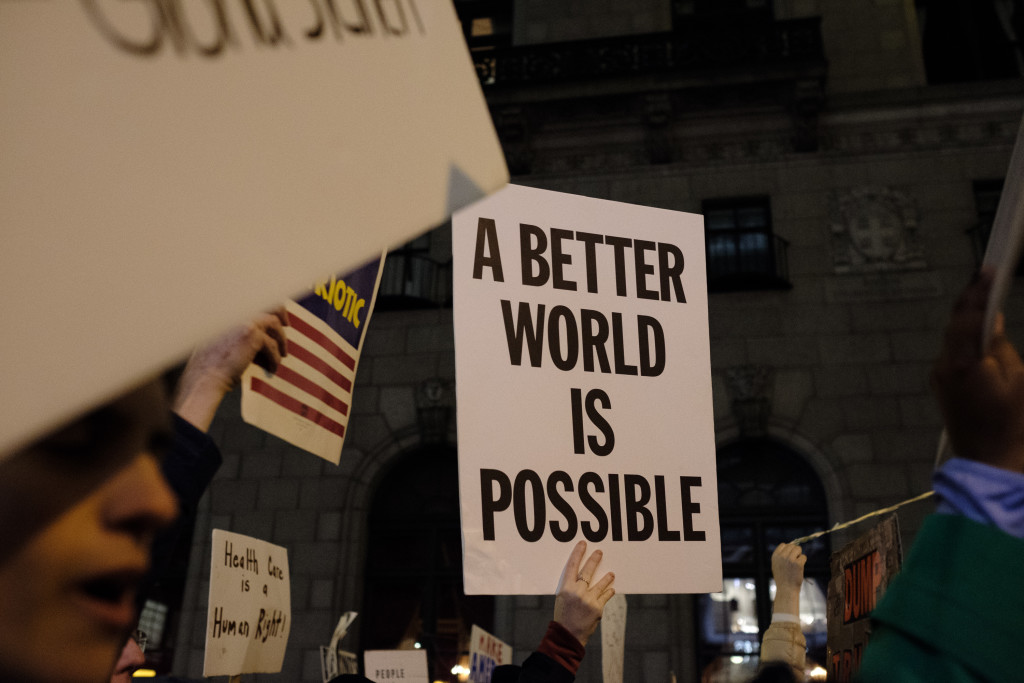 Photo by Zhi-Da Zhong.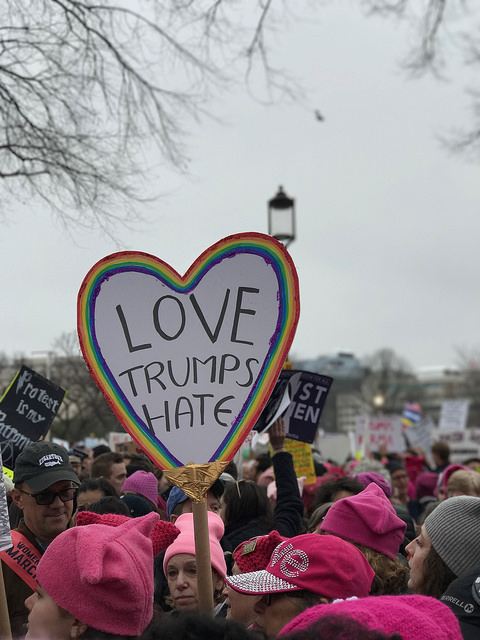 Photo by Dara Kordulak.