December was a wonderful reading month, which is somewhat unusual for a busy, holiday-focused month. I read a lot, and enjoyed everything I read. There are a lot of books to report on, so let's get to it!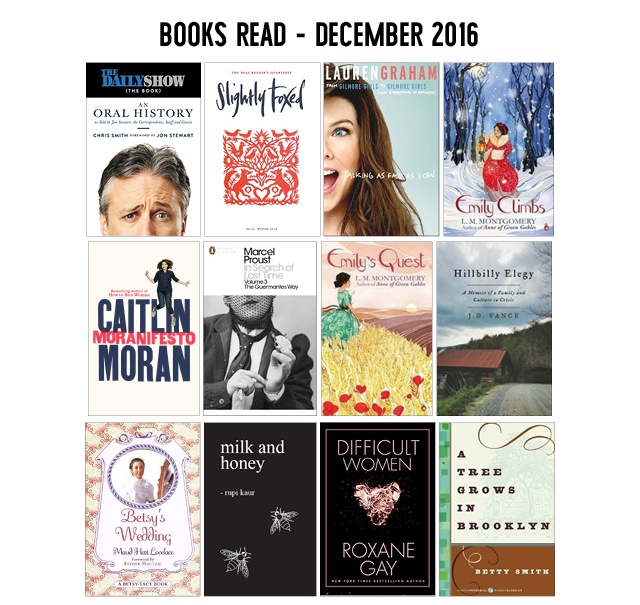 Books Read: 12
AUDIOBOOKS
I started out the month by listening to the audiobook of The Daily Show: An Oral History. At first it was rather strange to hear a variety of (non-Daily Show) narrators reading first person accounts from people whose voices I know so well. But I got used to it after a bit, and then really enjoyed hearing behind the scenes details from a show that I love so much. I'd definitely recommend this to other fans of the show.
If you're a fellow Gilmore Girls fan, listening to Talking as Fast as I Can by Lauren Graham is a treat. I got the sense that Lauren Graham actually is Lorelai Gilmore, but a better decision maker. I don't think I would have ever gotten around to this one in print, but the audiobook is delightful, and it's like listening to an old friend tell you stories for a few hours.
I listened to Moranifesto – Caitlin Moran's latest collection of essays. I love Caitlin Moran, and particularly enjoy her books on audio. This collection is sharp, funny, and relatable. In particular I loved an essay where she spoke about why she has hope for the future – she spoke passionately about thing humans have been able to achieve when they've wanted to, and reminded me that we are capable of solving big problems and doing great things.
I also listened to Hillbilly Elegy: A Memoir of a Family and Culture in Crisis by J.D. Vance. I really enjoyed hearing J. D.'s story, and learning more about the challenges facing Americans who grow up in poverty. Pair this with Strangers in their Own Land for a powerful look at Americans who have struggled from the circumstances of our changing world.
LITERARY JOURNALS
As always, I thoroughly enjoyed the latest issue of Slightly Foxed, #52. This issue added a particularly large amount of books to my TBR list, and I'm most excited to start the Cazalet Chronicles series by Elizabeth Jane Howard with The Light Years.
FICTION
I read the second and third book in the Emily trilogy by L.M. Montgomery: Emily Climbs and Emily's Quest. Emily Climbs was my favorite book in the series – she really shines in that volume, and I enjoyed it very much. Emily's Quest was disappointing, but I can't really go into why without major spoilers. I'm glad I read this trilogy, but my heart belongs to my true kindred spirit, Anne Shirley.
I finished the third volume of Proust – The Guermantes Way. Halfway through! (There are 7 volumes, but from a pages perspective I'm halfway done.) This one was more challenging for me than the first two volumes – largely because it's the first one I read without an audiobook companion (the series narrator I love only did the first two volumes), but also because as the series progressed Proust spent less time editing & revising each volume, so they are a bit less polished. I'll post a full review of the series once I finish all seven volumes.
I read Roxane Gay's new collection of short fiction: Difficult Women. At first I wasn't sure I was in the right reading mood for this collection (there are some heavy topics in here for holiday reading), but she quickly pulled me in — by the second story I was completely hooked on these vivid portraits of women that feature insight into race, class, abuse, love, and strength. It's a beautiful collection of short fiction by an awesome Bad Feminist.
POETRY
Milk and Honey by Rupi Kaur is raw, emotional and honest: a look a love, abuse, heartbreak, and healing through poetry. It's beautiful and real – but I wish I could have read it a long time ago. Younger Emily would have related a lot more to these feelings, and it would have affected her more powerfully.
RE-READ
I finished off my re-read of the Betsy-Tacy series with Betsy and Joe, the book where we finally get some concrete payoff on her courtship with Joe Willard, but also have to witness her tossing aside all sense of personal ambition and interests. But it's a very good account of life in America in the shadow of the impending first World War, and the historical glimpse into this period and how it affected young people is both fascinating and heartbreaking.
I ended the year by re-reading one of my favorite books of all time, A Tree Grows in Brooklyn by Betty Smith. It was my third time reading this beautiful novel, and all three times have been over my Christmas holiday. This book is perfect – if you haven't read it, I don't know what you're waiting for.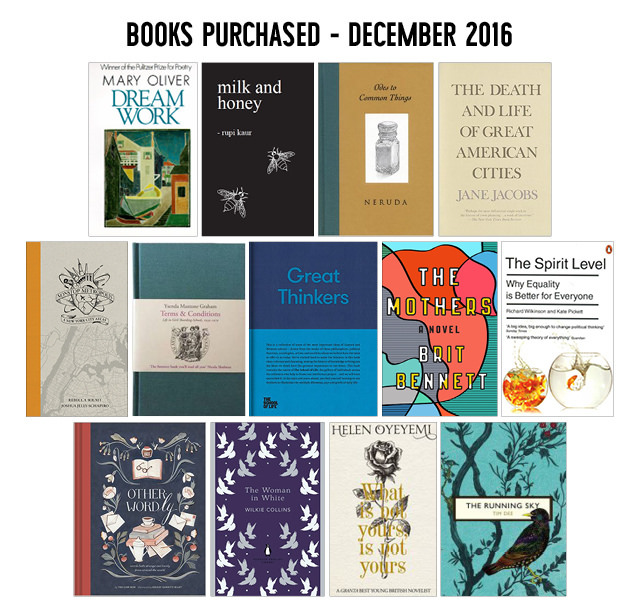 This books purchased list is rather long, isn't it? I blame England, for having bookshops that are too lovely. But even before I went to the UK I got a bit splurgy at BookCourt, because it was about to permanently close and I tried to drown my sorrow in buying poetry (Dream Work by Mary Oliver, Milk and Honey by Rupi Kaur, and Odes to Common Things by Pablo Neruda) and a book I've been meaning to buy for a while, The Life and Death of Great American Cities by Jane Jacobs.
Graham (operating via a strict list) got me Nonstop Metropolis by Rebecca Solnit and Joshua Jelly-Schapiro, as well as the new Slightly Foxed edition: Terms and Conditions by Ysenda Maxtone Graham. (When your bookshelves are as full as mine are, any gifted books require close supervision and approval.)
Then come the slew of books from England… from Blackwell's in Oxford (one of my favorite indie stores in England): The School of Life's new book, Great Thinkers; The Mothers by Brit Bennett; The Spirit Level: Why Equality is Better for Everyone by Richard G. Wilkinson and Kate E. Pickett; Other-Wordly: Words Both Strange and Lovely From Around the World by Yee-Lum Mak; and The Woman in White by Wilkie Collins. I also got a stunning edition of What is Not Yours is Not Yours by Helen Oyeyemi from Waterstone's, and The Running Sky: A Bird-Watching Life by Tim Dee from Chapter One, a charming independent bookstore in Manchester.
//
That's December! My 2016 Books and Reading Recap post is coming soon – stay tuned!