Oh November. A month that felt like the world cracked open, and a month I tried to heal my soul with books. I feel less hollow, but — like many of us — I'm still incredibly worried and sad, and ready to fight. And I'll continue reading books that heal, inspire, and educate.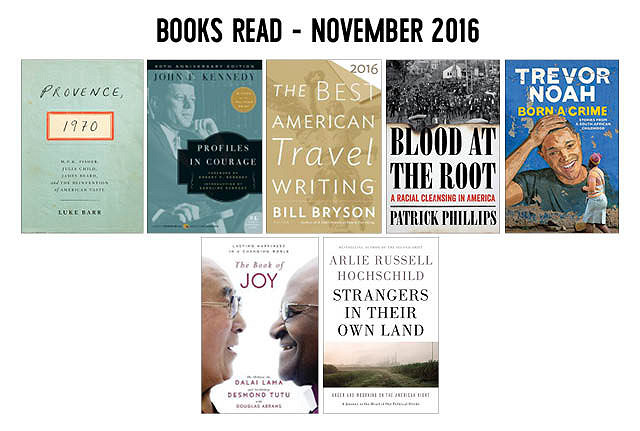 Books Read: 7
Already Reviewed:
AUDIOBOOKS
I listened to Provence 1970 by Luke Barr, and felt pretty lukewarm about it. It's a subject I love very much: the O.G. foodies / chef cultural icons of the 20th century, but the story it's trying to tell didn't feel cohesive. But perhaps it was just difficult to follow on audio. The best sections were about M. F. K. Fisher (who was also the author's great-aunt) and the intimate look into a transformative period of her life. Those sections are based on her daily journal entries, and I think I'd just like to read a published edition of her entire journal. She seems like a kindred spirit.
I had a hard time finding books to read or listen to after the election. I queued up the audiobook of Profiles in Courage by John F. Kennedy in hopes that the stories it contained of passionate and courageous Americans would provide some balm to my spirits. They did to a certain degree, but they also made me feel skeptical of whether we still have politicians like this – people who are willing to stand up for what's right even if it jeopardizes their entire political career. We may find out soon.
I also listened to Blood at the Root: A Racial Cleansing in America by Patrick Phillips. It's an in-depth look at the legacy of intense racial violence and complete segregation in Forsyth County, Georgia. It's a powerful addition to the growing collection of non-fiction that I'd consider Must Reads for those passionate about social justice.
NON-FICTION
I always want to buy all of the "Best American" books each year: the essays, stories, travel writing, nature writing, comics. But I learned many years ago that while I have every intention to read them, they usually just sit around unread, so I stopped buying them. But this year I saw that The Best American Travel Writing 2016 is edited by Bill Bryson, and is filled with essays from interesting writers. So I bought it, and actually managed to read it right away. It's an excellent collection of the best examples of what travel writing can be: insightful journeys into unfamiliar (and sometimes familiar) places that help us understand the world around us more deeply. I loved this collection, and learned so much from it. I highly recommend it.
And finally, I read Strangers in their Own Land by Arlie Russell Hochschild. I now have a better understanding of the mindset of tea party members in the south, and deep sympathy for the struggles they face, but still found myself shaking my head in disbelief at the great paradoxes of their political loyalties in the face of the environmental tragedies that have affected their home and their health. This book is valuable reading if you want to expand your understanding of America.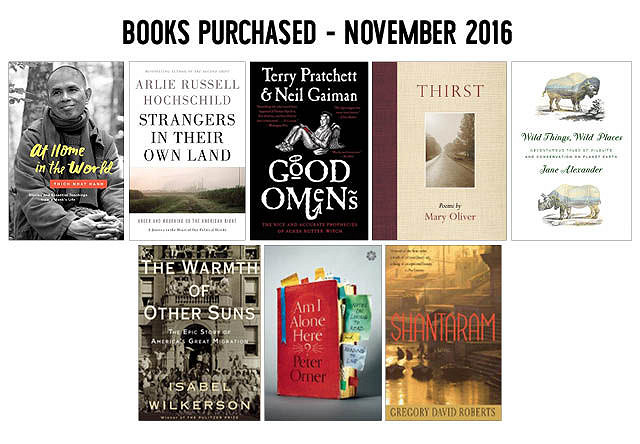 I've been looking forward to Thích Nhất Hạnh's new memoir, At Home in the World, and bought it as soon as it came out. After the election I picked up Strangers in their Own Land, which I wrote about above. I sold some books I decided to purge to Strand, and used the store credit to go on a small shopping spree, picking up Good Omens by Terry Pratchett and Neil Gaiman, Thirst by Mary Oliver, and Wild Things, Wild Places by Jane Alexander. I've had The Warmth of Other Suns on my TBR list for some time, but didn't actually own a copy. When I listened to Isabel Wilkerson's interview on the podcast On Being, I decided I need to read it sooner rather than later, so now it's sitting on my To Read Immediately shelf, staring at me. It's huge, but I hope to get to it early next year. I'm also so excited for Am I Alone Here? by Peter Orner. And I finally bought a copy of Shantaram by Gregory David Roberts – another book I've been wanting to buy / read for a few years, but that is also a very intimidating heft. Has anyone read it?
//
That's November! I hope your December is filled with joy and good books.