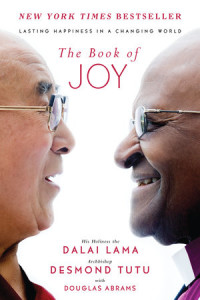 The Book of Joy: Lasting Happiness in a Changing World by the Dalai Lama XIV, Desmond Tutu, and Douglas Carlton Abrams is the book that healed my soul the most last month. It's endlessly uplifting, wise, and inspiring. It feels restorative to read an account of spiritual leaders from two different religions discussing the similarities (and occasional differences) in the traditions and teachings of their practice.
The ideas in this book are not new: the idea that real kindness and generosity to others is the quickest and most successful path to our own happiness, that reframing our situation into the most positive light helps us overcome challenges, and that expressing gratitude and counting our blessings helps bring joy to our lives and the people around us.
But what is new and fresh is the beautiful approach to these truths through the conversations and friendship of these two leaders, and the stories they share from their two lifetimes devoted to serving their communities. Douglas Abrams skillfully guides their conversations and constructs them into this cohesive journey, adding in details from scientists, sociologists, and psychologists that demonstrate that science and research support their combined philosophies and teachings.
And no matter how much I study and read these ideas in various forms, I find I still need to pick them up again and turn them over in my mind, letting them saturate my world and hoping they sink deeper into my bones, so that compassion comes quicker into my mind than judgement, so that gratitude is something I reflect on continuously, so that I can move closer and closer to the person I want to be.
This book is exactly what I needed following the election – I read it slowly, pouring over the pages and marking it up with penciled circles and stars. I highly recommend it.
"What the Dalai Lama and I are offering," the Archbishop added, "is a way of handling your worries: thinking about others. You can think about others who are in a similar situation or perhaps even in a worse situation, but who have survived, even thrived. It does help quite a lot to see yourself as part of a greater whole." Once again the path of joy was connection and the path of sorrow was separation. When we see others as separate, they become a threat. When we see others as a part of us, as connected, as interdependent, then there is no challenge we cannot face — together." 
"Remember that you are not alone, and you do not need to finish the work. It takes time, but we are learning, we are growing, we are becoming the people we want to be. It helps no one if you sacrifice your joy because others are suffering. We people who care must be attractive, must be filled with joy, so that others recognize that caring, that helping and being generous are not a burden, they are a joy. Give the world your love, your service, your healing, but you can also give it your joy. This, too, is a gift." 
//
Visit bookofjoy.org.