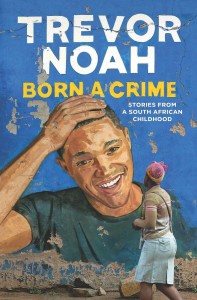 Here's my advice: go buy Born a Crime by Trevor Noah right now and move it to the top of your To Be Read list. I highly recommend getting it on audiobook. I don't think you'll regret it.
Born a Crime is a perfectly constructed memoir. It's a coming of age story, a mother / son journey, and a reflection on the experience of growing up half-black in South Africa. Brilliantly told stories are paired with keen insights into larger social or political correlations. Trevor Noah is only a few months older than me, but he's packed an astonishing amount of living and wisdom into his 32 years. He's also an incredibly gifted storyteller, and it's so wonderful to listen to him read this work.
He shares his personal experiences concerning big topics like race, religion, and poverty. The title comes from the fact that his mother is a native African and his father is a white European, and so his creation and existence was a crime during his early childhood under Apartheid. He wasn't accepted by either race, and he shares stories about what a strange reality that created for him. Through his experience, you'll see another side of Apartheid, another voice of South Africa.
His mom was a single mother by choice – deciding on her own that she wanted to have a child. Their relationship is the heart that beats through this story. Please forgive me for bringing the Gilmore Girls into a review of a South African boyhood memoir, but I've just watched six solid hours of it, and — like Lorelai, his mom is strong, determined, and unrelenting. And like Rory, Trevor Noah is completely rooted in his mother's life story, in a very positive way. It's the mother and son story that makes this book shine, and that will stay with you long after you finish it.
Last but not least, this book is full of laughter and good humor. Probably not surprising for a book written by a comedian, but perhaps another testament to the positivity he learned from his mom. (RE: the humor: towards the beginning there's a story about a little turd that had me giggling uncontrollably while walking home from work.)
If you're still not convinced — or you're so convinced that you want more immediately, check out his interview with Terry Gross on Fresh Air.
"I was blessed with another trait I inherited from my mother, her ability to forget the pain in life. I remember the thing that caused the trauma, but I don't hold onto the trauma. I never let the memory of something painful prevent me from trying something new. If you think too much about the ass kicking your mom gave you or the ass kicking that life gave you, you'll stop pushing the boundaries and breaking the rules. It's better to take it, spend some time crying, then wake up the next day and move on. You'll have a few bruises and they'll remind you of what happened and that's ok. But after a while, the bruises fade and they fade for a reason. Because now, it's time to get up to some shit again."
//
Author photo by Kwaku Alston.
I received a copy of this book from the publisher.