This might be a new record for the most delayed monthly reading recap, but I won't let that deter me from posting it anyway. My plan to get my blogging back on track was foiled by the ongoing mess of emotions following November 8th. But alas – here it is.
Already Reviewed: Never Look an American in the Eye by Okey Ndibe
Books Read: 9
FICTION
I went into The Underground Railroad by Colson Whitehead knowing very little about it, except that it was a novel about an escaped slave, and that it took place in a fictional alternate history where the underground railroad wasn't just a metaphor – it was an actual railroad. I'm going to be completely honest here – that concept didn't initially appeal to me. I'm not really sure why – maybe I couldn't initially understand the reasoning of adding that component and was a bit skeptical. I really enjoyed being proved completely wrong. Far from distracting from the powerful central story of Cora and her escape from a Georgia plantation, the "real" underground railroad provides a subtle and powerful backbone to the story. I enjoyed this one very much and am so happy Colon Whitehead won the National Book Award.
I finished the audiobook of Harry Potter and the Deathly Hallows, completing yet another re-read/re-listen of the entire series. I also re-read Betsy and the Great World – the second to last volume in my beloved Betsy-Tacy series. It was my first re-read of this one since my own around the world trip, and I found that my personal experiences of extended travel helped me relate to this story in a way I couldn't on earlier readings. Before it served as inspiration to make my own journey, and now it felt like a rich reminder of all my own wonderful memories. I really enjoyed revisiting it.
NON-FICTION
The French Chef in America by Alex Prud'Homme picked up where My Life in France left off – Julia Child has published her masterpiece, Mastering the Art of French Cooking, and is living in the United States once again with her husband and partner-in-all-things, Paul. I loved My Life in France so much, so I eagerly picked up this sequel as soon as I saw it. I knew it would be different – Julia Child wrote My Life in France at the end of her life, together with her nephew Alex Prud'Homme. It's written in the first person, and so feels so very personal and intimate. The new volume is — by necessity of course, written in third person, with a journalist approach. But Alex Prud'Homme does such a good job of capturing Julia's energy and personality that this new perspective on her life is still completely satisfying. I loved reading about her endless reinvention of her work, all while staying true to her unique point of view and endless enthusiasm for life and food. It was a joy to read.
I'm very sorry to report this, but My Own Words by Ruth Bader Ginsburg was a disappointment. I think my expectation was wrong here – I wanted more personal reflections from her about her extraordinary life, but it mainly contains a collection of Supreme Court dissents or majority opinions that she authored. I probably would have known that had I done any research into the book before blindly pre-ordering it on Audible. The most interesting and rewarding parts were her nomination acceptance speech, her memorial speech for Justice Scalia, and all the wonderful sections by or about her husband Martin. If you get the audiobook – be forewarned: some of it is very hard to hear. The narrator of the book does a good job performing some of the content, but for sections where they had an audio recording of RBG giving speeches or addresses, they've used that recording. Sometimes this is great, and it's wonderful to hear her voice. But other times the quality of the audio recording leaves a lot to be desired – and it can be hard to hear over silverware clattering around or murmuring background noise. I wish this had been more of a traditional memoir – but it's probably my fault for expecting that.
I listened to the audiobook of We Were Feminists Once by Andi Zeisler. We're living in a world where no one can agree what feminism means. Where the media is obsessed with asking female celebrities "if they are a feminist" and where, even more alarmingly, not all of them say yes. Where corporations have misused feminist themes to push their products on women in the endless march of consumerism. This book aims to help us make sense of it all, and helped me to think more critically about how feminism and being a woman is portrayed in the media, pop culture, and advertising / marketing.
COMICS
I read Volume 3 of Giant Days and I remain enchanted with this series. I haven't found many other comic series that I love this much – does anyone have any recommendations? I think I like more realistic comics vs. fantasy.
POETRY
Oh the happiness inspired by a new volume of poetry by Billy Collins. The Rain in Portugal was such a treat, and it brought 160 pages of joy into my October reading.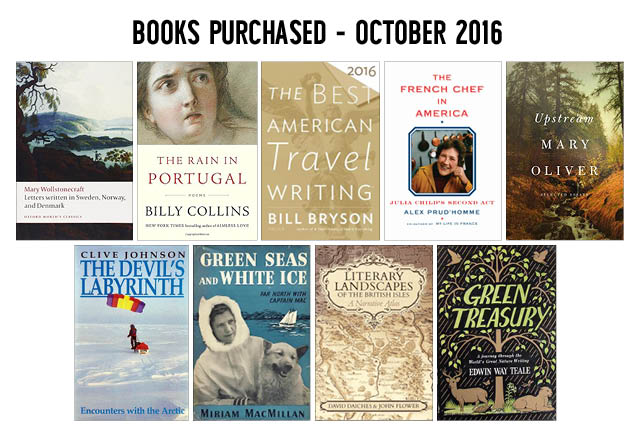 My books purchased list is much heftier than usual, due mostly to a trip to The Shire Book Shop that bore responsiblity for the entire bottom row of wonderful second-hand books. I bought Letters Written in Sweden, Norway and Denmark by Mary Wollstonecraft after reading about it in Slightly Foxed. The rest of the list was me snapping up every October release that I was excited about as soon as I saw it – in one case a little too eagerly: I realized after I brought it home that Upstream by Mary Oliver does not contain new content – it's a collection of essays published previously in other collections. I flipped through it and realized I've already read every single essay in it. Oh well – it's a beautiful book, and it will be nice to have her nature essays collected in one volume.