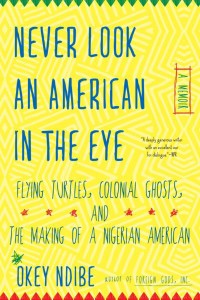 I'm a sucker for Fish Out of Water stories. I love them as a comedic devices in movies (Big, 13 Going on 30, Freaky Friday, Coming to America, etc). And I love reading accounts of the surprises, struggles, challenges, and delights of discovering new cultures often found in travel writing or the stories of immigrants.
Never Look and American in the Eye: Flying Turtles, Colonial Ghost, and the Making of a Nigerian American by Okey Ndibe shares fascinating (and often humorous) accounts of acclimating to American culture, and also provides profound meditations on what it means to leave your homeland and the challenges of embracing the emerging duality of your personal heritage.
Here's one of my favorite examples of the former, where he describes the crushing disappointment of realizing your favorite holiday traditions are not shared by the citizens of your new country:
"I felt no need to specify to our American hosts that rice and chicken had to be part — indeed, at the center — of our Christmas meals. The overindulging in that set cuisine had been deeply indexed in my psyche. So much so, in fact, that I could not imagine there being a single soul on earth that would awake on Christmas Day without his or her thought going, with alacrity, to the culinary bonanza of rice, stew, and chicken that awaited all the men and women of goodwill. The menu was de rigueur. If there existed any beings that didn't adhere to its unsurpassable delights, why, they had to be transients from Mars or something. […]
To their credit, the Fallas produced a veritable smorgasbord, but the absence of rice and chicken spelled doom for me. Pancakes and pastas and pork roasts and lamb and beef and mashed potatoes and knishes have their place in the world, but that place is not Christmas. And, certainly, not as alternatives for rice, stew, and chicken. Once it dawned on me that the cuisines I most looked forward to were not about to materialize, I had the equivalent of a culture shock followed by a mild to serious panic attack."
Okey Ndibe also shares vignettes from his childhood in Nigeria, and stories and struggles from the adventure that brought him to America: editing the African Commentary magazine founded by Chinua Achebe. The memoir jumps back and forth in time as he shares anecdotes and asides that deepen our understanding of his point of view:
"Did becoming an American entail an obligation, as my mother no doubt feared, that I "unbecome" what I had been before—an Igbo, a Nigerian, an African? What deep significance was I to attach to the oath's prescription that I renounce and abjure all allegiance to my natal country? Did the acquisition of American citizenship transform me into a human slate wiped clean of a set of sentimental, cultural, and experiential data, the better to make room for a new, uniquely American imprimatur? Was American citizenship somewhat ersatz, nullifying Nigeria and all that it had meant to me? Did it call for amnesia about America's past history of racial discrimination against Africans, its unresolved legacy of racism, or the turning of a blind eye to the nation's sometimes exasperating foreign policy choices? […]
I have come to see my US citizenship as far from an invitation to gain the kingdom of America by giving up filial ties to Nigeria. Rather than adopt a singular conception of citizenship, I have embraced a vision that sees it in terms of a fruitful marriage. As far as I am concerned, naturalization is not a loss-gain dialectic but a gain-gain proposition. In me, Nigeria and the United States don't find a battleground. Instead, they find a new momentum, a harmonic hyphenation: I am proudly Nigerian American."
Pick up Never Look an American in the Eye to see America through fresh eyes, to learn more about Nigerian culture, to broaden your worldview though diverse reading, to better understand the immigrant experience, and to delight in a wonderfully written memoir that will make you laugh as well as share thoughts that will stay with you long after you read the last page.
//
I received a copy of this book from the publisher.