My September reading was up and down – more duds than usual. Two of the duds were audiobooks (short ones), which is why I was able to power through them instead of adding them to the DNF pile. But there were some gems as well! Here's a look: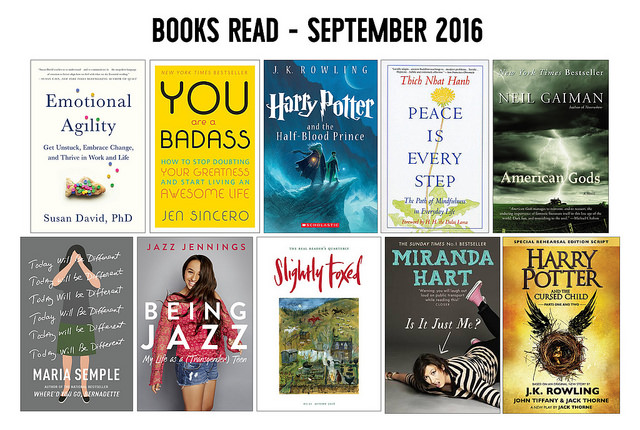 Books Read: 10
Already reviewed: Today Will Be Different by Maria Semple
NON-FICTION
I read Emotional Agility by Susan David – a book focused on how we can use emotional intelligence to embrace change and free ourselves from the mental "hooks" we often get caught on over and over again. I always love diving into the subject of emotional intelligence – it's so interesting, and this is an accessible, extremely readable, and life-improving introduction.
I bought the audiobook of You Are a Badass by Jen Sincero in a sale on Audible, and decided to give it a listen. This was my biggest dud of the month. While she has some good (if unoriginal) messages about working hard and believing in yourself, I find her magical thinking philosophy a bit ridiculous, and borderline terrible advice. I get that visualizing yourself in the reality you want can be an effective motivational tool, but I think she officially lost me when she described buying an expensive luxury car that she could not afford instead of a sensible (and within her budget) Honda. Her reasoning? Having the giant car payment would force her to take her business to the next level to be able to pay for what she just purchased. This seemed to work out for her, but to me it seems like reckless, and unhelpful, advice. And the main visualization example she uses over and over again is someone who wants to "hang poolside with President Obama." As fun as that sounds, it's a distractingly silly example for book that's about trying to make tangible progress on your dreams and goals.
I also listened to Peace is Every Step by Thich Nhat Hanh – I'm slowly making my way through his impressive amount of literary output, and enjoying every one of them.
MEMOIR
I listened to the wonderful memoir Being Jazz: My Life as a (Transgender) Teen by Jazz Jennings — I don't think you could listen to or read this book without wanting to cheer out loud about the tremendous strength and poise she embodies. She's an incredible role model for all teens – in the transgender community and beyond, and it was inspiring to hear her story.
Is It Just Me? by Miranda Hart was my other audiobook dud of the month. I like Miranda Hart (probably best known to Americans as Melissa McCarthy's CIA sidekick in the movie Spy, but she's a well known comedian in the UK) and relished the idea of a light, funny memoir to get through one of September's busiest week, but this one didn't do it for me. I think the main fault I found with it was that she regularly interrupted the narrative with an appearance from her "teenage self," who butts into the story to have a look around and have wisdom imparted on her. A few times these interludes were funny, but mostly they were distracting and dull. The most painful part was the large amount of time spent trying to catch her 18 year old self up on new technology.
FICTION
I also read a book that's been sitting on my shelf unread for 7 years: American Gods by Neil Gaiman. I knew nothing about the plot before opening to page one, and it surprised me in a good way. It's so ambitious in scope, and completely unique. I would say that I think Neil Gaiman can do no wrong — but I don't think that's going far enough. I'm not sure he can do anything less than excellent. I'm also glad I got to this one before the TV series comes out.
I'm finishing up yet another re-read of the Harry Potter series via audiobook, and this month listed to Harry Potter and the Half-Blood Prince. I also (finally) read Harry Potter and the Cursed Child, and I didn't really enjoy it. The dialog was painfully bad. (No one tacks "My old friend" onto the end of statements, unless you're pouring a giant glass of whiskey for them at a bar.) The plot felt too complex for a play. As it got going I got a little more interested in what was happening, but still didn't think very highly of it when I finished.
LITERARY JOURNALS
Last but not least, I read and adored, as always, the latest issue of Slightly Foxed, #51.

I love Ella Frances Sanders's book of untranslatable words, Lost in Translation (review here), and am so excited to dive into her latest, The Illustrated Book of Sayings. It's a collection of unique expressions from around the world, from a wide variety of countries and languages – all translated and explained in English, and illustrated beautifully.
I couldn't resist picking up a copy of The Book of Joy by the Dalai Lama and Desmond Tutu. (And I feel like I should read it soon – I need a dose of joy and happiness and acceptance to get through the last, increasingly ugly, month of this campaign.)
While I was in Hudson for work, I stopped by the lovely indie bookstore / bar – Spotty Dog Books & Ale, and discovered and purchased the delightful illustrated poetry collection, Bright Wings.
//
That's September in books! Apologies this is so delayed – I've been having trouble getting in the blogging mindset lately, and am letting myself slow down for a spell rather than trying to force out posts. Other than the blogging slump – I've been enjoying a lovely autumn with the hubs, and currently have my nose in 5 different excellent books at once.