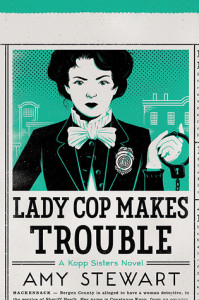 Last year I told you about how much fun it was to get to know the Kopp sisters in Girl Waits With Gun by Amy Stewart. So I was delighted to learn this summer that not only was a sequel on deck for the fall, but Amy Stewart is planning on making this series a trilogy, and there will be another Constance Kopp story to look forward to next year as well.
In the latest installment, Lady Cop Makes Trouble, Constance Kopp is on a quest to catch escaped prisoner Dr. von Matthesius, a deplorable — and slippery — criminal. We follow along on the trail that leads through Manhattan, Brooklyn, and New Jersey suburbs. Old and new faces are along for the ride, and the best of the new faces include a group of ladies who dine together at the women's hotel in Manhattan, and take an interest in Constance. I wanted more time with these vivacious friends, and hope they return for the next volume.
I love the characters in this world. Constance Kopp feels like an everywoman heroine, and I adore her quirky family, especially carrier-pigeon-obsessed Norma. But I think what I love most about this series is Amy Stewart's clean and concise storytelling. Her ability to recreate NYC in the 1910s appears effortless, but it's definitely the mark of a skilled hand. The reader is placed right in middle the dust and dirt and noise of this time period without fuss, and the sense of place is masterful and complete. Best of all – Constance Kopp is based on a real life female deputy sheriff, one of the first in New Jersey.
Girl Waits With Gun and Lady Cop Makes Trouble are great fun, and they'd also bust a reading slump. Pick them up when you need a enjoyable romp to perk you up, or a page turner for the beach or traveling.
//
Author photo by Terrance McNally.
I received a review copy of this title from the publisher.