In the first half of this year, Graham and I got married (twice), and went through all of the tedious and paperwork-filled activities that make up the immigration process. By June 26th, we were super duper married, had thrown a lovely celebration with our friends & families, and had finished the bulk of his immigration work. I entered the second half of 2016 very motivated to make good use of my newfound free time and free brain.
There were so many things I wanted to do! Cook! Organize! Exercise more! Go on more dates with the hubs! Do art projects! Read more! Write more! All of the things. But I knew that I couldn't do everything at once, or even try to think about everything at once. (I had a few months of unlimited free time at the end of my around the world travels, before I went back to work, and I learned then that even when you have all 24 hours of the day to yourself, you still can't even come close to doing everything you'd like to do. But you can do one special thing every day.)
I decided to take inspiration from Gretchen Rubin, one of my favorite personal development writers (and podcasters). In The Happiness Project and Happier at Home, Gretchen picks a theme for each month and dives into exploring those areas: learning, planning, doing. This structure suits me very well, and I began to craft my own plan for monthly happiness projects, themed around each of the areas I wanted to focus on. Gretchen writes:
To be happier, you have to think about feeling good, feeling bad, and feeling right, in an atmosphere of growth.
These three elements form the heart of her research and exploration into happiness and habits. And they helped me shape an outline of the types of things I wanted to focus on each month. What makes me feel good, and how can I do more of those things? What makes me feel bad, and how can I take action: changing, accepting, or eliminating? And most importantly to me: how can I foster an atmosphere of growth? I want to try new things, find new passions or hobbies that bring me joy, and discover new things Graham and I can do together as we settle into married life.
I decided to start with creativity as my first monthly happiness project theme. I've always loved doing art projects, but haven't really found a specific medium or skill that I've wanted to dive deep into. I hoped to change that this month, while also trying a lot of new, different things. (My decision to start with creativity was very likely also influenced by where I work: all day I am exposed to the boundless creativity of our community, and it's immensely inspiring.)
So! Month 1. August. Creativity. I dove in, and outlined these overarching goals for the month:
– Do something creative every day for 31 days.
– Try new art projects.
– Explore online classes.
– Release myself from my own judgement. It doesn't matter if what I'm making is "good." I can be objective without getting discouraged.
Along with those goals, I made a specific list of things I could do during the month, such as: make an embroidery project, take a art class at Brooklyn Brainery, design new business cards for my blog, etc.
In addition to that list, I decided to focus on drawing and watercolor during the month. Both are areas where I'm a complete beginner, but I wanted to learn, explore, and get better.
For drawing – I started by buying a simple 6″ x 9.5″ spiral bound sketchbook, a set of 12 Faber-Castell pencils, and a General's tri-tip eraser. I also bought (or checked out from the library) a variety of drawing and sketching books.
I started out bad. Really bad. But I didn't get discouraged. Here are the first faces I drew in my new sketchbook. The one on the right is supposed to be William Finngean's friend, from the cover of Barbarian Days. I didn't get even to the hair of the poor people on the left. Not great.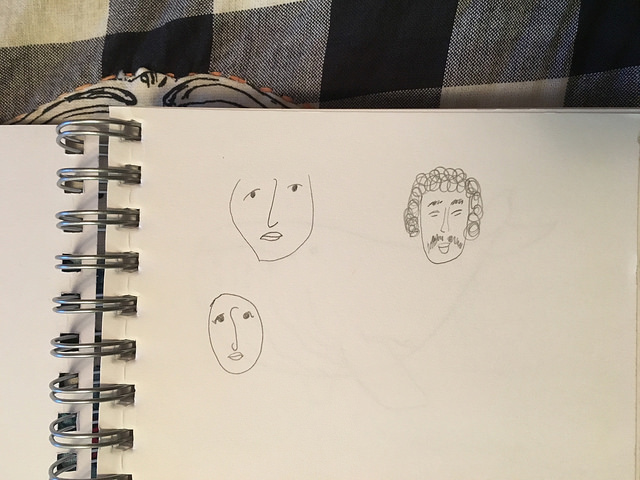 I realized that as a beginner, It might be easier to start by focusing on just trying to replicate things from the drawing books. My favorite books for this purpose turned out to be the "20 Ways to Draw a ____" series by Quarry Books, such as 20 Ways to Draw a Mustache and 44 Other Funny Faces and Features by Cara Bean and 20 Ways to Draw a Tree and 44 Other Nifty Things From Nature by Eloise Renouf. I also love Sachiko Umoto's "Let's Draw" series.
I slowly started to get a little better as I practiced replicating the sketches in these books. I got better at making lines, and improved my hand / eye coordination a little bit. Here are some of my daily sketch pages, in order: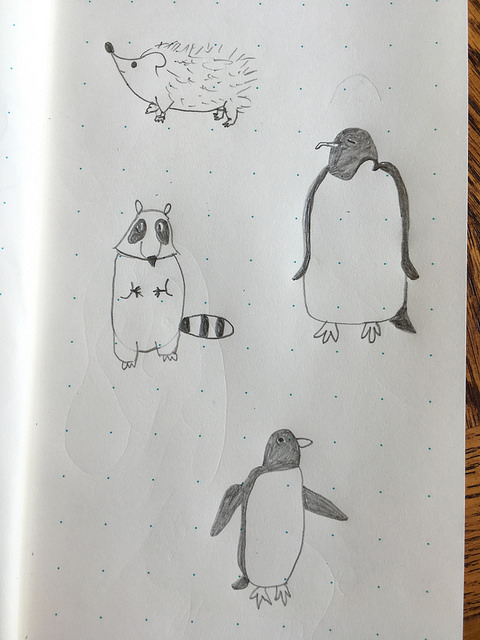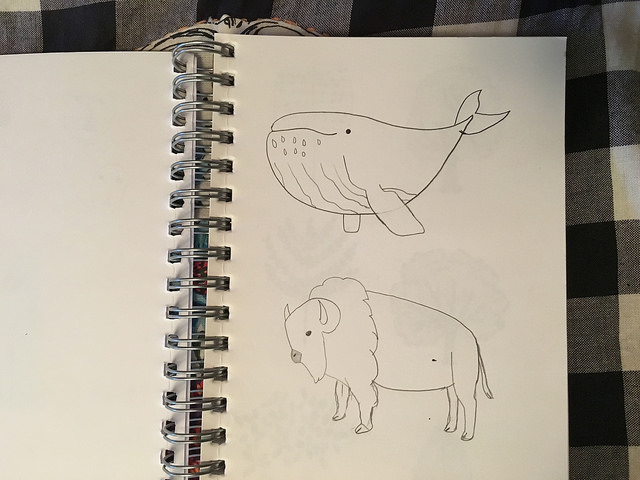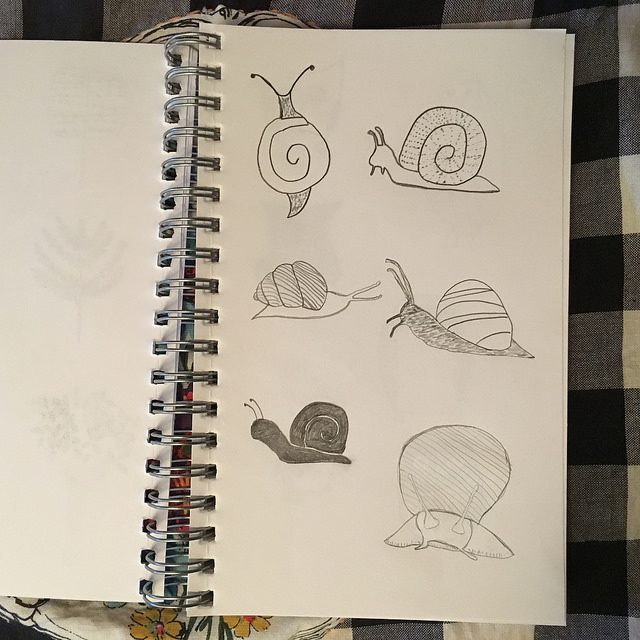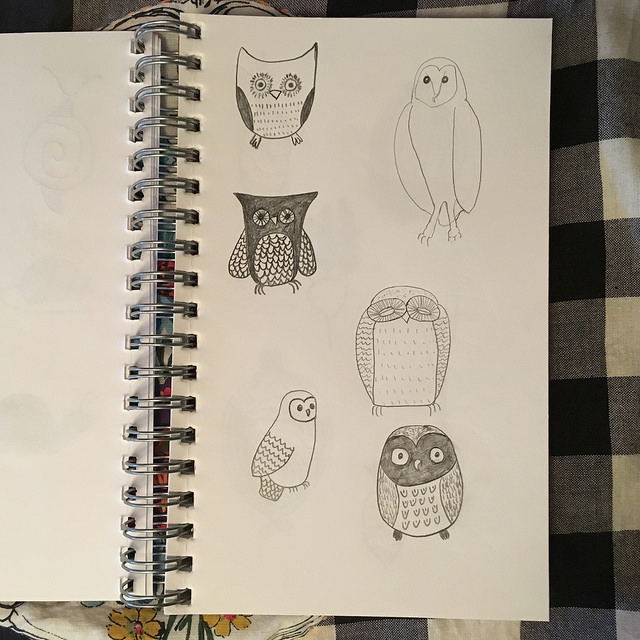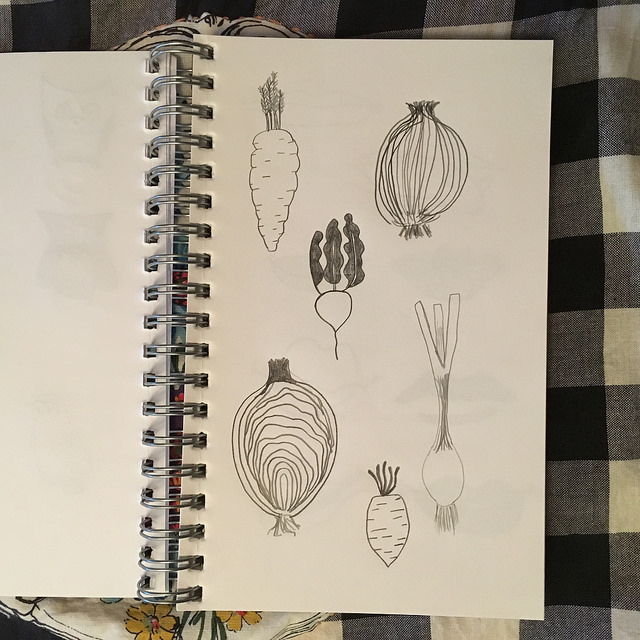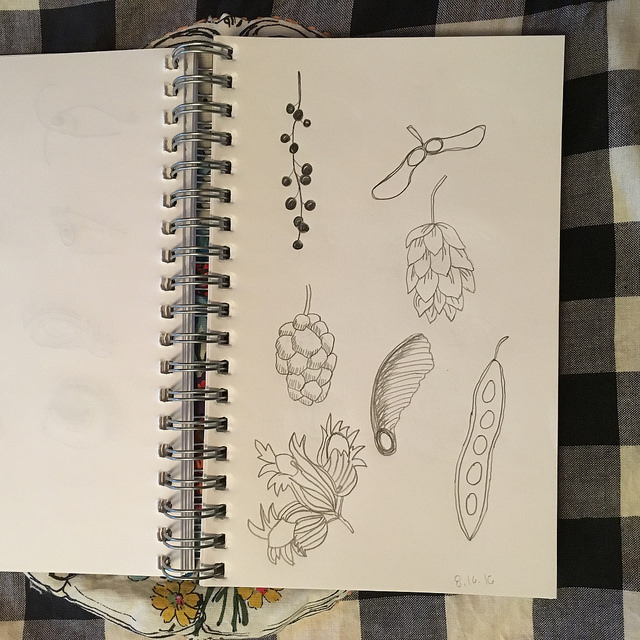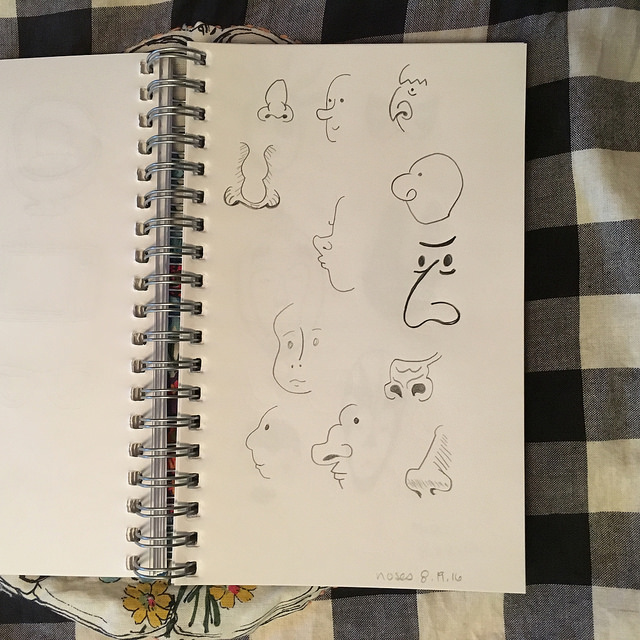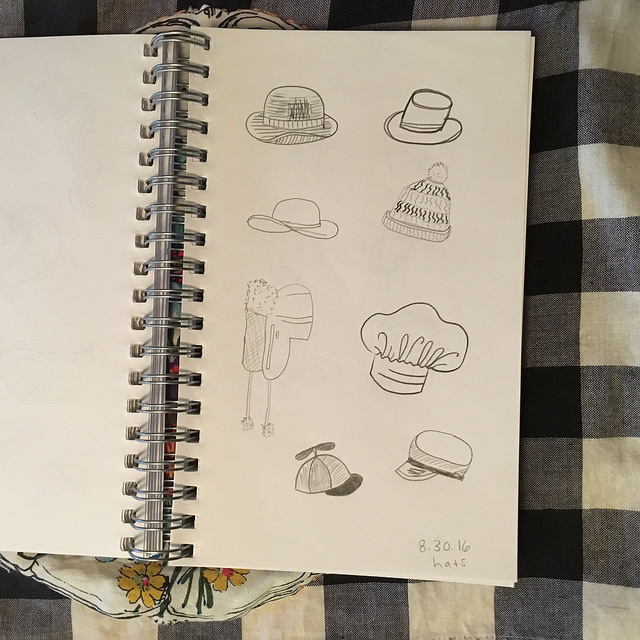 I also started a drawing class on CreativeBug, where I did blind contour & cross contour drawings of my hand and tried to draw a glass jar to practice shading. It's all a bit wonky, but that's ok.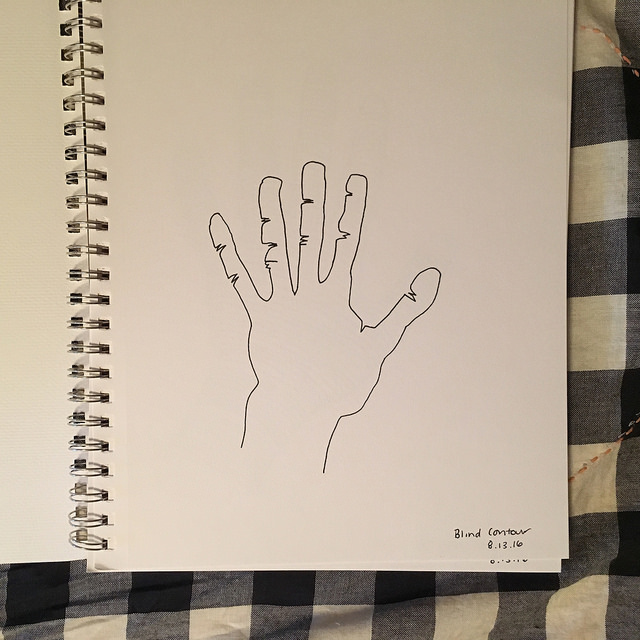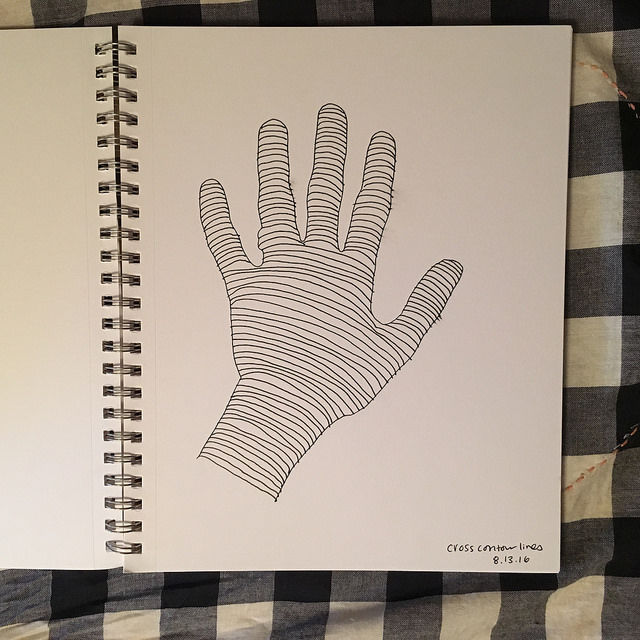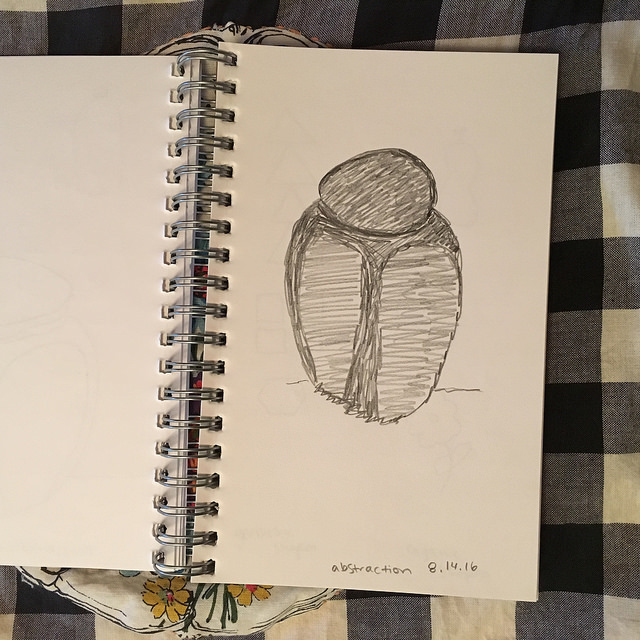 I'm just now – six weeks later, starting to venture into drawing from real life or photos (as opposed to trying to replicate other people's doodles line-for-line to learn). I'm going to continue the drawing classes on Creative Bug. I've loved nature drawing the best so far, and I'm going to take a class my mom recommended on Craftsy that focuses on nature journaling.
//
Watercolor was more challenging. It requires more supplies (and more expensive supplies), and has a steeper learning curve. I bought some very basic supplies to start with, but ended up buying more supplies as the month went on. (Bigger brushes, and better paper. Crappy paper only leads to frustration, I learned. Buy the good stuff.)
I started off using the Beginning Watercolor class on CreativeBug, taught by Yao Cheng. It starts out by getting to know your paints and brushes: practicing shading and blending, and creating a color palette.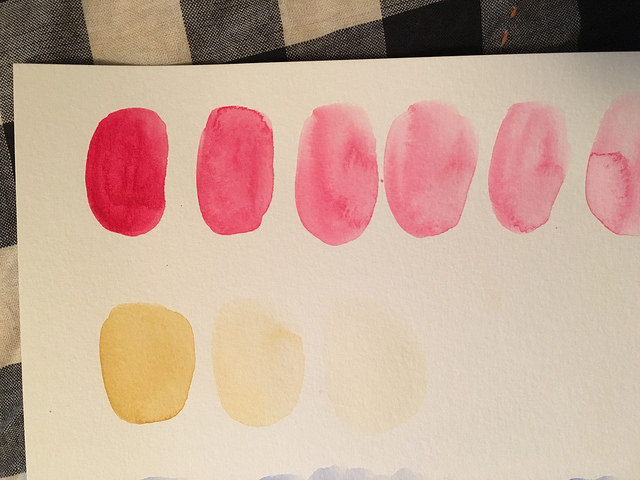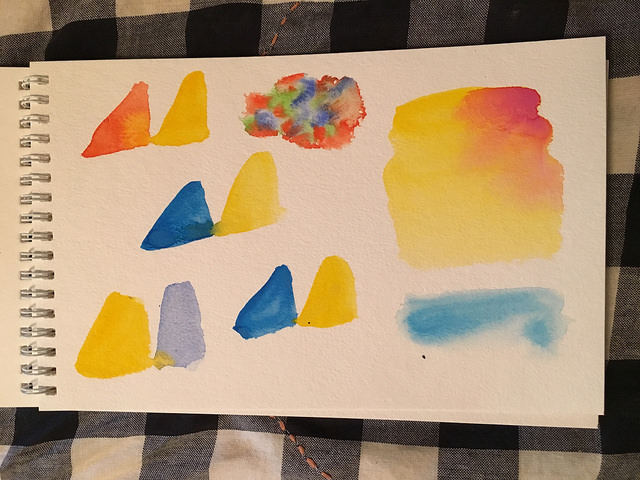 Truthfully – at first I was a bit discouraged. It was somewhat satisfying to blend colors and make little circles of paint that you gradually add water to and lighten, but when I tried to venture beyond those very basic things my attempts looked like something a five year old could do better, and that was frustrating – even though my goal this month was to not judge myself. And most importantly: I wasn't even having fun. But the next weekend I continued with Yao Cheng's class, and the next few projects she shows you are aimed at addressing that very thing: showing you how to have fun with watercolors. (It's like she knows what she's doing!) Then I was off and running. I'm still very much a beginner, producing beginner things that still have a lot of room for improvement. But now I'm having fun. And that makes all the difference. Now I know how to explore watercolors while having fun, and the "fun" part is what keeps me going, and keeps me wanting to learn.
Did you know that it's so much fun to paint watercolor circles that touch, and watch as the colors mix together?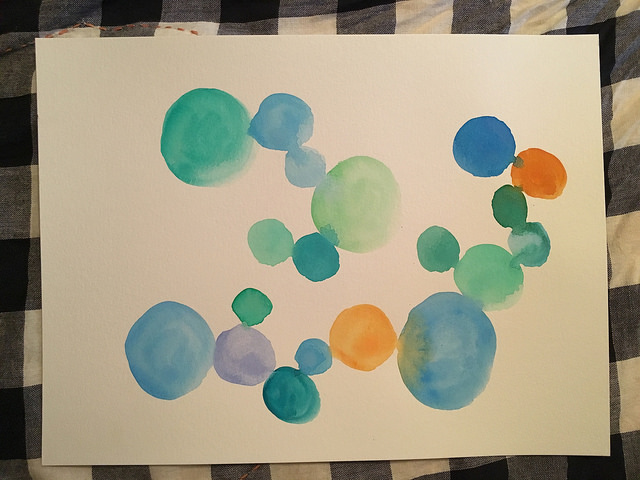 Or that leaves are one of the most relaxing things to paint?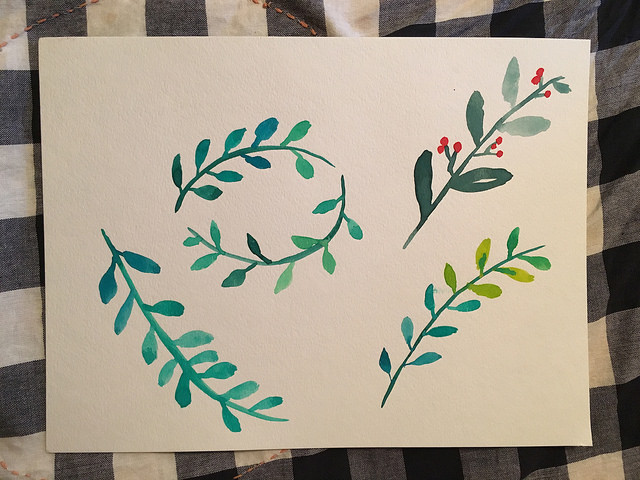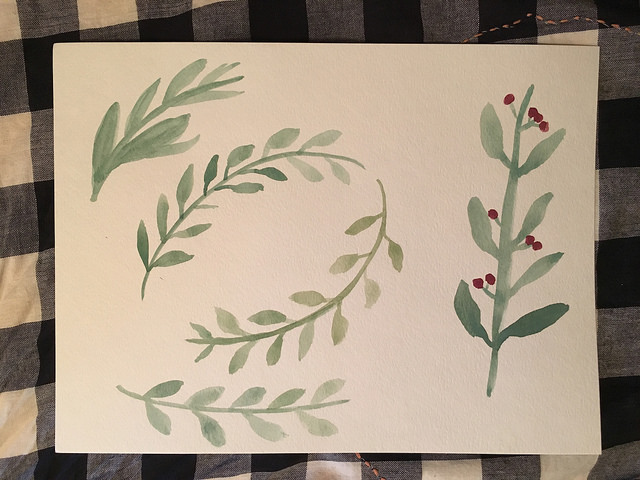 I'm so glad I was able to move beyond my own self doubt and start having fun with this this beautiful medium.
//
Here are some of the other, random creative projects I did in August:
I embroidered this wall hanging for the entryway of our apartment: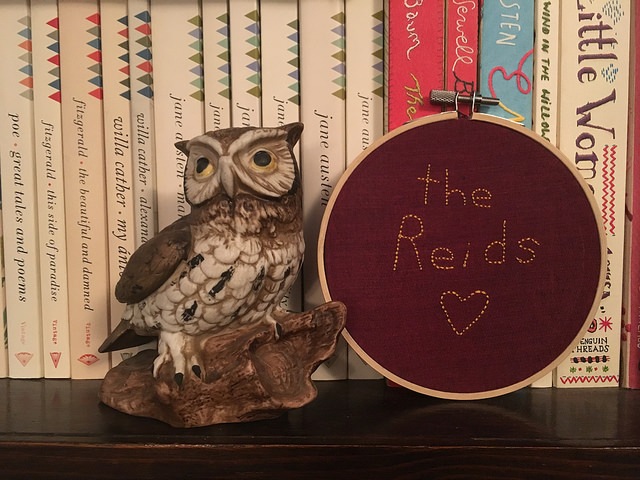 I hand-carved this penguin rubber stamp (and four others) at a class I took in August with Graham. (And he made the beautiful pattern stamp!):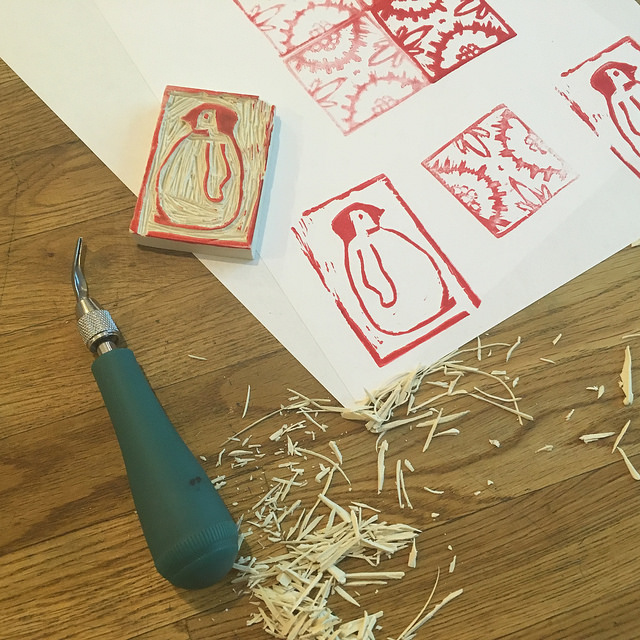 I designed business cards for my blog, which mainly entailed recreating my blog logo because it wasn't high resolution: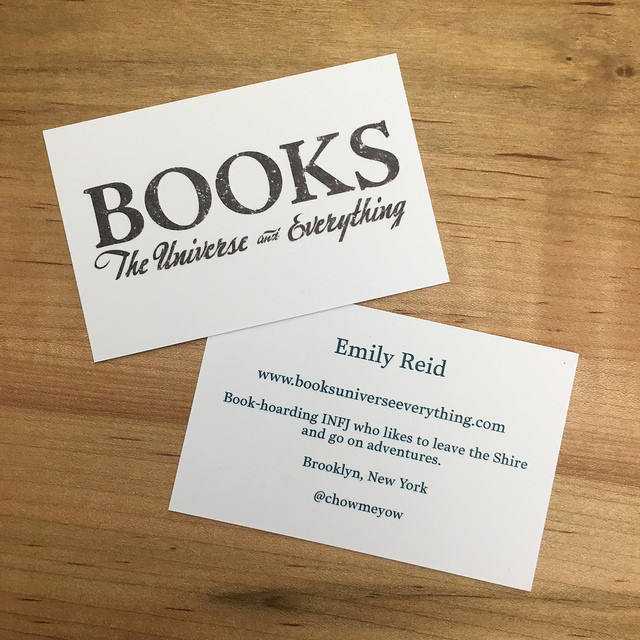 And I finally made this stamped tea towel from a kit I purchased a year ago that had been sitting in my closet neglected: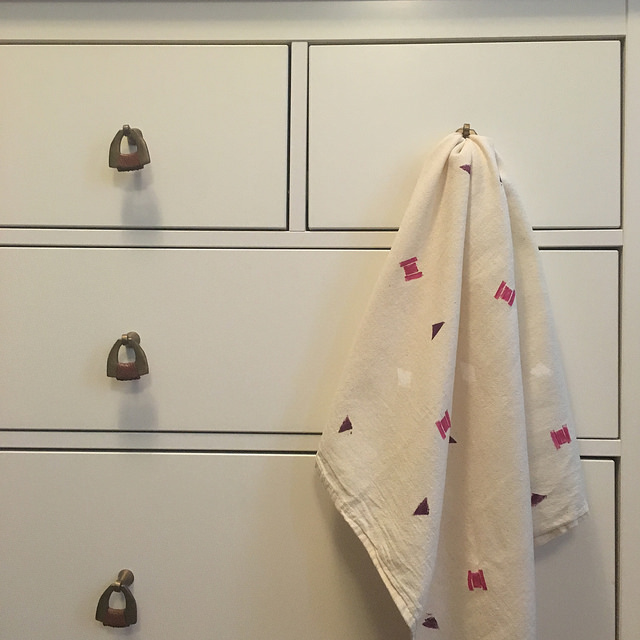 What I learned: 
– I loved doing something creative every day. I loved trying new things. I loved drawing. I loved playing with watercolors. These projects added a lot of fun and joy into my life, and I'll be continuing them even though my official Month of Creativity has ended. This month's theme hit hard on the "atmosphere of growth" aspect of happiness, and it was wonderful to push myself to try new things. I'm not doing something every single day anymore, but I've continued to draw or paint every few days, and don't plan on stopping.
– Despite doing something creative every day, I didn't progress as quickly as I thought I would. And that's ok. In the beginning of the month, I treated myself to a few books filled with really fun projects: Ladies Drawing Night and The Pen & Ink Playbook. I thought that I'd pull them out later in the month and work on a few projects, but by the end of the month I was still focused on getting more comfortable with the basics. Neither of these books is terribly advanced though, and I'm looking forward to diving into them soon.
– If you want to try a new medium, look for help or inspiration before diving in. Learning from an expert really goes a long way to helping you understand the basics. That will give you an understanding of the directions you want to go in, and will help you have fun as you explore and learn. For me, this was key to making sure I didn't get discouraged. (I really loved the CreativeBug classes I took this month, and it's one of the most affordable online art class sites.)
– Fill your feeds with what you're interested in. I started following so many amazing artists on Instagram this month. Seeing their work in my feed every day has helped inspire me to pull out my sketchbook in the evening, or my paints during the weekend.
– It wasn't hard to fit creativity into my life. I did something creative every day for 31 days, even if it was just drawing one page in my sketchbook. I did this during a month where I spent a week in Michigan, worked full time, worked out 3 times a week, blogged, and still had time to read 9 books and spend a good amount of TV & relaxing time with my husband. Granted, I'm not in school or raising children or working two jobs, but prior to this month I still felt pretty busy and tired, so it was really nice to learn that there is room in my life for more.
//
So that's the story of my month of creativity! I've decided to share each month of my happiness projects here on the blog, for however long I manage to stick with this. It's fun to document them for my own sake, and who knows: maybe they'll provide inspiration or motivation to others. (For the ultimate motivation, read either of Gretchen's books about her own monthly projects: The Happiness Project or Happier at Home.)
And I'd love to know – have you done something similar? Started a happiness project of your own, or focused on one theme for a month (or even a year!)? Please share!
In case you're wondering – September's theme is "A Month of Loving Where I Live." This month is super fun: Graham and I made a list of all the things that we've been meaning or wanting to do in New York City, and we're cramming as much as we can into September. I'll share a full post about our adventures next month!