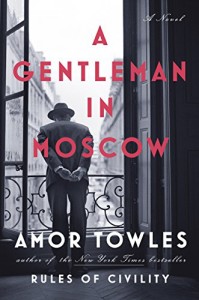 In A Gentleman in Moscow by Amor Towles, we are invited to travel to Moscow in the 1920s, and take up residence at the Hotel Metropol. And because our guide to this adventure, Count Alexander Rostov, is confined to house arrest within the hotel's walls, we will not be allowed to leave as well.
No matter, you'll soon find that you do not wish to leave the world of the Metropol, particularly not on page 462 when the novel ends. You'll find that the walls of the hotel hold an entire world that's richly lived and described, cozy and warm, bustling and interesting. The prose is playful, and elegantly written. It's a treat to be immersed in these pages.
This novel is filled with so many small, exquisite moments: young lovers selecting a wine with dinner, an unlikely late night bouillabaisse feast, the hiding of a thimble, a haircut, a twice tolling clock, the essays of Montaigne, old and new friends.
Amor Towles says this about the novel's structure on a Q&A posted on his site:
Essentially, A Gentleman in Moscow takes the shape of a diamond on its side. From the moment the Count passes through the hotel's revolving doors, the narrative begins opening steadily outward. Over the next two hundred pages detailed descriptions accumulate of people, rooms, objects, memories, and minor events, many of which seem almost incidental. But then, as the book shifts into its second half, the narrative begins to narrow and all of the disparate elements from the first half converge. Bit characters, passing remarks, incidental objects come swirling together and play essential roles in bringing the narrative to its sharply pointed conclusion.
When effective, a book like this can provide a lot of unexpected satisfactions to the reader. The problem is that the plethora of elements in the first half can bog readers down making them so frustrated or bored that they abandon the book. So, my challenge was to craft the story, the point of view, and the language in such a way that readers enjoy the first half and feel compelled to continue despite their uncertainty of where things are headed. Whether or not I succeeded in doing so is up to you.
I think he succeeded tremendously. The first half of the novel is such a pleasure to read, and by the time the plot starts unwinding in the second half I was enthralled, practically beaming while I read it. I'm gushing about this one big time, and I don't expect to stop for a while.
I'm often apprehensive about a second novel from an author of a first novel that I've loved — can it possibly be as good? I don't know anyone who read but didn't enjoy the first novel from Amor Towles, Rules of Civility. I adored it. And I am pleased to report that I loved A Gentleman in Moscow so much that I can't pick my favorite between them.
Wholeheartly recommended – this is a fall novel that you will tumble head over heels for.
//
I received a copy of this book from the publisher.
Main post image is Hotel "Metropol" //  Moscow, Russia // Public Domain {{PD-US}}