I felt like my August reading went pretty slow most of the month – the majority of the month I slowly made my way through Barbarian Days and A Gentleman in Moscow, two incredible books (the best of the month) that wanted me to read them carefully and meditatively. But I finished 4 books in the last 4 days, which helped my stats for the month. And more important than numbers – everything I read in August was good. Much of it was great. Here's a look: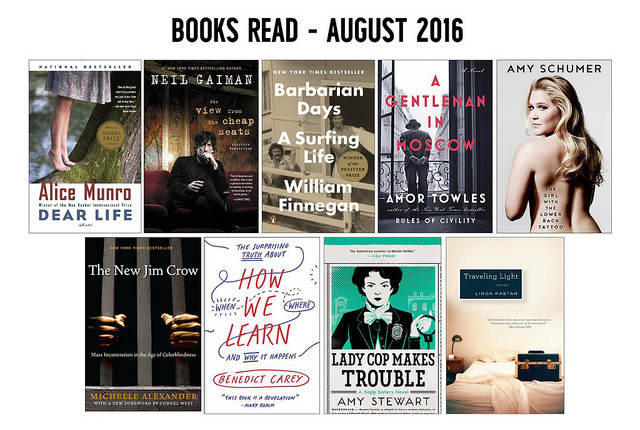 Books read: 9
Already reviewed: Barbarian Days by William Finnegan
FICTION
I've been wanting to read more of the many unread short story collections sitting around the apartment, so at the beginning of the month I picked up Dear Life by Alice Munro and brought it along on our trip to Michigan. She says in the afterword that it's her most personal collection yet, and it was interesting to think about how these beautiful – sometimes haunting, perfectly structured stories reflected who she is as an author and a person. It was my second of her collections, and I'm eager to read more.
I read A Gentleman in Moscow by Amor Towles and Lady Cop Makes Trouble by Amy Stewart — both are being released tomorrow, and I will share full reviews this week. (Spoiler alert: prepare for me to majorly gush about A Gentleman in Moscow.) 
AUDIOBOOKS
I had so much fun listening to The View from the Cheap Seats by Neil Gaiman this month. It's a collection of some of his essays, introductions to other author's work, and speeches that he's amassed during his career so far. It made me want to lock myself up in a library somewhere and devote the next two years to reading classic fantasy novels and comics. It's such a conversational, personal collection of non-fiction, and listening to him read it is exceedingly enjoyable.
I was pleasantly surprised by Amy Schumer's new memoir, The Girl With the Lower Back Tattoo. I like Amy Schumer a lot, but I feel like every time I see her interviewed she's "in character" – even if that character is herself. I was a little worried the book would be written in a similar style, when I wanted something a bit more personal. And thankfully, that's what she delivers. She writes very openly and honestly about her life, while still making you laugh. Chalk another one up for the "memoirs by female comedians are the best" tally.
My third and final audiobook of August was How We Learn by Benedict Carey. A lot of this one is devoted to discussing the science behind the way we learn, which is interesting, but there are also some tangible takeaways that are very helpful to know, particularly if you're a parent, teacher, or just someone who likes to keep learning.
NON-FICTION
I hope to find time to write a full review of The New Jim Crow by Michelle Alexander – there's so much to say about this one. It will turn your understanding of our criminal justice system upside down — even if you already knew it was broken. Highly recommended.
POETRY
It's been a while since I've read a collection of poetry by a new-to-me poet, so this month I picked up Traveling Light by Linda Pastan. I'm so glad I did. This collection is beautiful – filled with life and nature and small moments. Not unlike my favorite poet Mary Oliver, but with a style all her own. I'm going to need to get my hands on more of her work.

Man's Search for Meaning has been mentioned in several books I've read lately, and I started to wonder why on earth I haven't read it yet. I bought a copy this month – the first step to remedying that.
I've never been personally interested in the "Wreck This Journal" series by Keri Smith, but I picked up The Wander Society in a bookstore in Michigan and couldn't get over how delightful it looked. I couldn't resist getting it.
As someone who flew from NYC to Michigan on two occasions to attend midnight Harry Potter book release parties with my mom, it came as a surprise to most of my friends that I was fairly ambivalent about Harry Potter and the Cursed Child. I really don't know why, but I just wasn't excited about this one. However, I started to hear some good reviews of this one, and I also realized that I want to keep my Harry Potter trivia game strong. So I bought it, and am looking forward to reading it this fall.
And finally, it's about time I read The Argonauts by Maggie Nelson, so I bought a copy of that too.
//
What were the best books you read in August?