Last month I posted about our "first" wedding – our marriage at City Hall in January. This post shares photos & details from our wedding celebration that we held in June, at the Strand Bookstore in New York City. 
Neither Graham nor I fancied a traditional wedding: a large, fussy affair that is stressful to plan and burns through money that could be better spent on a down payment for a house, an epic trip, or just collecting interest in a savings account. So we planned an intimate celebration with 30 of our closest friends, and our immediate families. I don't know how people who have large weddings do it – I felt like I didn't get enough time with these 30 dear people, I can't imagine how overwhelmed I would have felt if we had opt-ed for a large wedding.
Where we splurged: The venue and the food. Strand isn't a terribly expensive venue, but it did comprise the bulk of our wedding cost. (And it was worth it!) The second most expensive piece of the wedding was the food, but we went with a very affordable (and amazing & lovely to work with) caterer, Party Box, who was recommended by the Strand. We are grateful to the wonderful staff at the Strand and Party Box for making our evening so magical, and especially to our parents, who helped contribute to this portion of the expense.
Where we saved: Our outfits & the flowers. We wore the same outfits as we did to our City Hall wedding, which we loved. Graham's suit is from Zara, and cost under $200. My dress was $179. And, as you'll see below, we bought all the flowers at the Union Square farmer's market, and arranged them ourselves. We used Paperless Post for our invitations, and we designed all of our printed materials for the wedding ourselves – the programs, signage, favor boxes, etc. My Dad generously made the favors: his delicious homemade caramels.
Worth every penny: Our photographer. We found a very affordable photographer, but it was still a splurge for us. And it was the best decision we made: we are so incredibly pleased with the exceptional photos w have to help us remember the evening. If you, or anyone you know in the NYC area, are looking for an incredible wedding photographer, we highly recommend Bethany. (In this post, all the pre-wedding photos were taken by me or Graham, the outdoor family photos were taken by our friend Chris Kordulak, and all the photos from the actual wedding at the Strand were taken by Bethany / her fiancé.)
Without further delay, here's the story of the best day of our lives:
On Friday, we loaded up an Uber with all our wedding clothes & stuff, rode across the Brooklyn Bridge into Manhattan, and checked into The Walker Hotel in Greenwich Village. We upgraded to a a penthouse room, which was an exceedingly good decision: we had a balcony, views of the Empire State Building, and a giant soaking bathtub.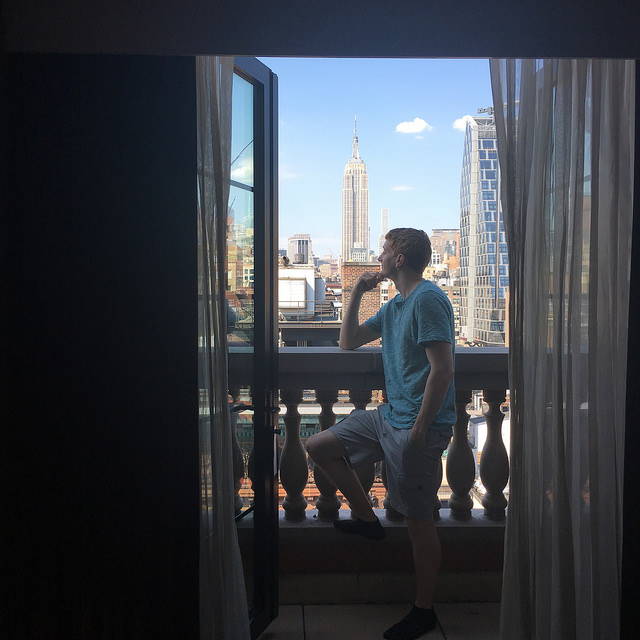 That evening we had dinner at one of our favorite restaurants, Building on Bond, with all of the out of towners: my family, Graham's family, my two best friends from college, Emily & Emma, and their fellows: Emily's fiancé Isaac, and Emma's husband Ronnie.
This was the first time our families had met, and they got on so well.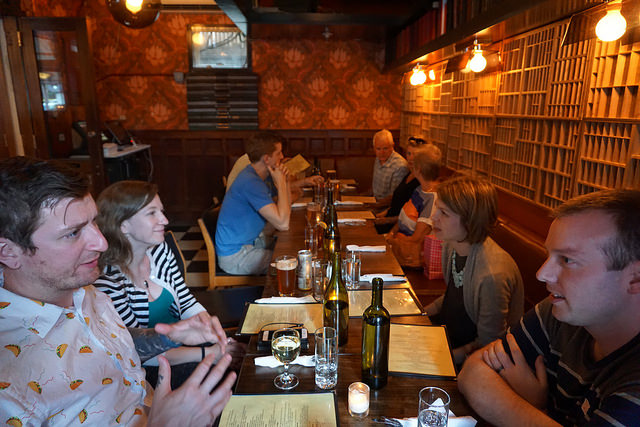 After dinner, we went back to the hotel and assembled the guest favors. My dad made several batches of his crowd-pleasing homemade caramels, which we divided up into little boxes for our guests: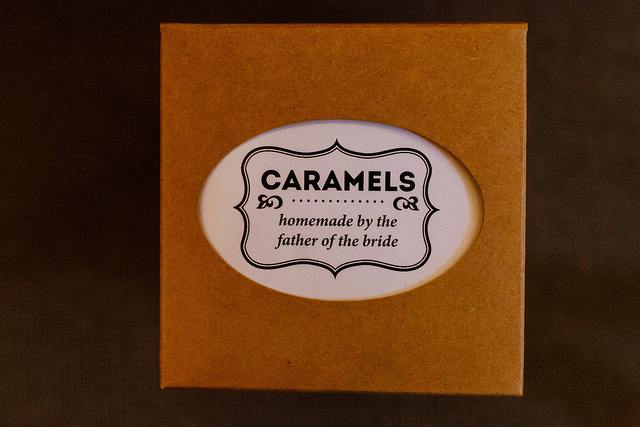 Once our chores were done, we watched an episode of Parks & Recreation and enjoyed the view from our room: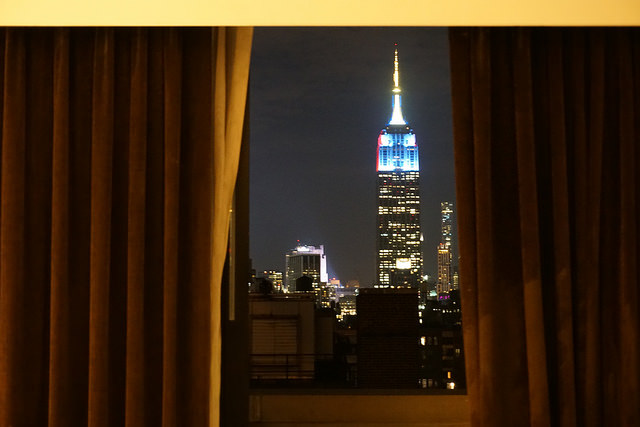 The next morning we went to the Union Square farmer's market and picked out flowers. We got flowers for the centerpieces, welcome tables, and my bouquet for under $100 total.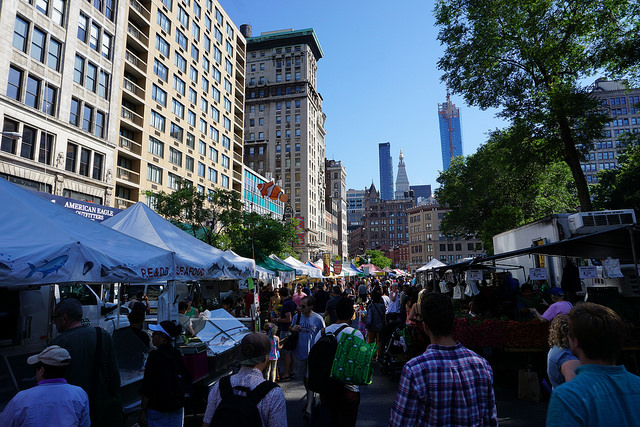 For the centerpieces, we picked out English tea roses from Rose Meadow Farm, because they are beautiful, and as a nod to Graham's Englishness.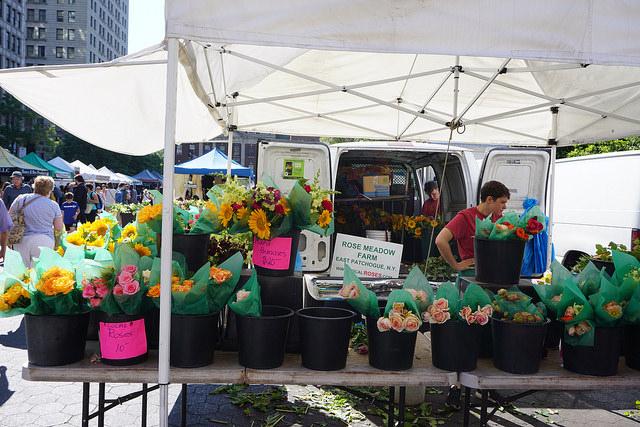 I was so happy to find peonies for my bouquet: it's a little late in the season for them, but there they were — ready & waiting to be turned into a beautiful bouquet.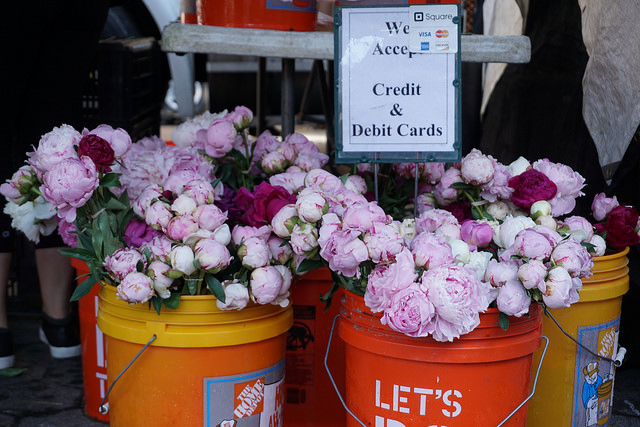 Back at the hotel, we set about assembling the flowers: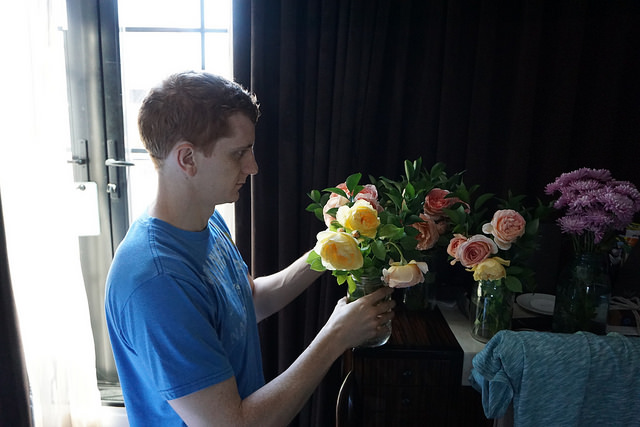 After many stabs from thorns, we succeeded in finishing the flowers for the centerpieces: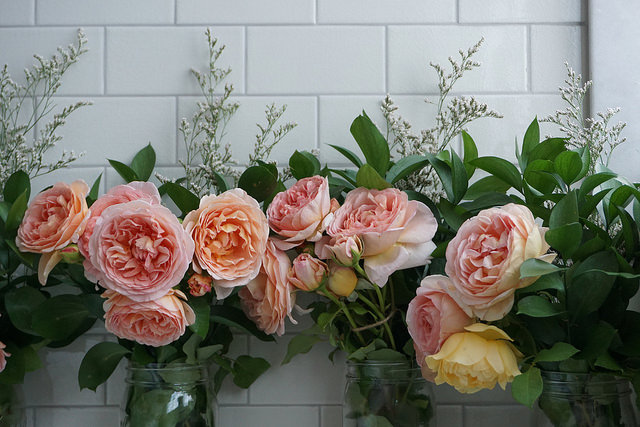 And my bouquet: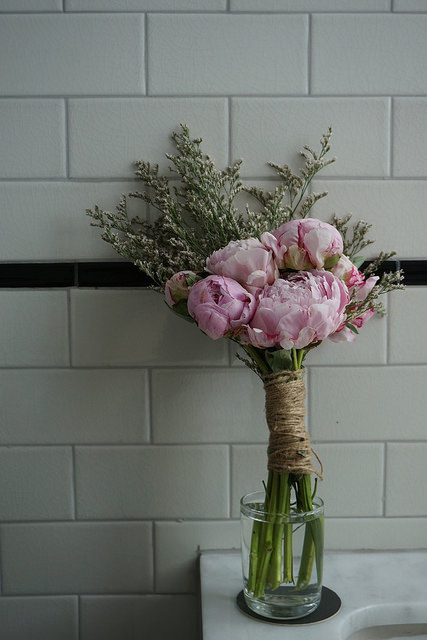 Having taken care of the first part of the day's preparations, we proceeded to Lillie's to stuff our faces: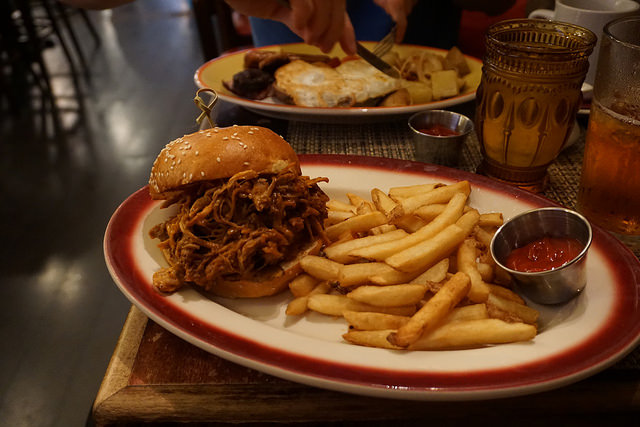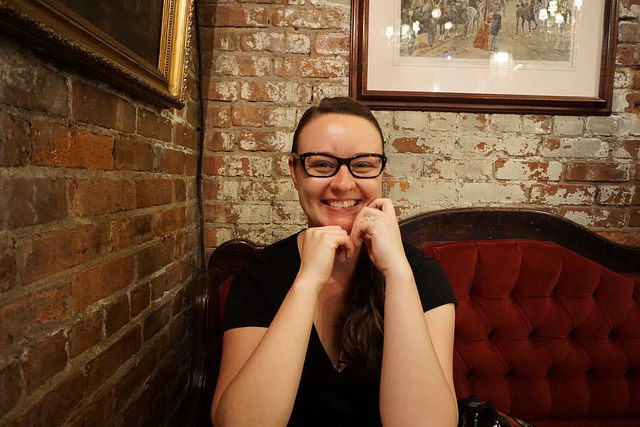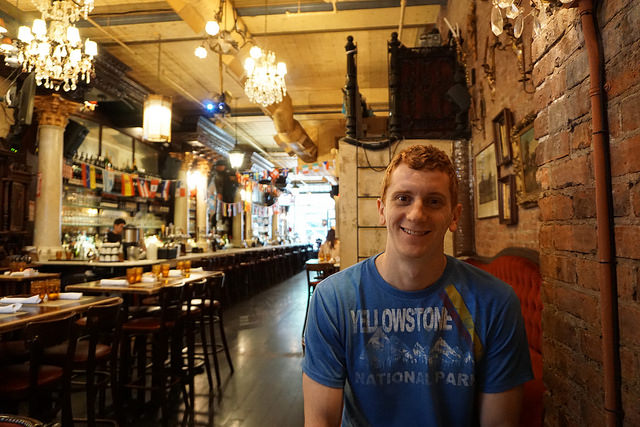 After lunch I went to the Red Door Salon to have my hair and nails done.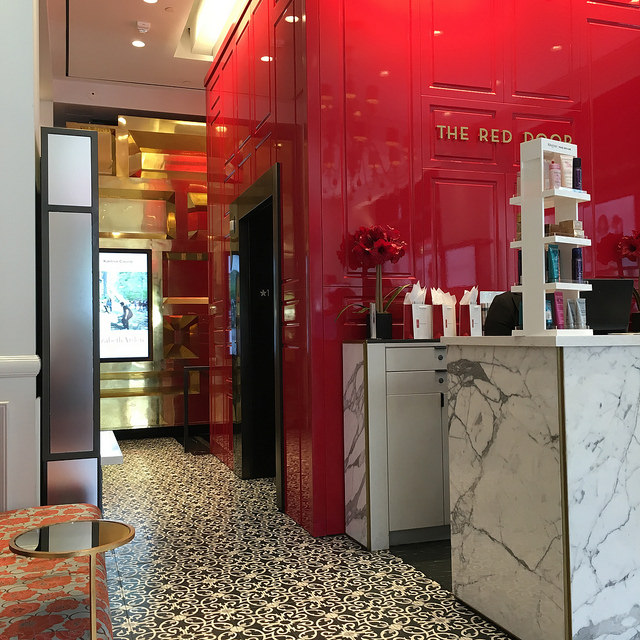 After I finished my minimal, but luxurious, amount of pampering, Graham and I walked over to Strand to drop off the centerpieces, caramel boxes, and decorations. Around 3:30, Dara and my Mom arrived at the hotel,so that we could all get ready together. Graham went down to relax at the hotel bar, and Dara did my makeup.
By the time we were all ready, Graham's family and my Dad and brother had arrived and were hanging out in the hotel bar with Graham. Shortly after, Dara's husband Chris arrived, and we walked down the street to take some family photos: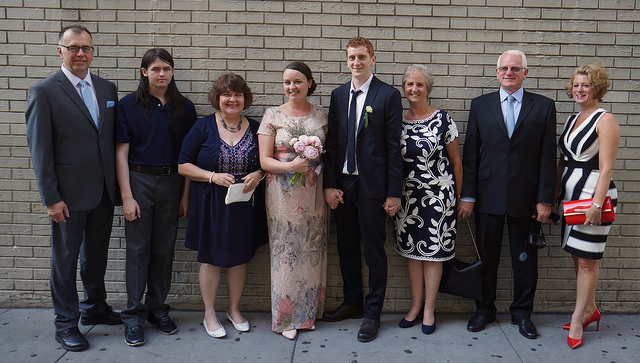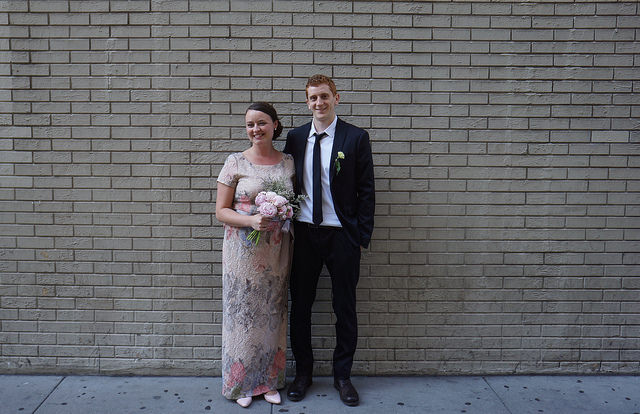 This post is already going to be miles long, so I've put the bulk of the family photos in a gallery to browse though, if you're so inclined:
This slideshow requires JavaScript.
After the family photos, we had an hour of free time before we had to head over to the Strand, so we went back to the hotel and had a few drinks.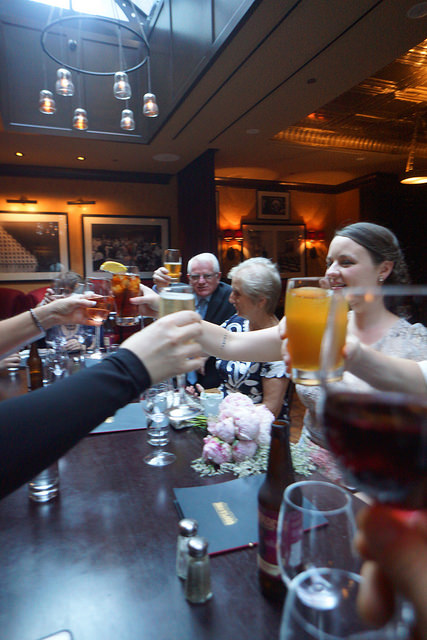 We also took advantage of the hotel's beautiful red velvet booths to take a couple of photos: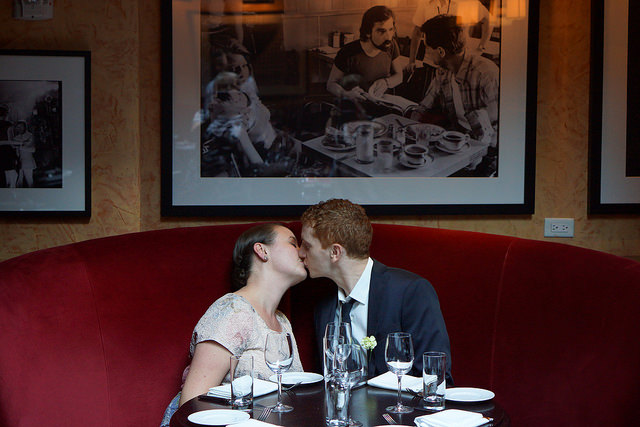 Graham and I went over to Strand at 6:30 to help assist with the final set up, with our families following a little bit after. We managed to cross 5th avenue just before the 23rd annual New York City Dyke March began, but our families and Dara & Chris got stuck on the other side of it 20 minutes later. Eventually they got across, but Chris got some great photos while they were waiting: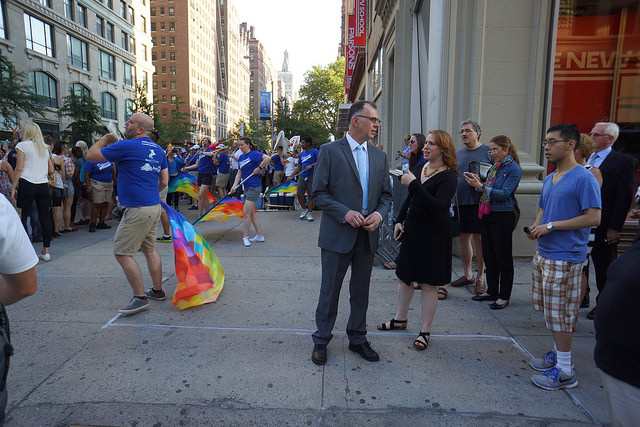 We took this parade as an auspicious sign, and eventually they all arrived at the Strand. By that time we had finished setting up and the first guests were starting to arrive. Most everyone already knew each other, but many people hadn't seen each other in quite a while. The evening provided a lovely reunion, and right away the room filled with love and good cheer as people reunited and caught up.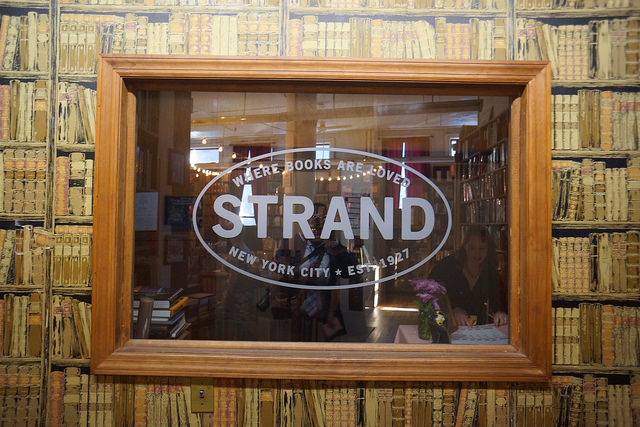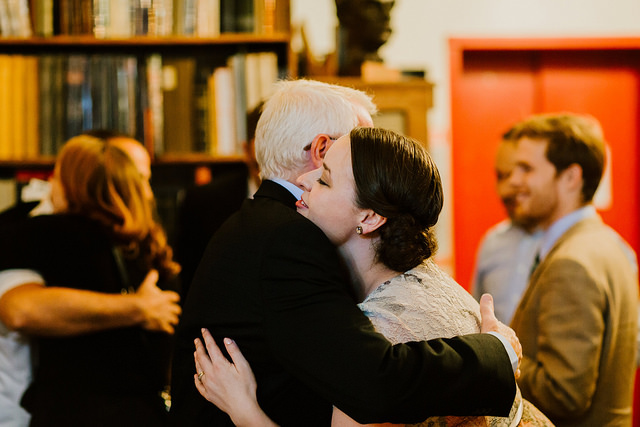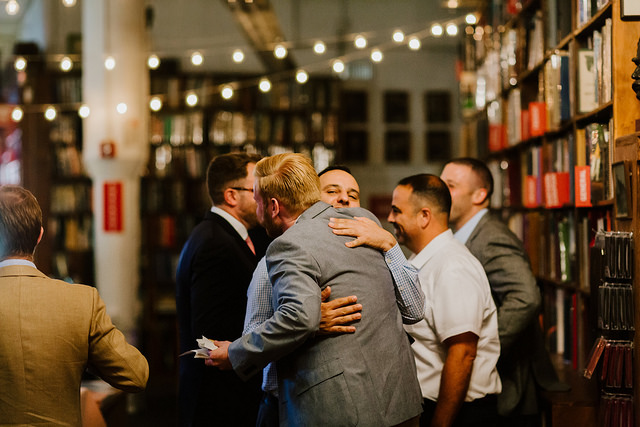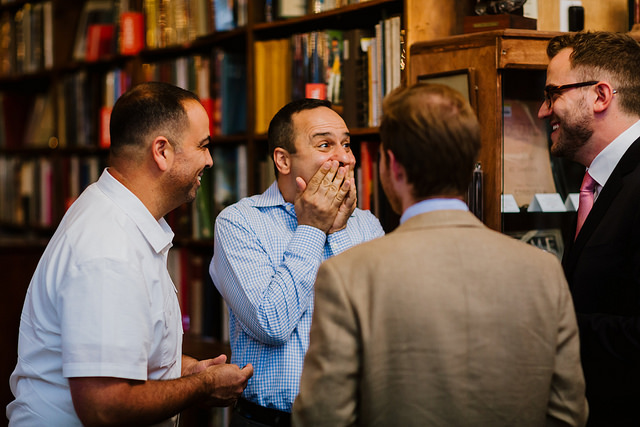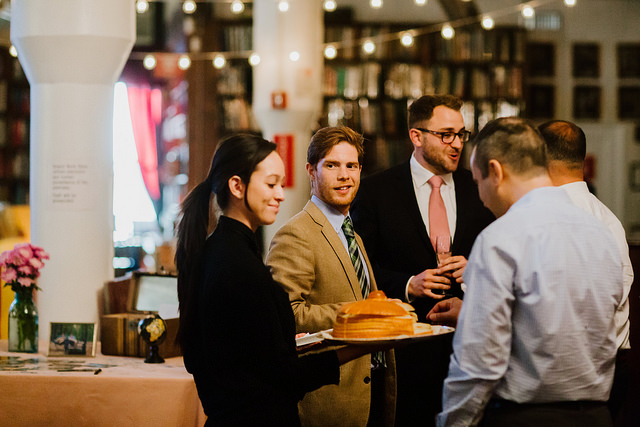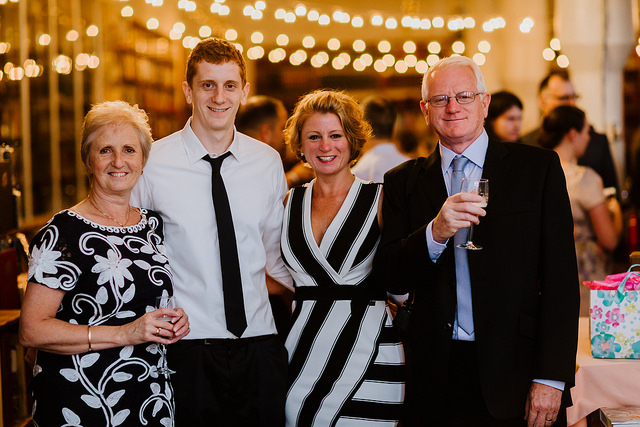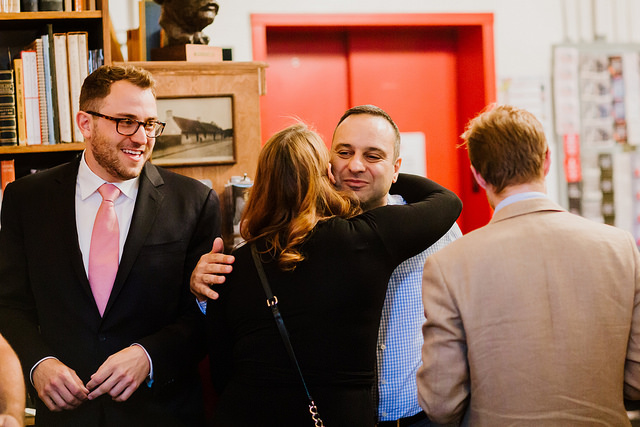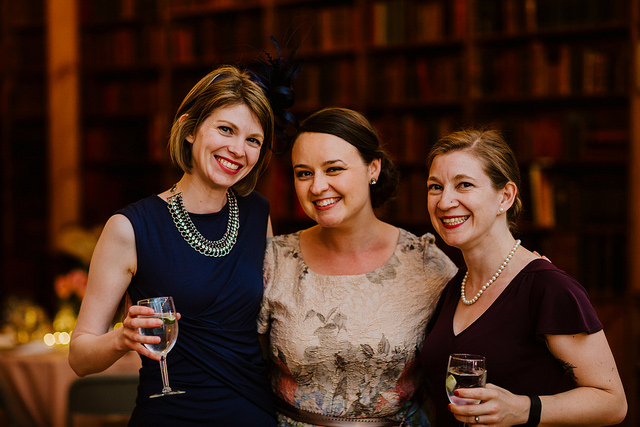 We designed everything for the wedding ourselves, and we decided to go with a travel theme – obviously appropriate for us (we met on the other side of the planet while we were both on our own around the world journey), but it also was well suited to the setting – old books go very nicely with globes, maps, and travel themed decor.
When guests arrived, the welcome table asked them to find their boarding pass, our version of table cards.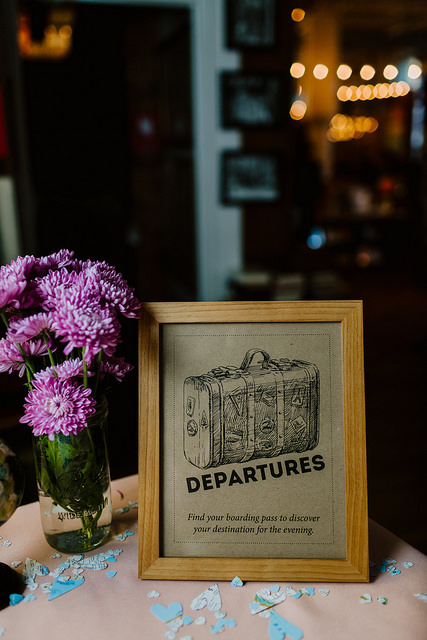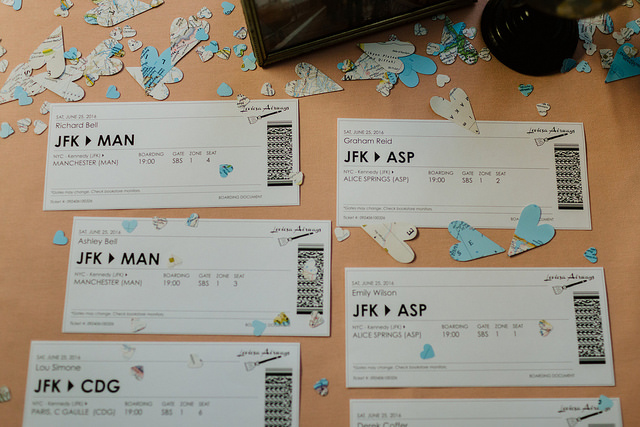 Instead of table numbers, we used airport codes – ASP, CDG, LIM, MAN – all cities we've visited together.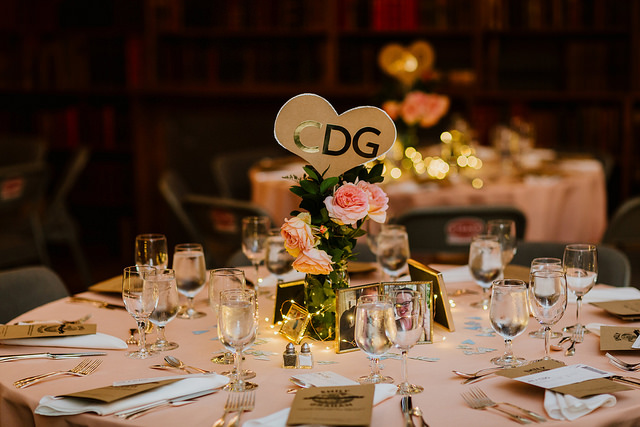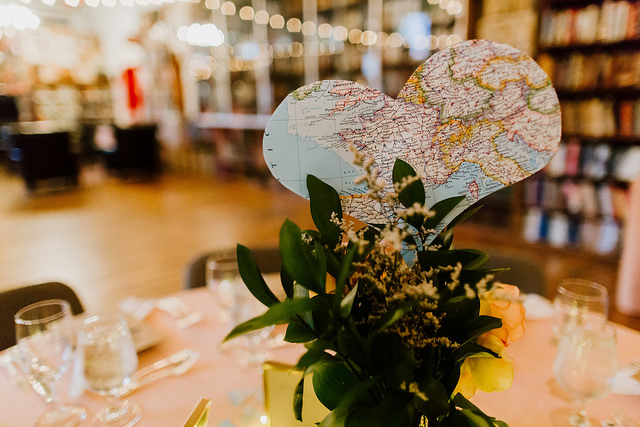 Instead of a guestbook, we put out vintage postcards and asked guests to share their advice for a happy marriage.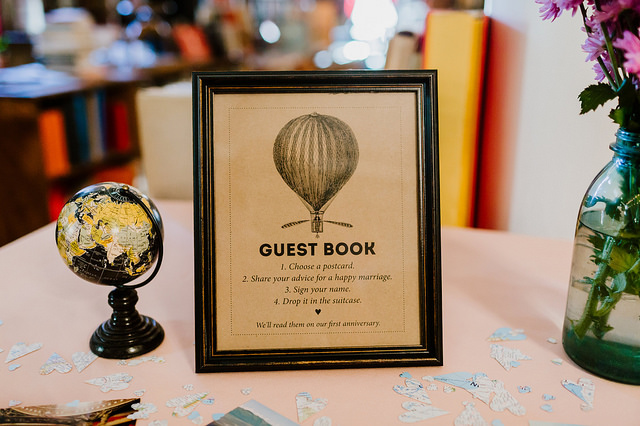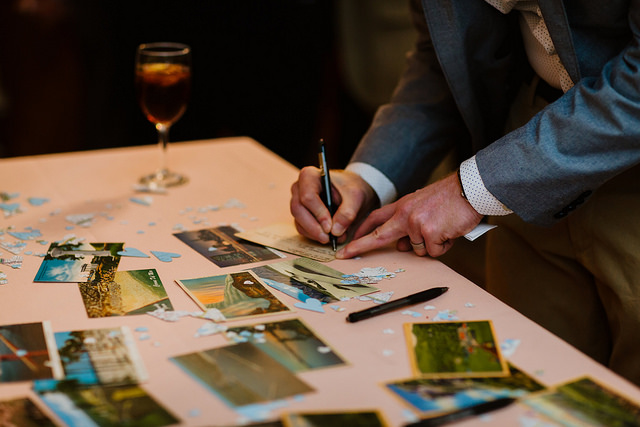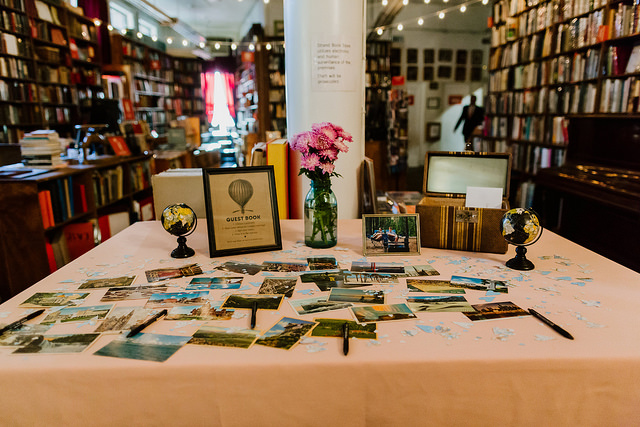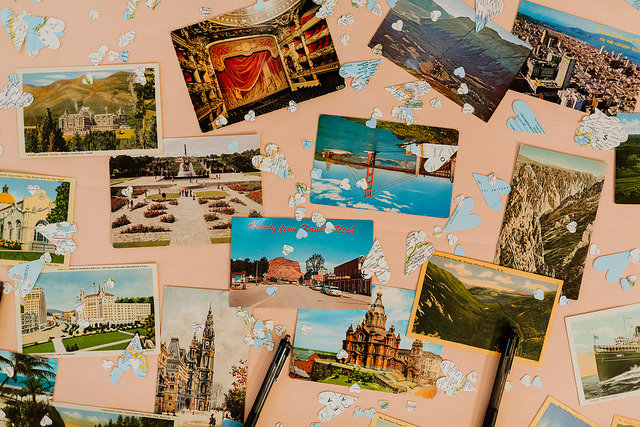 The thing we designed that I'm most proud of is the programs. I loved the retro feel, and the outlines of where we were born and where we met that illustrate our story.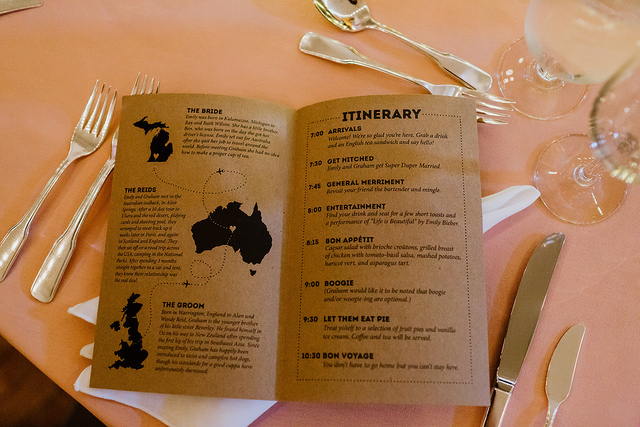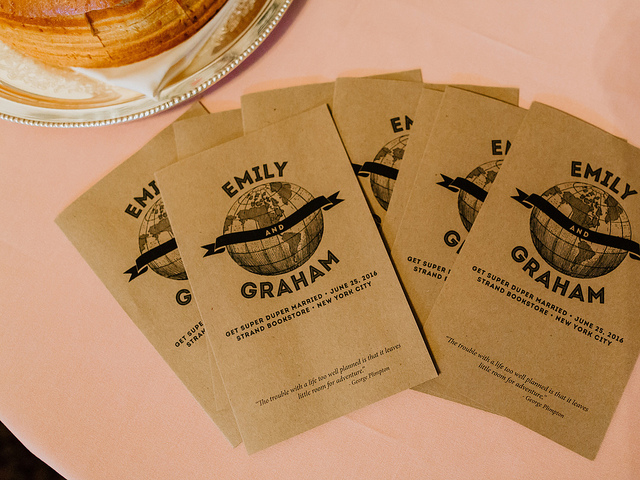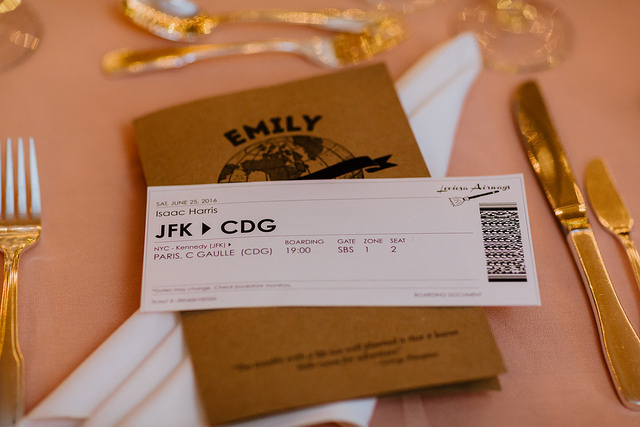 We also decorated the tables with photos of us in vintage gold frames we collected from thrift stores. We displayed photos of us together, as well as photos of us as kids.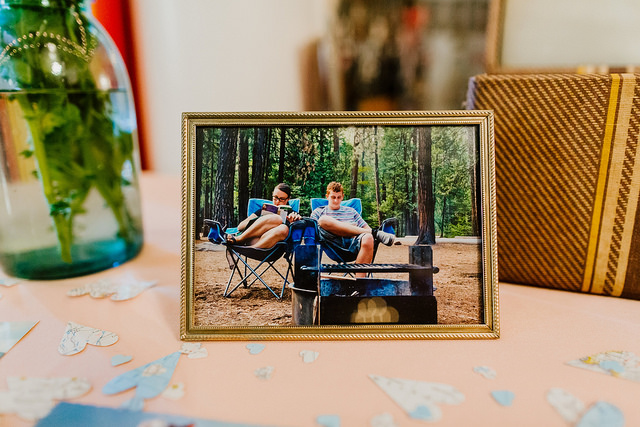 We put a lot of ourselves into the details, and the personal touch combined with the small guest list made the entire night feel very intimate and personal.
After everyone arrived and had a chance to visit the bar and partake of some hors d'oeuvres, the guests gathered for the short ceremony, and we went into the back with our families. After everyone was assembled, we walked out to the Vitamin String Quartet's string version of Island in the Sun by Weezer. Graham's Dad walked my mom and his sister Beverley out, Graham walked out with his Mum, and I got to walk down the aisle with my Dad, which was very special. (My little brother, who doesn't like being in the spotlight, was serving a very important role: helping Chris with the music and queuing up the songs for the ceremony at the right time.)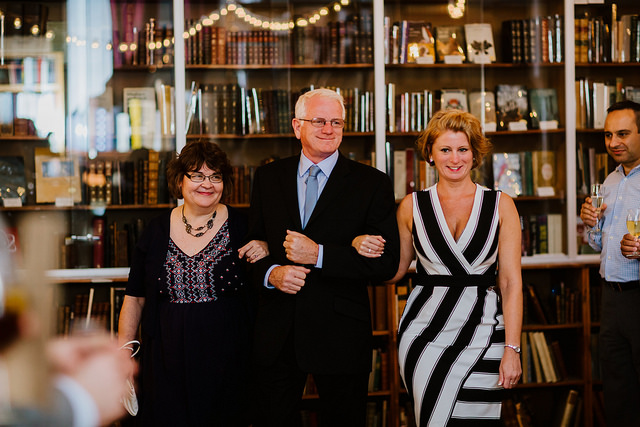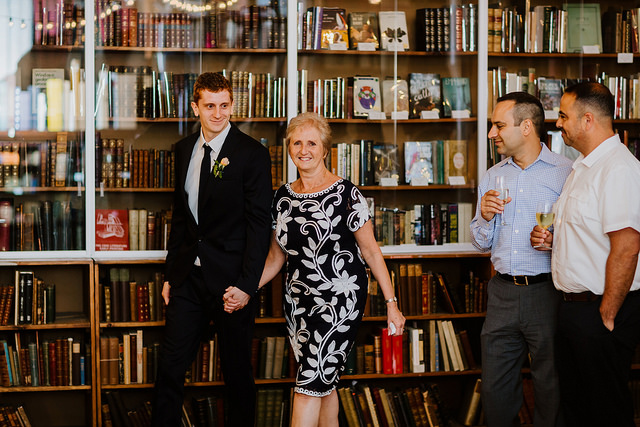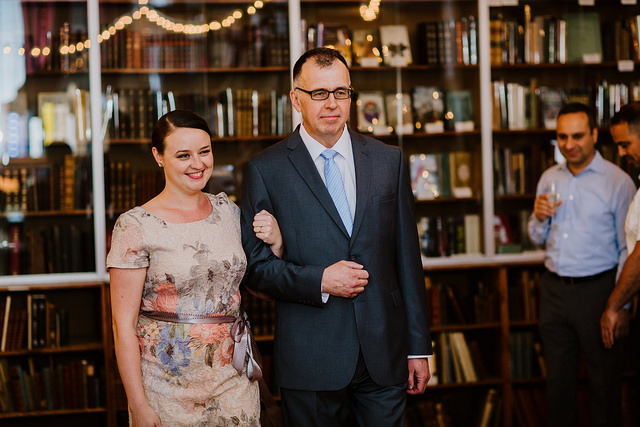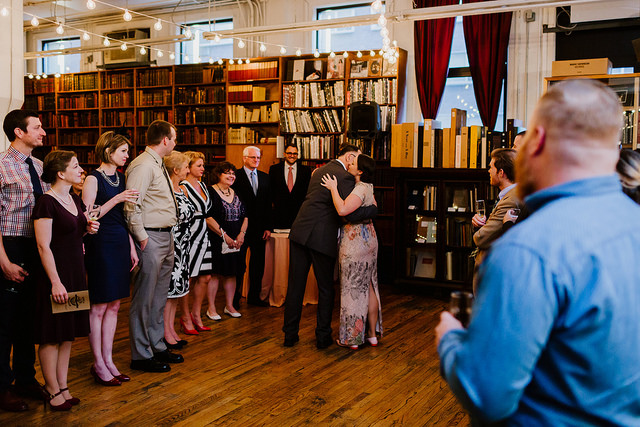 One of my best friends, Jon, performed the ceremony for us, and it was short, sweet, and full of love.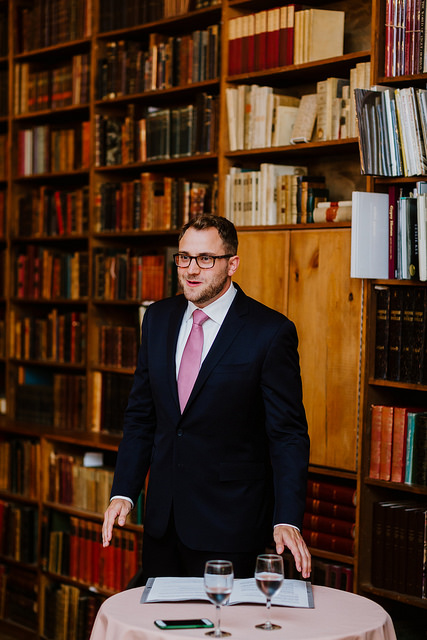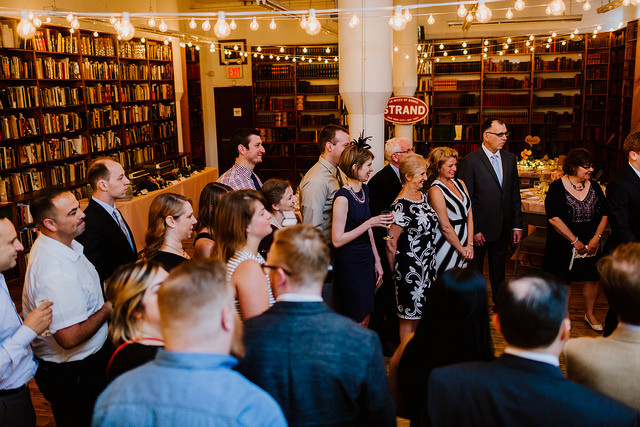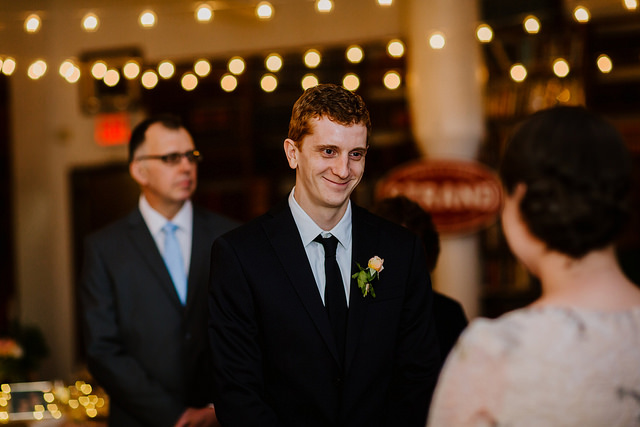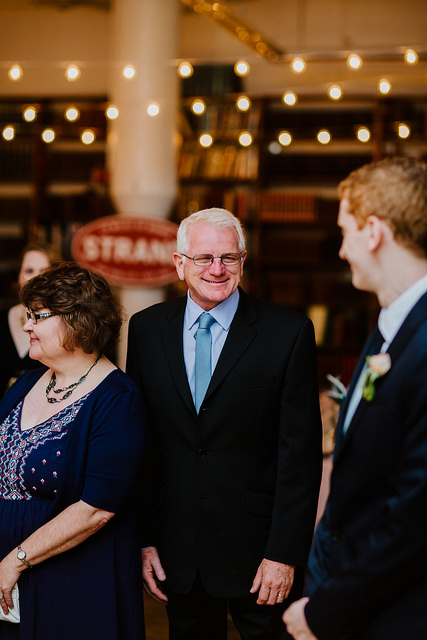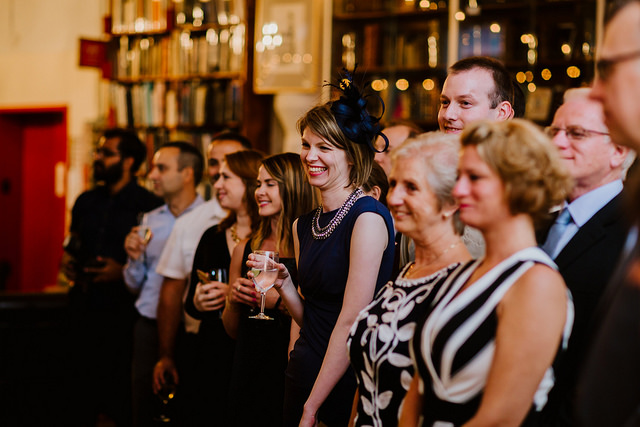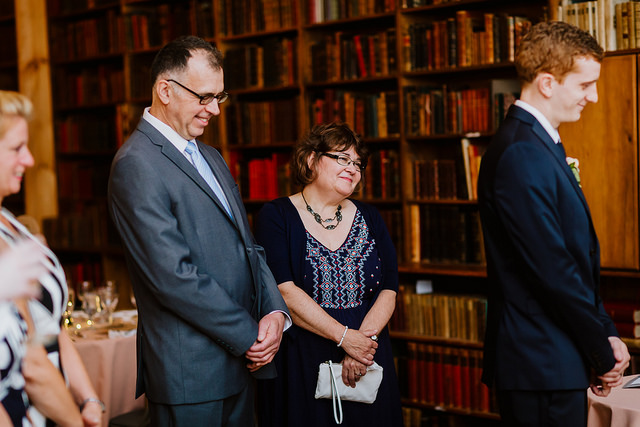 And then, as James Taylor belted out How Sweet it is to be Loved By You, we kissed, and the business part of the evening was complete.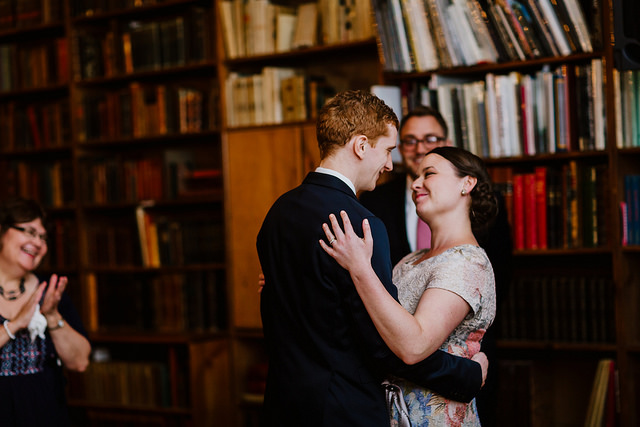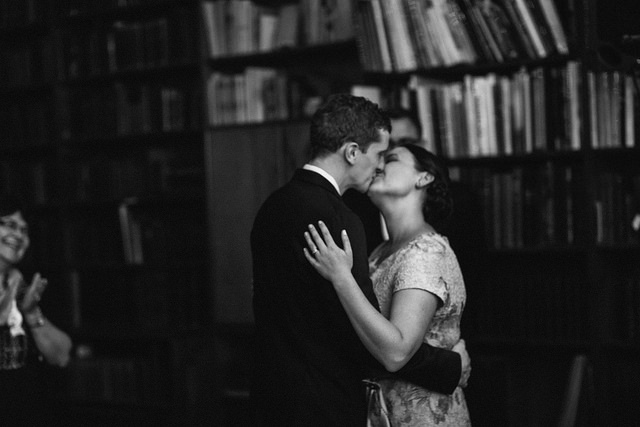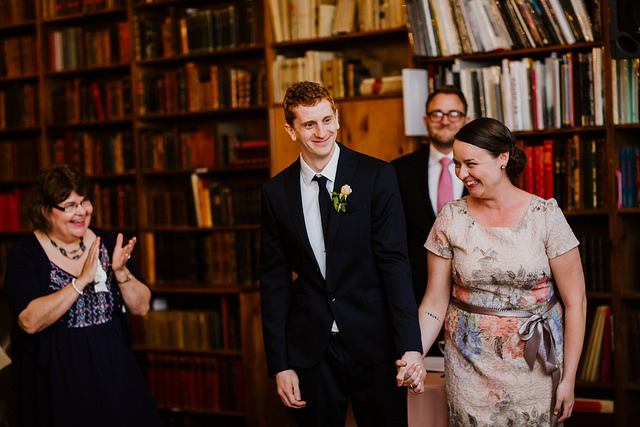 After more drinks and chatting, we all gathered for a few toasts. My Dad and Father-in-law both gave very lovely speeches, as did one of my best friends, Dara. She warned me in advance that her goal was to make me cry, and she succeeded. All three of them succeeded in making us laugh, and filling the room with love.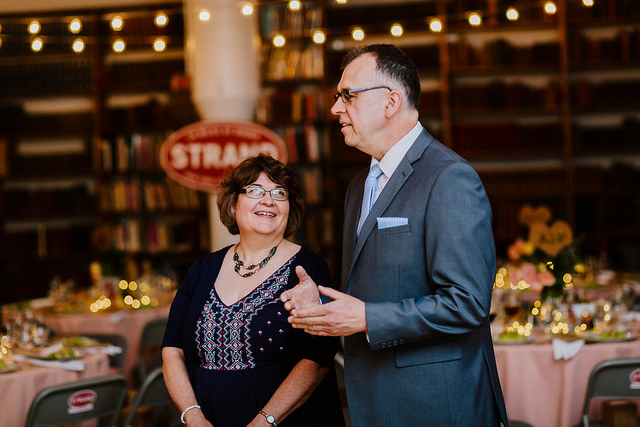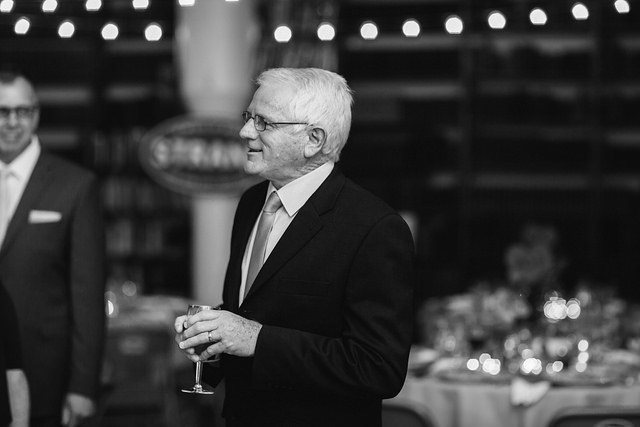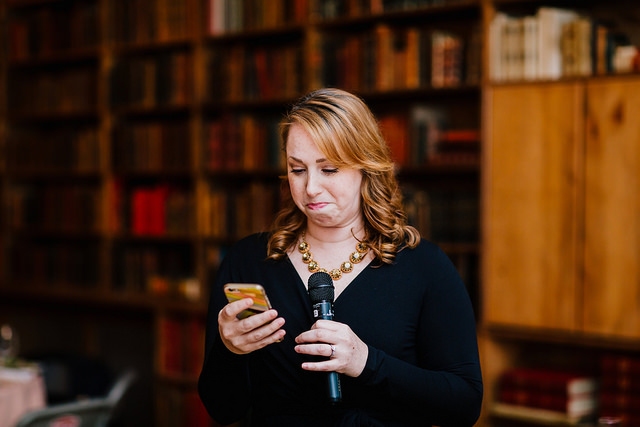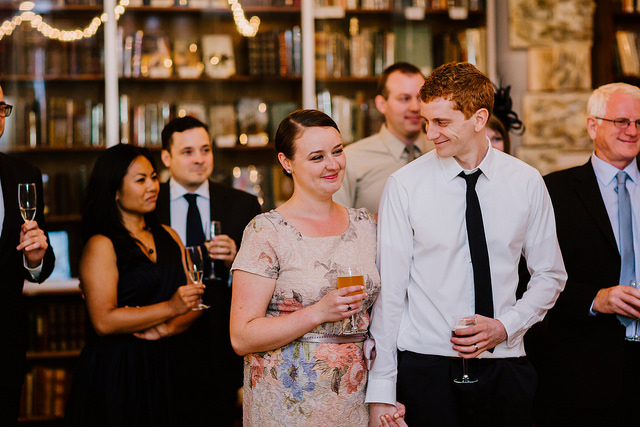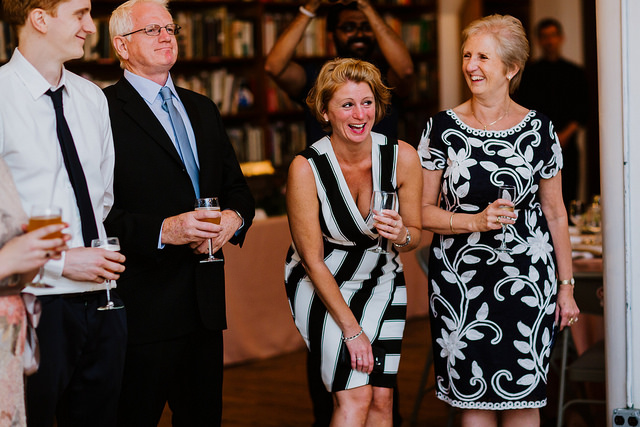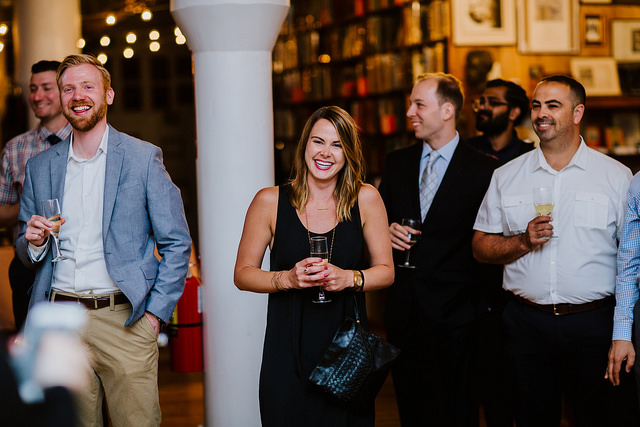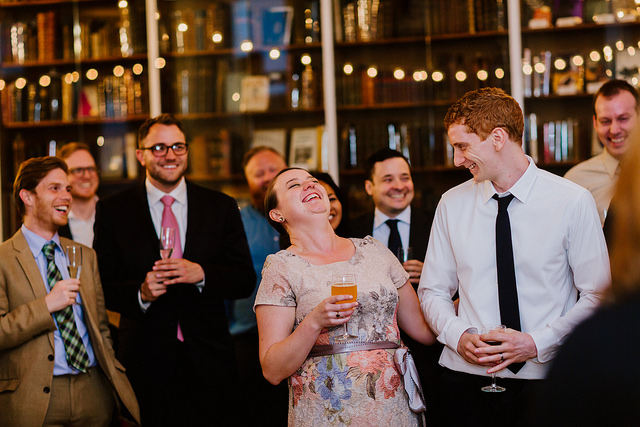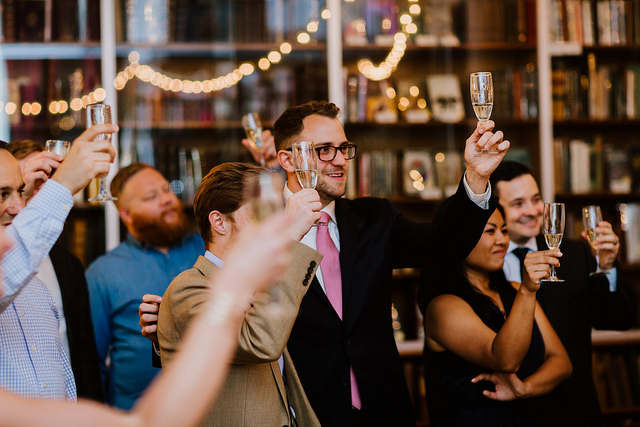 Then, we all had a very special treat. One of my best friends (also named Emily) is a professional singer, and agreed to perform one of our favorite songs, Life is Beautiful by Keb' Mo'. She was accompanied by a wonderful guitarist we hired from The New School, Tal Yahalom. It was beautiful and charming, and it helped make our evening even more special.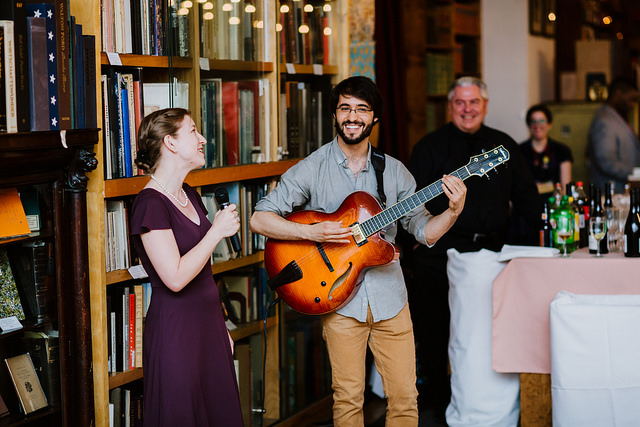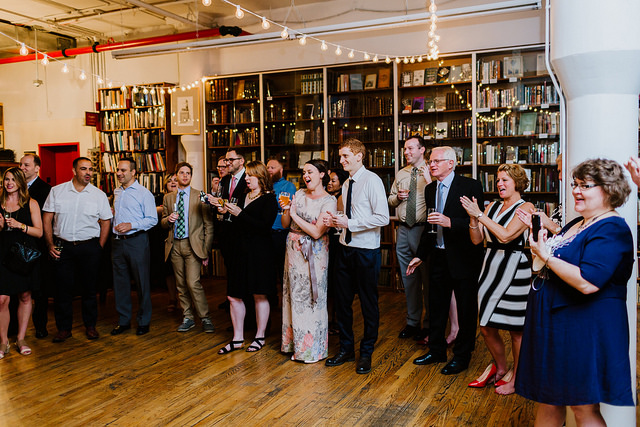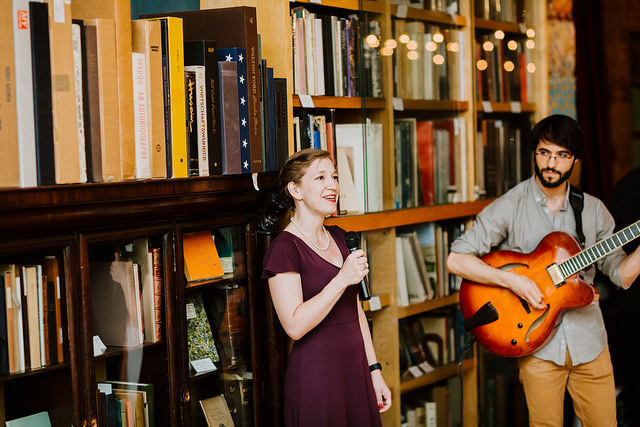 Then it was time to settle in and fill our bellies. The food was divine: chicken breasts with tomato basil salsa, mashed potatoes, haricot vert, and an asparagus tart.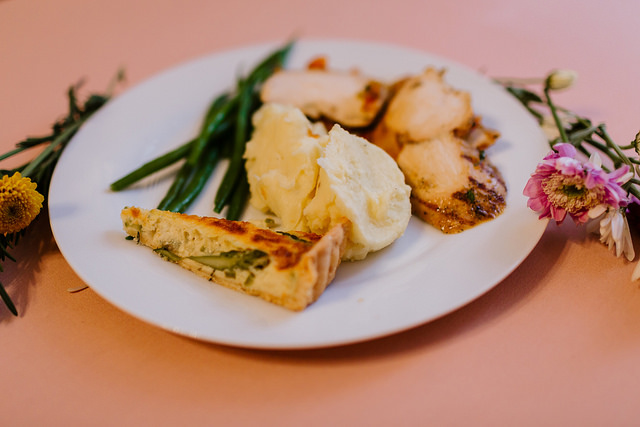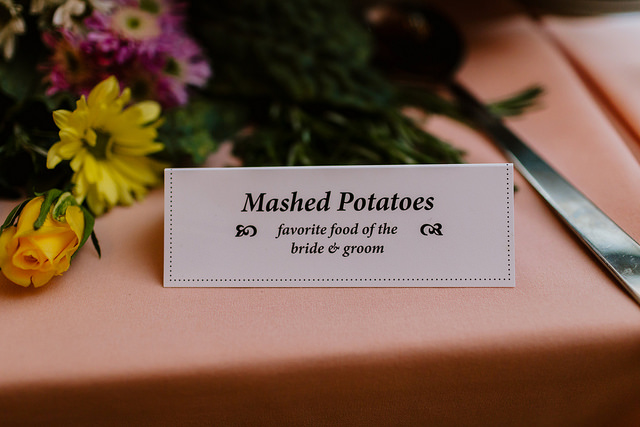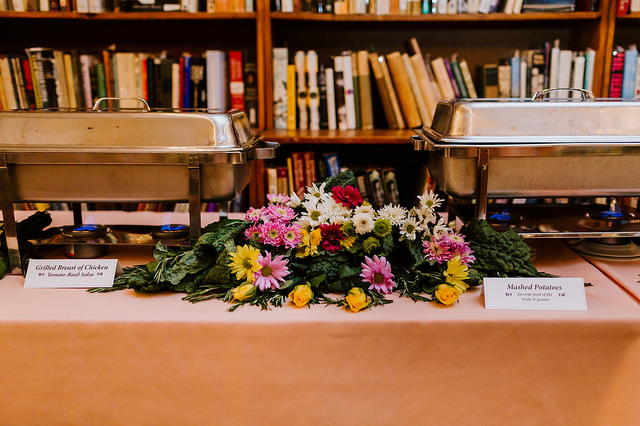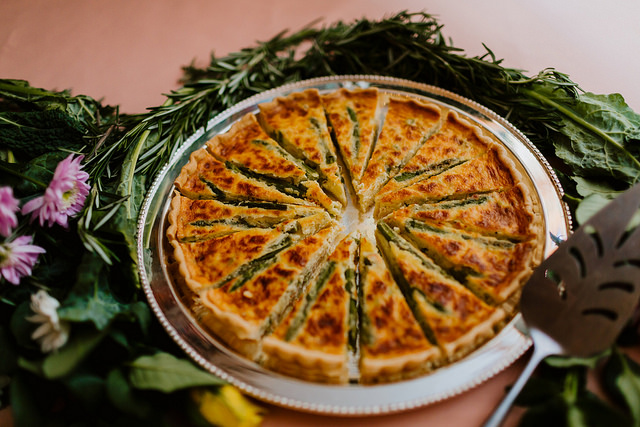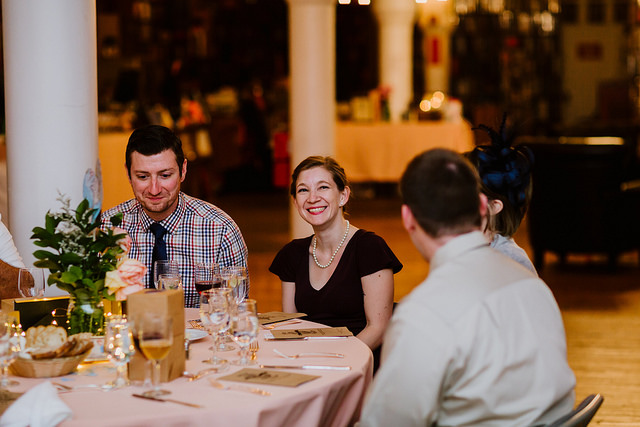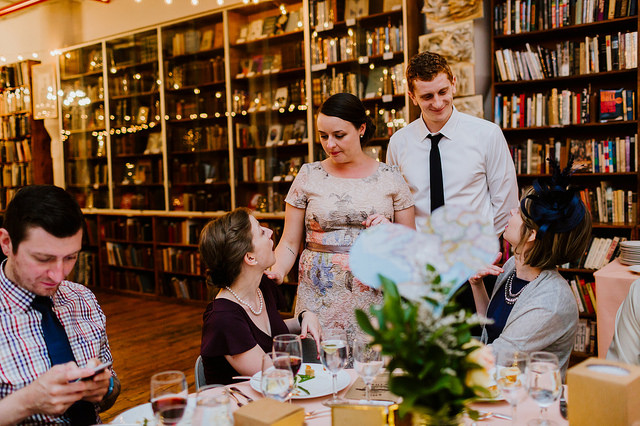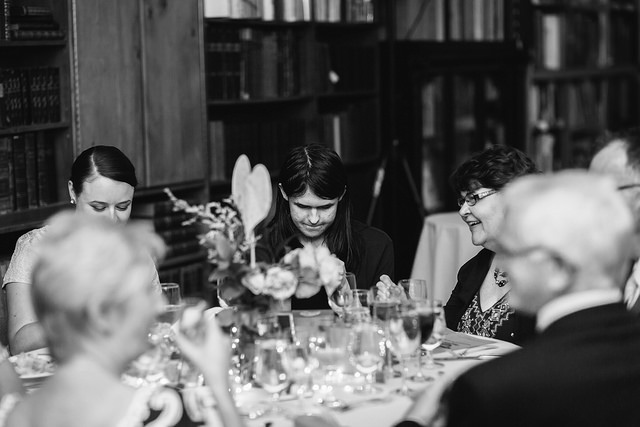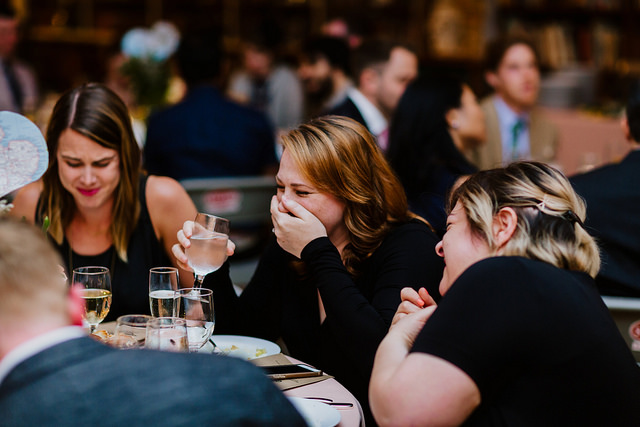 After dinner, we hit the dance floor. Our first dance was to our song, Stand By Me by Ben E. King. Then we invited everyone out to the floor to boogie with us.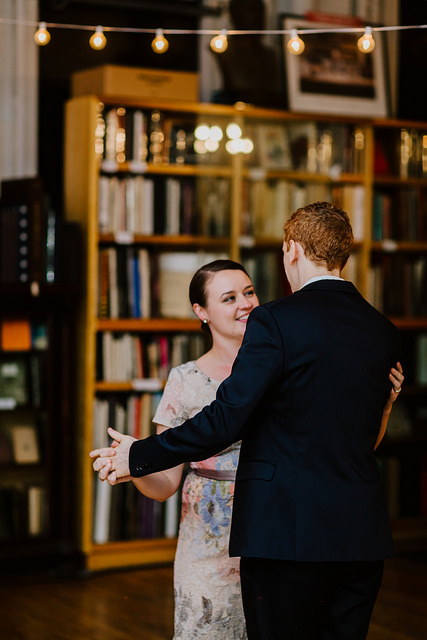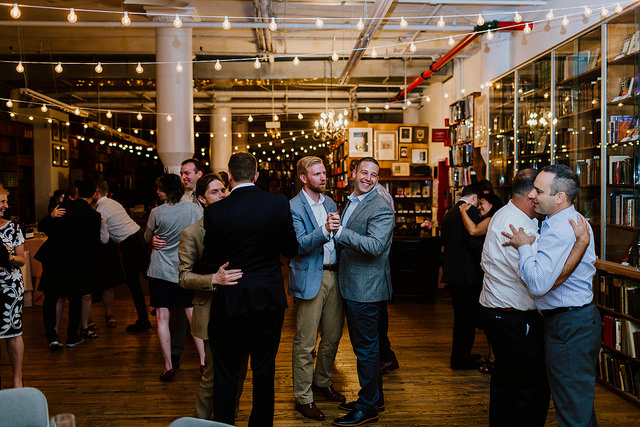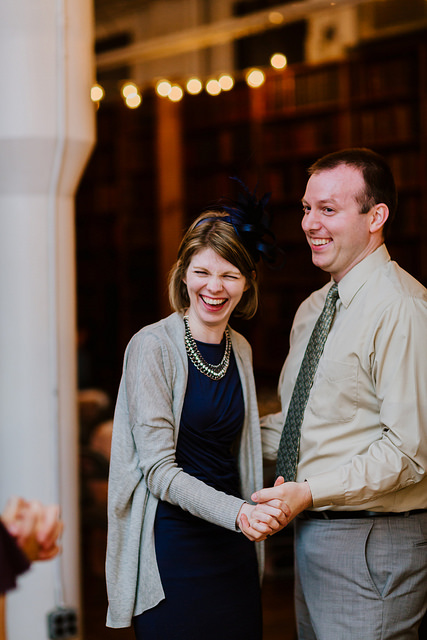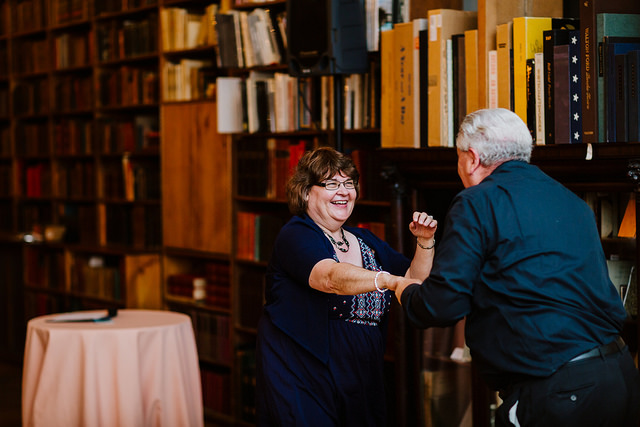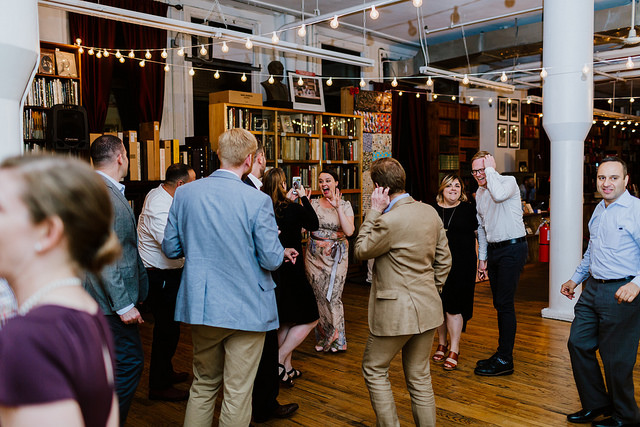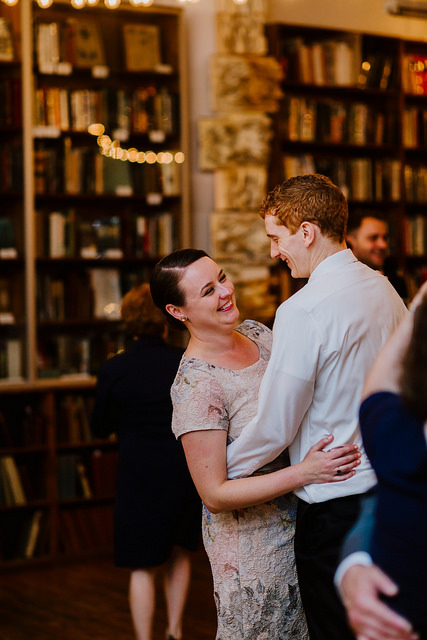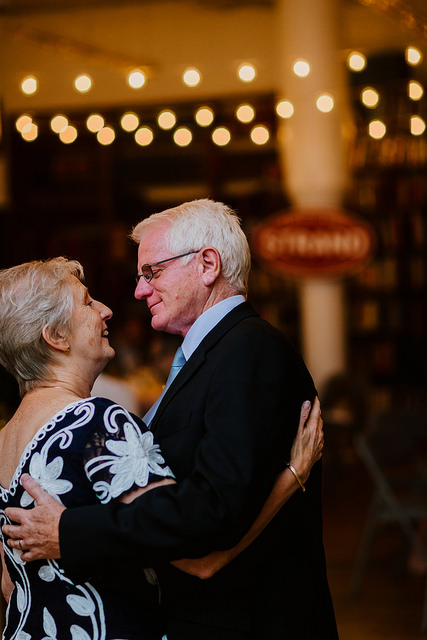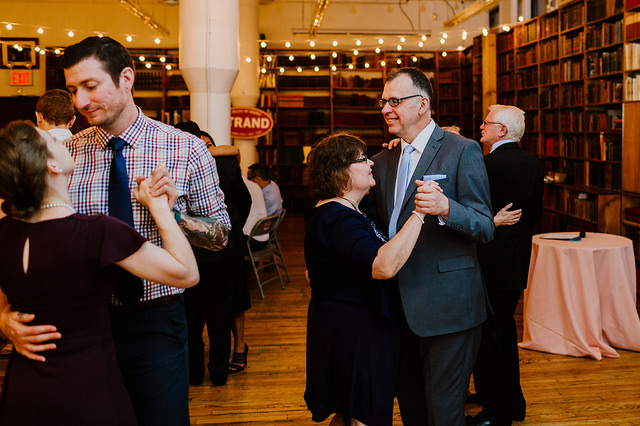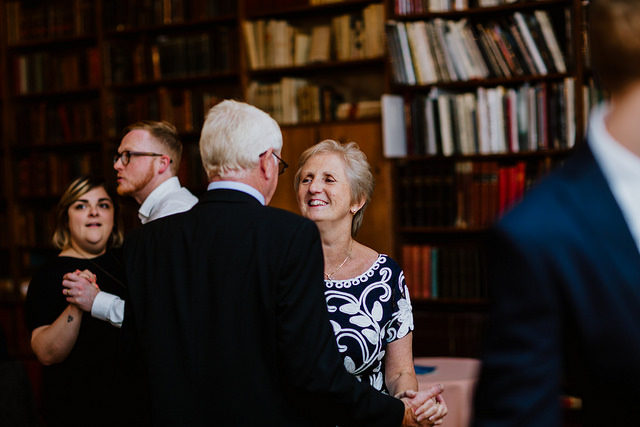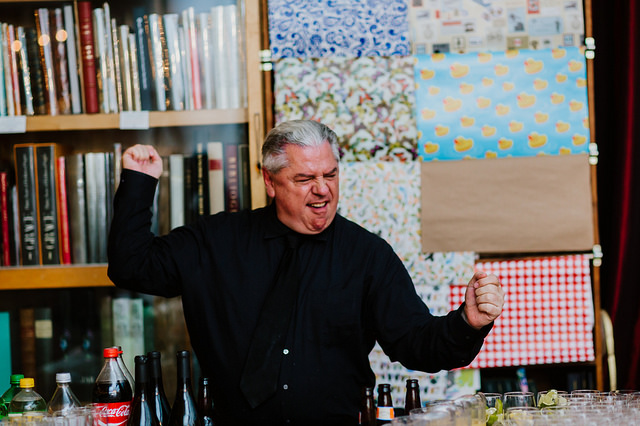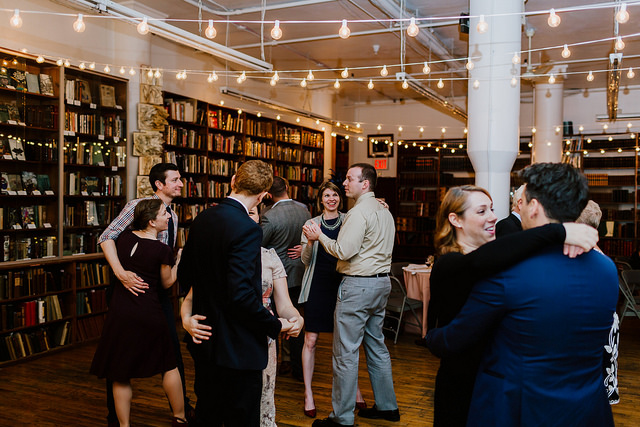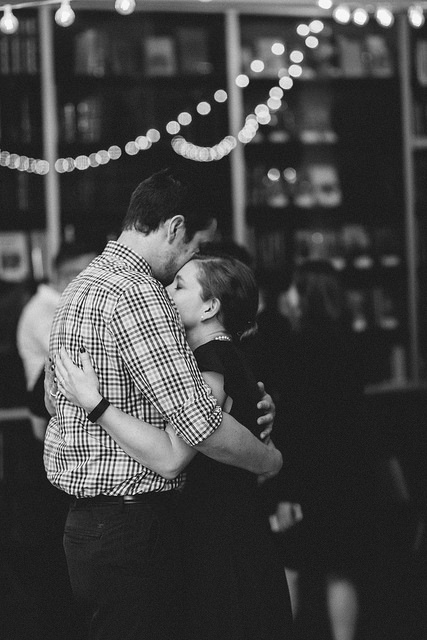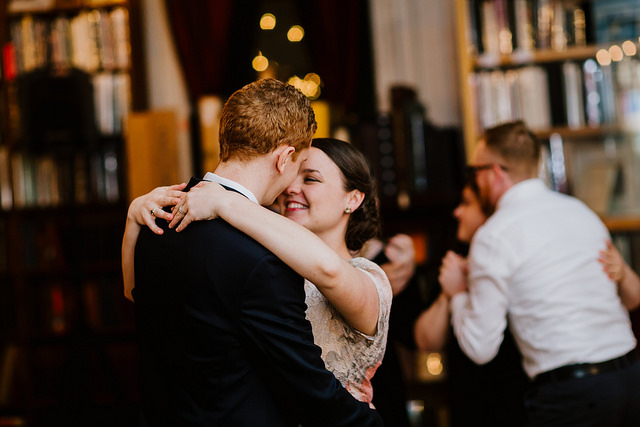 Another tradition we wanted nothing to do with was cake. I love cake, but wedding cake is almost always disappointing, and it's always too expensive. So we opt-ed for fruit pies from Magnolia Bakery, served with ice cream.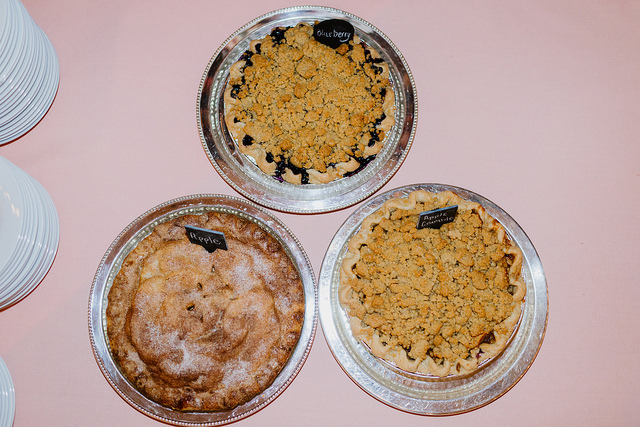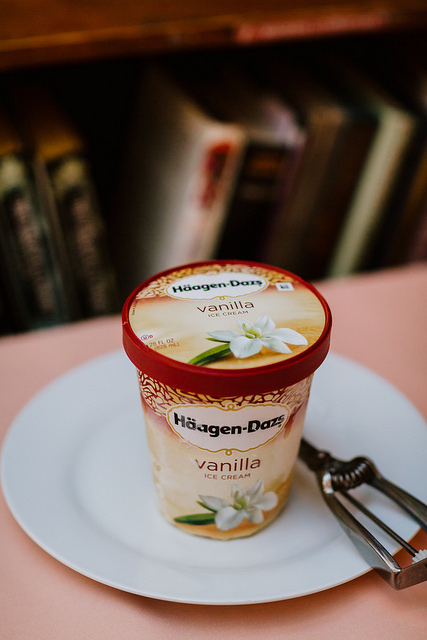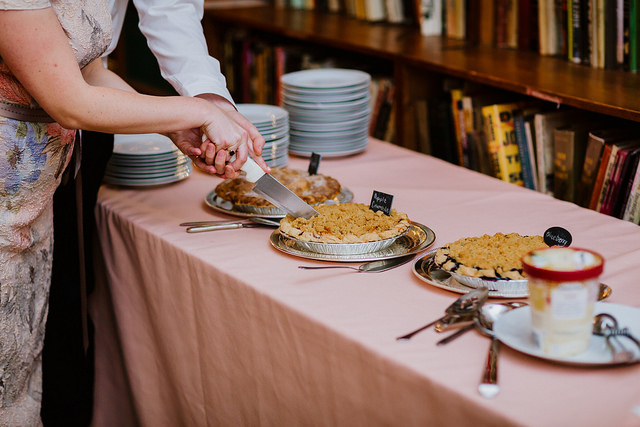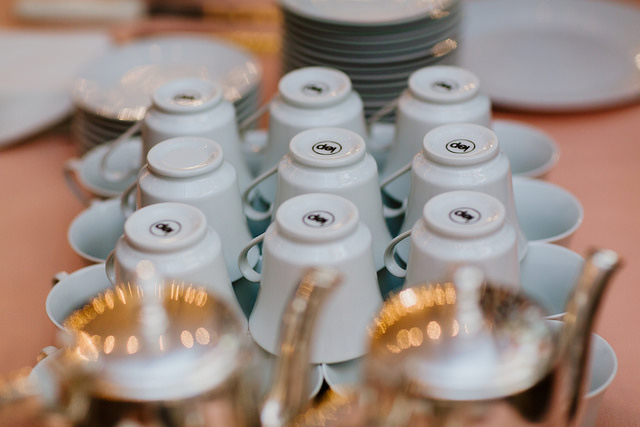 Somewhere during this time, we managed to take some photos in one of the most beautiful corners of the room, and the resulting photos look like something out of Beauty and the Beast: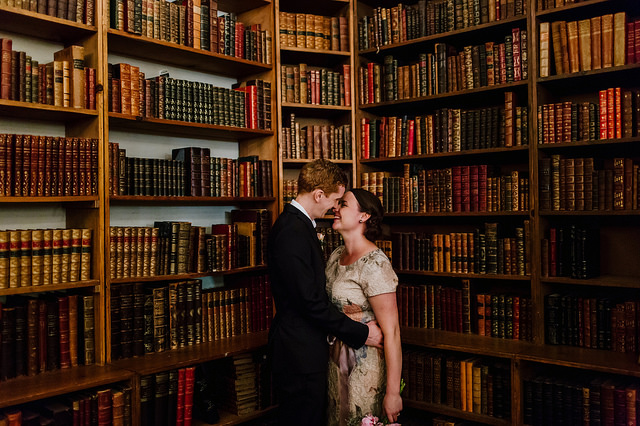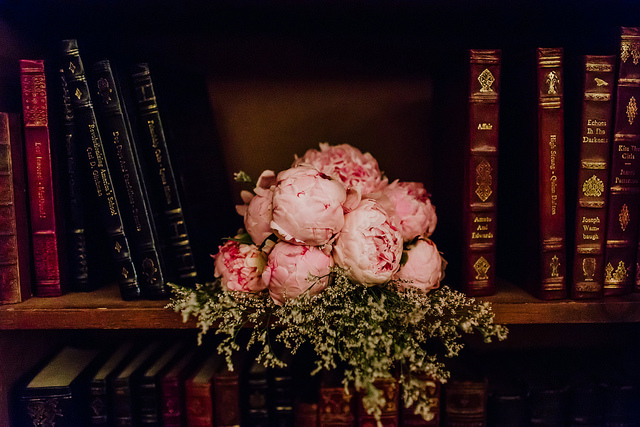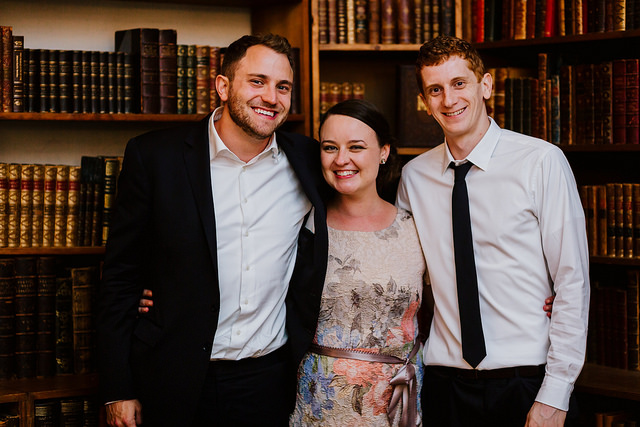 And here's a group photo we got before sitting down to dinner: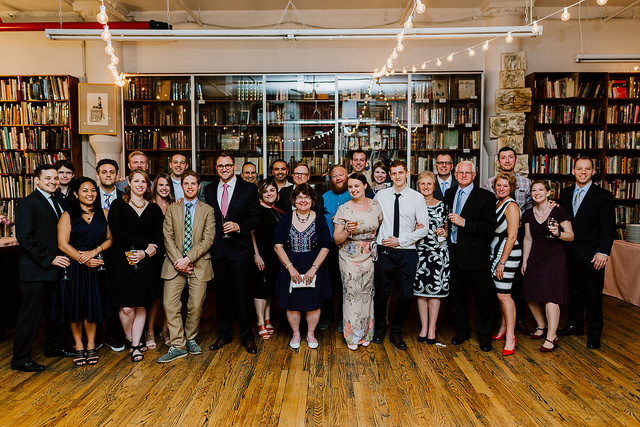 Shortly after dessert it was time to send our guests on their way. It felt like it was ending just a bit too soon, it seemed like everyone left wanting more — the best way to end any party, and the perfect end to a perfect evening.
Here are a few final, random photos of the beautiful venue: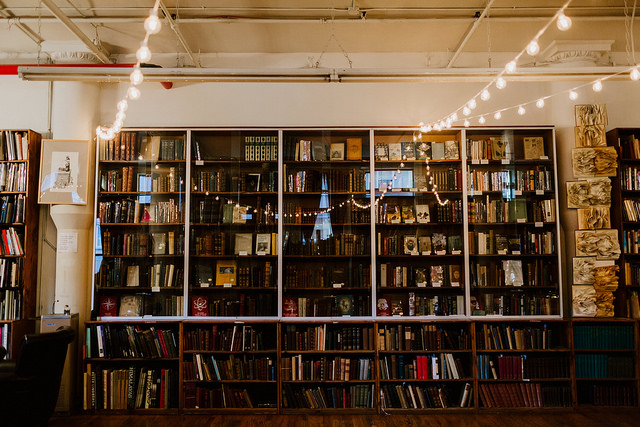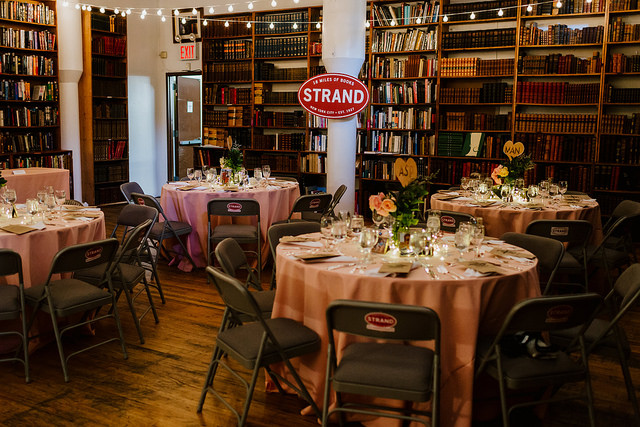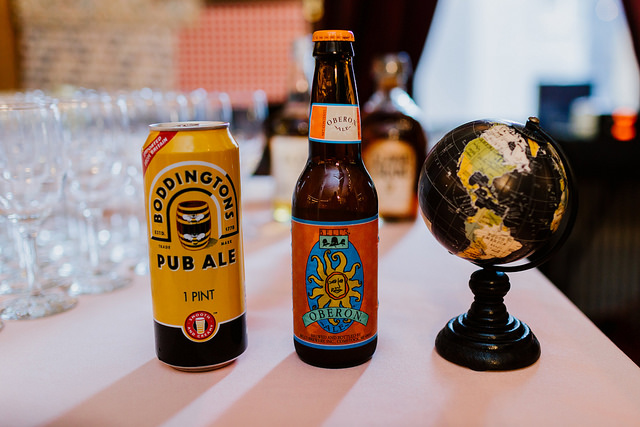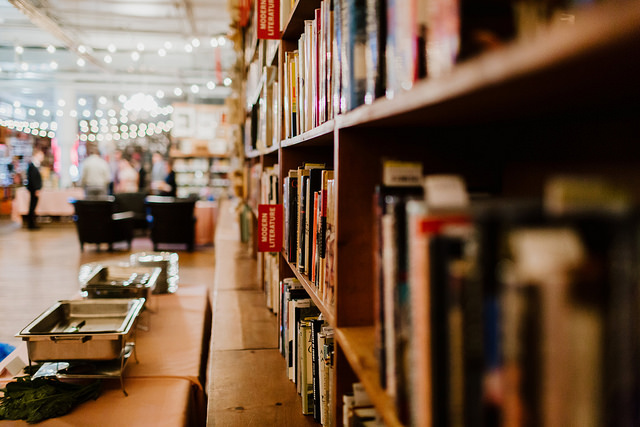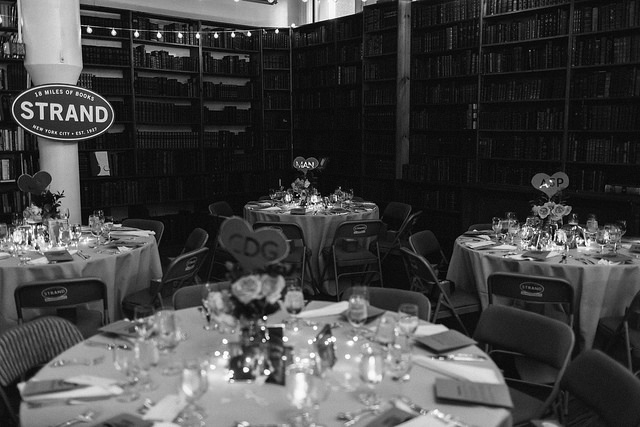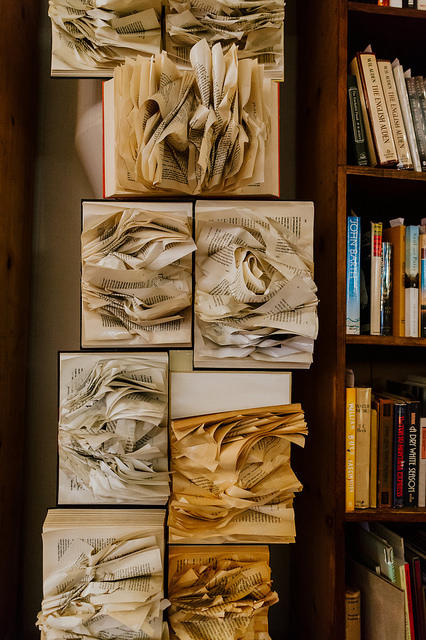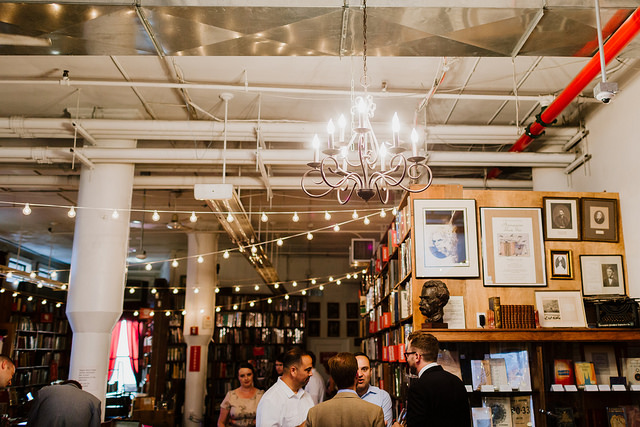 I never dreamed about my wedding when I was younger – it always seemed like an unknown event in my future that I was looking forward to, but couldn't picture. Even leading up to that evening, I didn't know what to expect. We were already married, and felt very married. What would this evening feel like for us? The answer: it felt like magic. We didn't really expect it to be the best day of our lives, but it was. We were so filled with love and happiness – everyone lifted us up and helped us celebrate our love and marriage in the most beautiful of evenings. My heart is still full.
//
Believe it or not, I did leave some photos out of this post. If you still want more, I have an album on flickr here.