Friends, I need to tell you about my favorite cookies.
Years ago, while getting a cappuccino at Blue Bottle Coffee in San Francisco, I bought one of their "snickerdoodle" cookies. Ever since that day, the main reason I go back to Blue Bottle Coffee is to eat another one. (Conveniently, they opened a location two blocks from my apartment.)
When Blue Bottle released their book in 2012, The Blue Bottle Craft of Coffee, I was excited to see that they included the recipe. Then I looked at the amount of work and the few "exotic" (i.e. not typically in my pantry) ingredients that went into actually making them, and my enthusiasm faded a bit. Four years later, I finally decided to give them a shot.
First of all – these aren't snickerdoodles. Blue Bottle admits that right off the bat in their cookbook. I've taken to referring to them as Vanilla Bean and Saffron cookies. This recipe is special because of the saffron – it's not typically used in desserts, but it works so well in this case. It gives the cookies a depth of flavor and uniqueness that I find irresistible. Secondly, they weren't as difficult to make as I was building them up to be in my head. They really didn't take that long to assemble, and they're worth it. I highly recommend making these if you want to try something delicious that tastes completely new and unique.
One last note – saffron is a pretty expensive spice (the container I got was about $15), but a little goes a long way. I have enough left to make about 4 more batches of cookies.
Here's my take on their recipe. I recommend enjoying these with a cup of tea of coffee. They are also a lovely breakfast cookie, which in my world is a thing that happens.
What you'll need:
30 threads saffron (approximately)
1 vanilla bean
2 tablespoons whole milk
2 cups all-purpose Flour
1 teaspoon baking soda
1/2 cup unsalted butter, softened
1/2 cup sugar
1/2 cup packed light brown sugar
1 teaspoon kosher salt
1 egg at room temperature
1/2 teaspoon vanilla extract
Assembly:
1. Put the saffron on a small plate and crush with the back of a spoon until powdery. Alternatively, you can use a mortar and pestle, or a spice grinder. I don't have either, so I improvised and it worked just fine.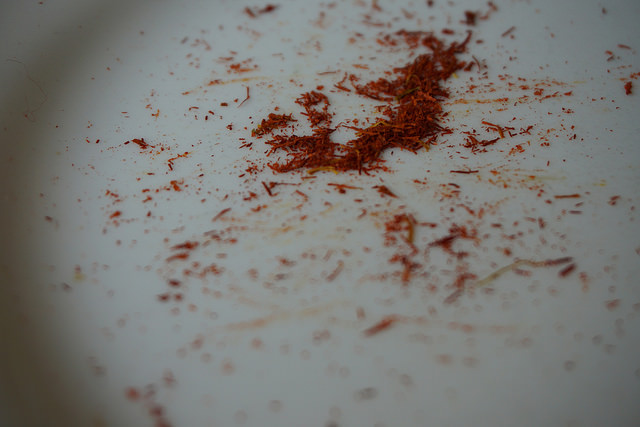 2. Use a small knife to cut the vanilla bean down the center and scrape the pulp out into a small saucepan. Add the vanilla pod, whole milk, and saffron, and simmer over very low heat. When bubbles start to form at the edges, remove from the heat and cover. It will look weird. That's ok.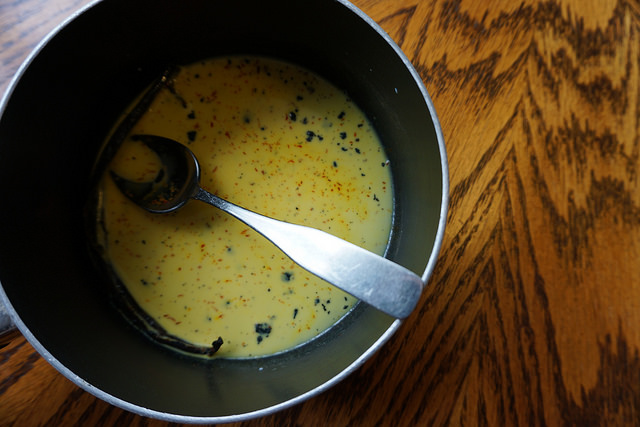 3. In a medium bowl, combine the flour and baking soda with a whisk.
4. In a large bowl with a hand mixer, or using a stand mixer with paddle attachment, beat the butter on low speed until smooth, about 1 to 2 minutes. Slowly add both sugars and salt, and continue to mix on low. Scrape the sides of the bowl with a spatula and then continue to mix on medium speed another 4 to 5 minutes, until light and fluffy.
5. Remember the milk mixture? It should be cool by now, so remove the vanilla bean pod from it, and squeeze off the liquid that's on it back into the sauce pan. Add the egg and the vanilla extract and whisk until combined.
6. Add the egg mixture to the sugar & butter slowly, on medium speed. Scrape down the sides of the bowl and mix again until fully combined, about 30 to 60 seconds.
7. Slowly add the flour and mix until just combined. If you're using a hand mixer, you'll likely need to switch to a spoon. Do not over mix.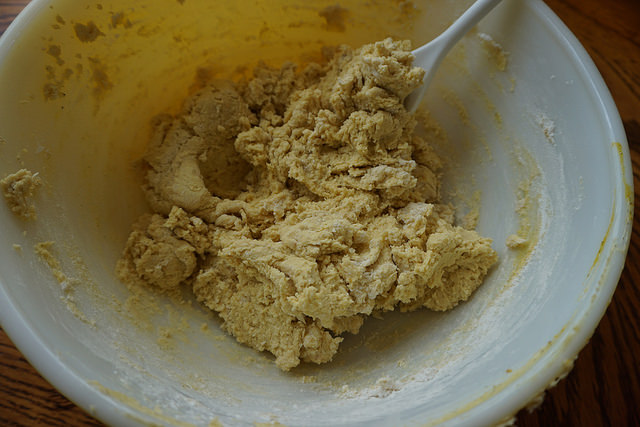 8. Cover the bowl with plastic wrap and refrigerate for at least 3 hours, or up to 5 days.
9. When ready to bake, preheat the oven to 350°F. Line a baking tray with parchment paper.
10. Form the dough into balls that are approximately 1/4 cup in size. Arrange them on the baking sheet with plenty of room in between – at least 2 to 3 inches – they will spread a lot.
11. Bake for 15 – 16 minutes, until golden.
12. Cool the cookies on the pan for 10 minutes, or as long as you can resist.