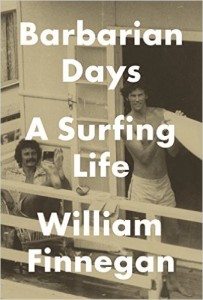 In the New York Times Book Review "By the Book" feature, Geoff Dyer was asked about the last great book he's read. Here's his answer:
"Barbarian Days," by William Finnegan. Made me realize my whole life has been pretty much a waste. I suspected this anyway; he explained why: because I'd not surfed.
Barbarian Days was on my radar since it was published last year, but that quote is what make me go out and by it immediately. (Probably because I trust Geoff Dyer's taste unhesitatingly.)
Like the best memoirs, nothing is required of the reader prior to picking this one up. You don't have to know who William Finnegan is. You don't have to be familiar with his work. You don't have to like surfing, or have any interest in it. You can approach this book from any point and find something to enjoy.
It's the story of a life shaped by an unrelenting passion. What makes surfing a fascinating passion to read about is that it's often inconvenient and terrifying, a drive that doesn't have easy boundaries or clear paths as to how to pursue it as the body ages and the demands of adult life increase. What makes Barbarian Days a masterpiece is William Finnegan's meditative style and deeply engrossing, honest reflection. It's a coming of age story in the very best sense, but it goes farther – it continues the story of a man who has never been able to shake off the pull of the wave.
My favorite section is, not surprisingly, his time traveling and surfing the world. While engrossed in these pages, I kept thinking of Patti Smith's Just Kids. The reader understands that it is no longer possible to live the life being described to us — not just because we're already too old, or too cowardly or untalented, too set in our ways or too far down our own path — but because the world that shaped them no longer exists. That's why these pages are so special. We can live vicariously through them.
Towards the end, William Finnegan laments just a little bit about the rise of surfing popularity – surfing as a bucket list item you check off your list when you go on a tropical vacation. (True to form, I skipped the included surf class when I was traveling through Australia and went book shopping instead. My passion is so much less badass.) But ironically, his book is only going to help fuel the growing interest in surfing. He doesn't set out to convince you that a surfing life is the best life, but he ends up doing it anyway.
The lesson I took, though, is not that we all need to be surfers, but that a life devoted to exploration and perusal of our passions is the best life, whatever that passion is. That reading about these lives helps us expand our own worldview. And that William Finnegan is way cooler than I will ever be.
//