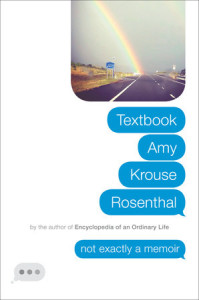 Textbook by Amy Krouse Rosenthal is a hard book to describe, and even harder to review. I'll do my best, please bear with me.
The back cover of the book says "A book about the awe, bewilderment, and poignancy of being alive." Perhaps a good way to tell if you'll like this book is how you react to that statement. That's the kind of statement that has me nodding and raising my hand: "Yes, yes – let's shall!"
Amy doesn't approach "the awe, bewilderment, and poignancy of being alive" from a high and lofty place. Her feet are solidly on solid ground, and her thoughts are so relatable. She helps you notice things that are marvelous that we often overlook.
If you're new to Amy's work (I already knew her from her unique and lovely memoir, Encyclopedia of an Ordinary Life), diving into this one might be a strange experience. The first few pages might make you wonder where she's going with this book. But once you decide to commit, there's a lot to discover. There's also an interactive element – you can text keywords to receive additional content that enhances the reading experience. If you can – do it! It's really fun.
Textbook is structured with sections that mirror common grade school subjects: geography, social studies, art, science, romance language, history, music, math, language arts. Each subject is a loose framework for collecting her musings and observations. For example, the social studies section is filled with short thoughts about the way we interact with each other: everything from airplane etiquette to her father pocket dialing her. In anyone else's hands this structure might not work, but Amy has a way of feeling like a good friend and bringing magic to every day thoughts.
On page 229, the text integration prompt sends you back a short film to watch. Do not skip this one. I don't want to say too much about this video – it's better when you don't know anything about it, but it's delightful and the perfect representation of Amy's work and art. Everything you have read up until then clicks into place. The beauty of her approach to serendipity and happiness and wonder – you see it all in this book, and in that video.
I highly recommend Textbook for the times when you need something completely different to shake up your reading, or if you're feeling down and need something to help you feel that the world is wondrous again.
Here's the official book trailer:
//
I received a review copy of this book from the publisher.