I read a bunch of very lovely books in July – no duds this month. The covers all kind of look amazing together too: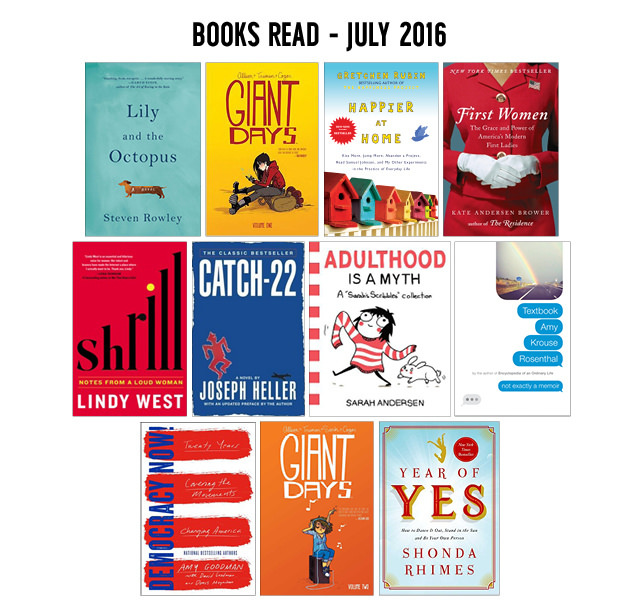 Books Read: 11
Already reviewed: Catch-22 by Joseph Heller
I approach any book about a dog with extreme caution. But I trust Lauren, and her review of Lily and the Octopus by Steven Rowley made me decide to give this one a go. I had a feeling it would be sad, but I trusted that it would be worth it. I won't say much more than that – but it is. It's quirky, full of life and love, and a treat to read.
I'm grateful to Leah for introducing me to Giant Days – a super enjoyable comic series about three friends navigating the craziness of college together. They are nothing like my two best friends from college, but reading this series reminds me of those wonderful, crazy days together. I devoured volumes 1 and 2 in July, and can't wait for more.
I went on a small comic kick in July – I also read Adulthood is a Myth by Sarah Andersen. I can't remember which blogger brought this book to my attention, but I'm grateful to them. It's really funny and charming.
I read Happier at Home – Gretchen Rubin's sequel to The Happiness Project. I love reading about Gretchen's attempts to structure projects that help her focus on trying new things that she thinks could contribute to her happiness, and I'm a sucker for the monthly theme approach she uses in these two books. It's inspired me to do my own happiness project – more on that later.
Lauren and I did a buddy listen of First Women: The Grace and Power of America's Modern First Ladies by Kate Andersen Brower. We both really enjoyed her first presidential history book, The Residence, and we had fun discussing the many fascinating details about the lives and personalities of the First Ladies of the modern era.
So many audiobooks in July! I listened to Shrill by Lindy West, which is SO good and everyone should listen to it immediately. So many great insights into feminism and online harassment and life. I also listened to Democracy Now!: Twenty Years Covering the Movements Changing America by Amy Goodman which starts out a bit depressing (we have so far to go) but finishes on an up note: there are many people fighting the good fight, we've made real progress, and we can keep fighting together. I wrapped up July listens with Year of Yes by Shonda Rhimes which I loved so much. It's a simple concept – your life grows and expands by saying yes to things and doing things that scare you, but Shonda's personal story is so wonderful to listen to, and so very motivational. I highly recommend all these lovely, and very different, audiobooks.
I also read Amy Krouse Rosenthal's lovely new memoir Textbook – review coming soon!
I bought The Morville Hours after I read a review of it in the latest issue of Slightly Foxed, it looks so lovely. (See this review in The Guardian if you're curious!) I also bought Purple Hibiscus, the last Chimamanda Ngozi Adichie book that I haven't read. I also picked up Barbarian Days, which I'm already completely engrossed in, as well as The New Yorker collection The 50s: The Story of a Decade.