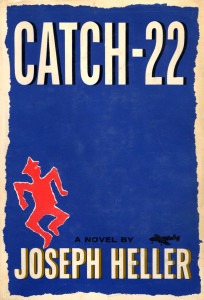 "There was only one catch and that was Catch-22. Orr would be crazy to fly more missions and sane if he didn't, but if he was sane he had to fly them. If he flew them he was crazy and didn't have to; but if he didn't want to he was sane and had to." — Joseph Heller, Catch-22
My copy of Catch-22 has been sitting on my shelf, unread, since 2004. That means it's traveled with me through 4 moves in 3 different states over 12 years. When I made a list of books I wanted to read during my Read My Own Damn Books challenge this year, this one was at the top of the list.
So, is this modern classic still worth reading? My vote is a wholehearted yes. Joseph Heller exposes the absurdities of war and bureaucracy in a novel that is tremendously enjoyable to read.
Here's what makes reading Catch-22 a lot of fun:
It's full of dark, absurdist humor. Here's one of my favorite passages, during one of the many times our hero, Yossarian, is in the hospital faking illness to get out of flying more missions:
"I see everything twice!" the soldier who saw everything twice shouted when they rolled Yossarian in.
"I see everything twice!" Yossarian shouted back at him just as loudly, with a secret wink.
"The walls! The walls! the other soldier cried. "Move back the walls!"
"The walls! The walls!" Yossarian cried. "Move back the walls!"
One of the doctors pretended to shove the wall back. "Is that far enough?" 
The soldier who saw everything twice nodded weakly and sank back on his bed. Yossarian nodded weakly too, eyeing his talented roommate with great humility and admiration. He knew he was in the presence of a master. His talented roommate was obviously a person to be studied and emulated. During the night, his talented roommate died, and Yossarian decided that he had followed him far enough." 
"I see everything once!" he cried quickly. 
It's masterfully crafted. There are over 50 characters, and the plot jumps back and forth in time with no set up or transition. That sounds like a recipe for massive reader confusion and frustration, but it's done so well that reading it is effortless. The reader quickly learns to trust Joseph Heller – anything hinted at will soon be explained, and just sit back and enjoy the ride. It's impressively done, and should be read by anyone interested in the craft of writing.
Joseph Heller's character descriptions are fantastic. Introducing so many people in less than 500 pages requires a steady hand at character description – we have to meet new characters and understand their nature quickly so that the plot can continue. It's done so well. Here's one of my favorites, about a character named Clevinger:
"He was a very serious, very earnest and very conscientious dope. It was impossible to go to a movie with him without getting involved afterword in a discussion on empathy, Aristotle, universals, messages and the obligations of the cinema as an art form in a materialistic society. Girls he took to the theater had to wait until the first intermission to find out from him whether or not they were seeing a good or bad play, and then found out at once. He was a militant idealist who crusaded against racial bigotry by growing faint in its presence. He knew everything about literature except how to enjoy it." 
What's not so great about reading Catch-22: It's a War Novel written by a man in the middle of the 20th century, and it's not a great portrayal of women. It's satire, so a lot of the characters are exaggerations, or ridiculous. But the main characters – Yossarian, Orr, the Chaplain, McWatt – all have depth and nuance. The women – not so much. It doesn't even come close to passing the Bechdel test. The women characters exist as play things for the men during their leaves, and they are treated rudely, abused, and in a few horrible circumstances, raped. Some of it can be chalked up to the caricature of war that is being painted, but it would have been nice to see one fully developed, important female character.
But Catch-22's strengths definitely outweigh its flaws, and if you haven't yet traveled to Italy with Yossarian and tried desperately to be allowed to go home as the numbers of missions you must fly continues to increase, I'd recommend doing so. It's unlike any War Novel you've ever read, and it's a marvelous piece of literature.