Before I share photos and stories from our wedding celebration in June, I want to share our first wedding – our "real" wedding, at City Hall in January.
Getting married at City Hall is the best, because there is very little stress or planning. We got to focus on the most joyful part of the day: committing to build our lives together and to love each other unconditionally. The entire day flowed easily and smoothly, and getting married felt like the most natural and perfect thing to do.
We spent the night before at the Aloft Downtown, so that we'd be near City Hall in the morning. Dara came by that evening to help me make my bouquet. We easily found beautiful flowers downtown, but had a hard time finding a store that sold scissors. (I meant to bring some from home, but forgot.) We finally found a Basics Plus store but were dismayed, and a bit surprised, to hear that they did not sell scissors. When they found out we needed them for my wedding bouquet, a very nice employee gave me the store's pair. This was the first of many times I would encounter people willing to give free things to you if you're getting married.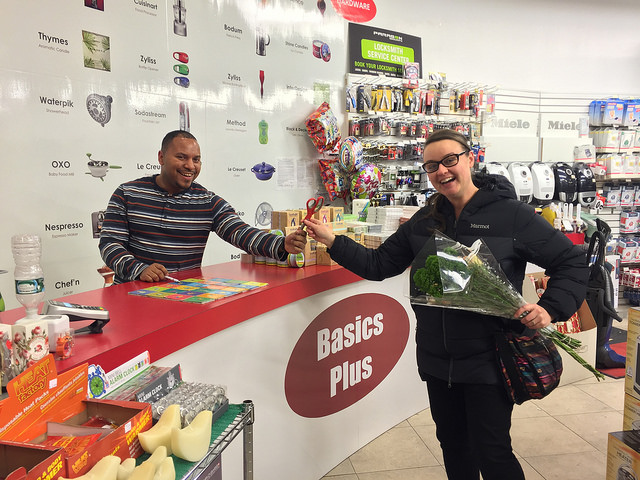 After the flower shopping, we all got a takeout feast from Bareburger and ate it on the floor of the hotel room, like ya do.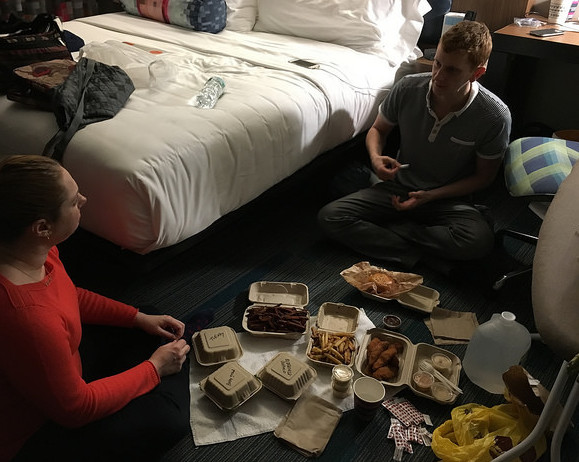 The Big Day started bright and early: Dara arrived at 8am with bagels, and her hairdresser & friend Erika arrived to do my hair. She brought her adorable little dog Betsy, who kept me company while my hair was fussed over and made beautiful: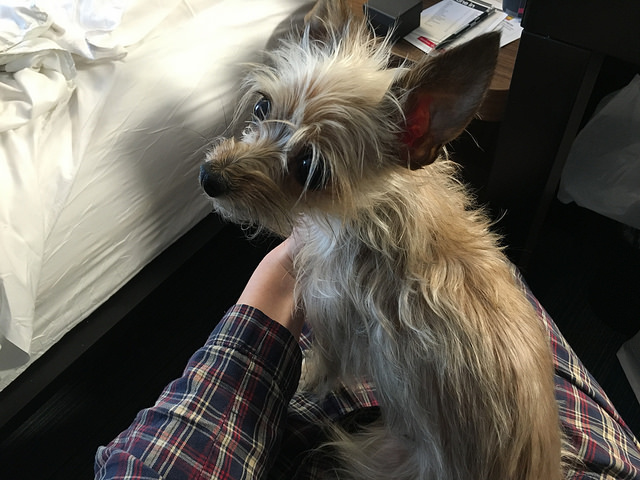 While I was getting my hair done, there was a knock on the door. I couldn't see who arrived until she rounded the corner into the room: it was my dear friend Kristen …  she flew in last minute from San Francisco to surprise me! It was so wonderful to have her there with us, and it set a tone of magic and joy that lasted the entire day.
After we were all dressed and ready, we grabbed an Uber and headed to City Hall. Our Uber driver let us plug my phone into the car's audio system and we listened to my wedding morning playlist as we drove across town.
Getting married at City Hall involves several lines. We arrived and got into the first one, where we had to show our marriage license, IDs, and other paperwork.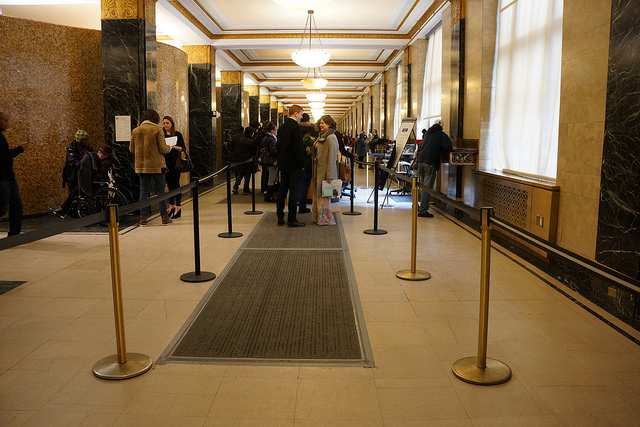 The atmosphere in New York City Hall on a Friday is like nothing else I've experienced. It's filled with couples and their closest friends and families. It's also filled with excitement, buzzing with happiness and celebration. Everyone is in an incredibly good mood. It's so much fun. In total, we spent about 45 minutes there, waiting for our number (C715) to be called, and reporting to another clerk mid-way through to sign more papers to prepare for the ceremony. We all milled about – talking, taking selfies, and eating wheat thins.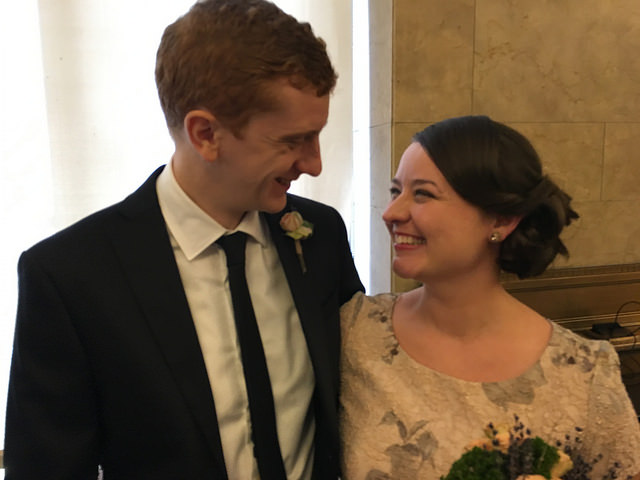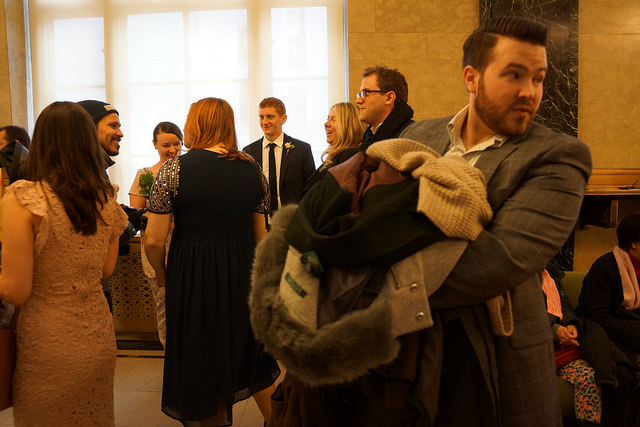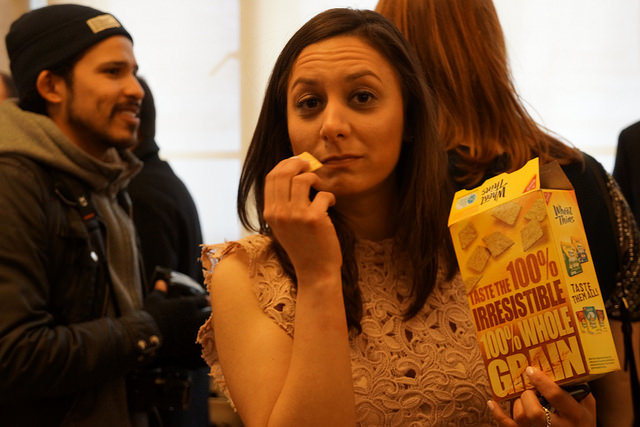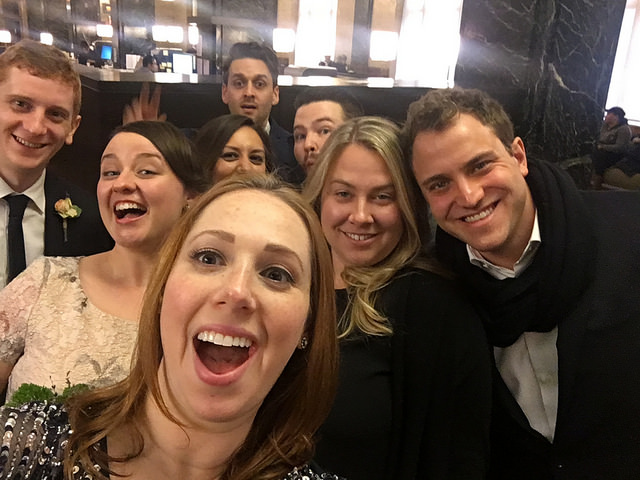 Then our number was called for the second and final time, and we proceeded into the chapel where a lovely woman with blue hair married us. It was very short and went by in a blur. I just remember smiling and feeling my heart filled with so much joy that it seemed likely to burst open. It did not burst though, and we proceeded to get hitched.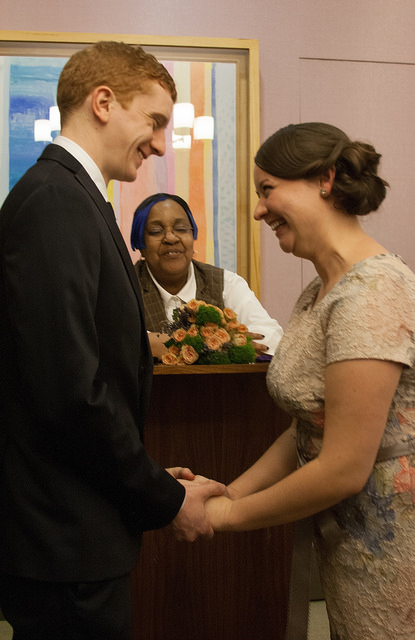 Our first kiss as a married couple: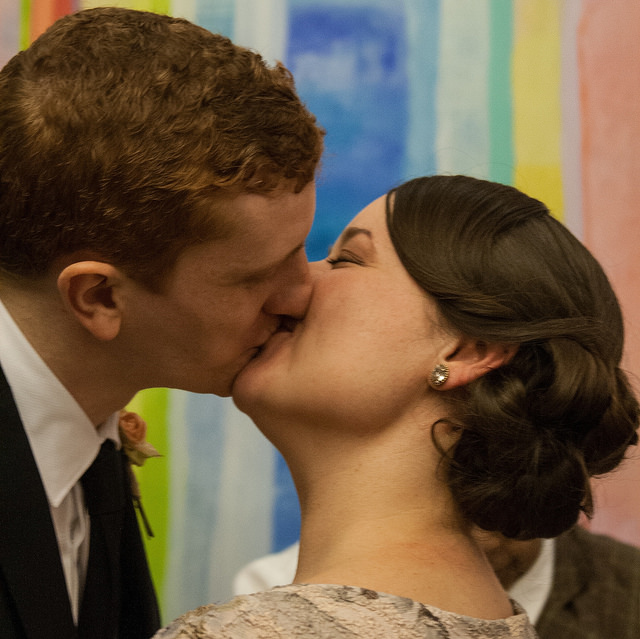 After that, we took a few photos as we exited City Hall, and that was that: we were married!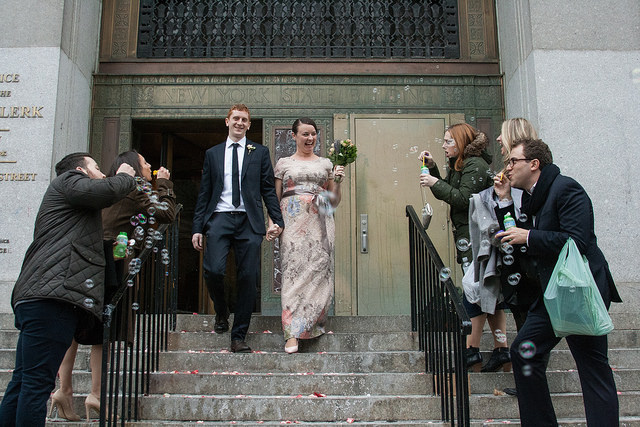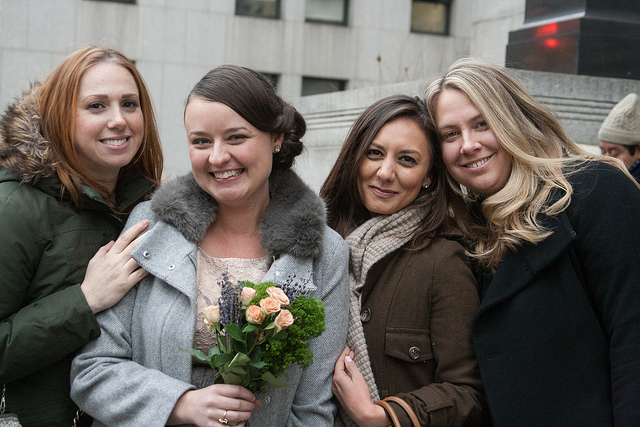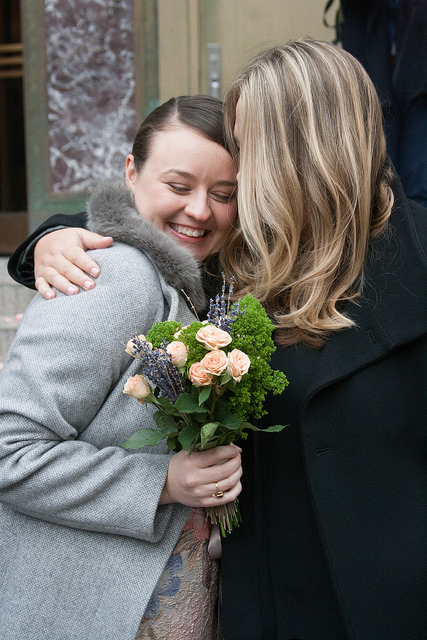 Next, despite the below freezing temperature and cold wind, we walked out to the first arch on the Brooklyn Bridge for photos.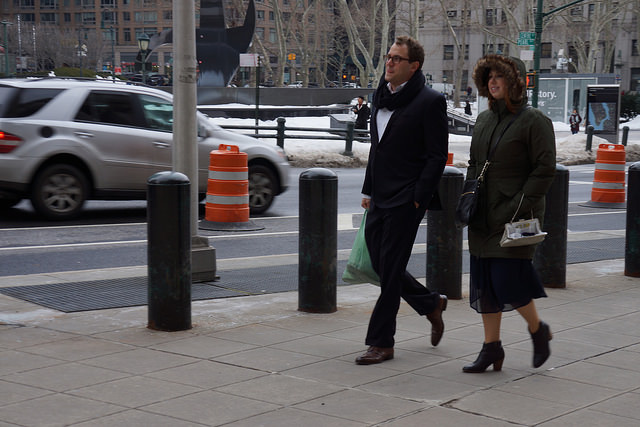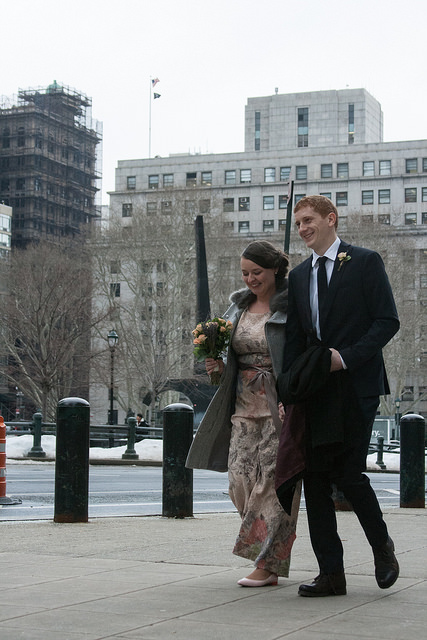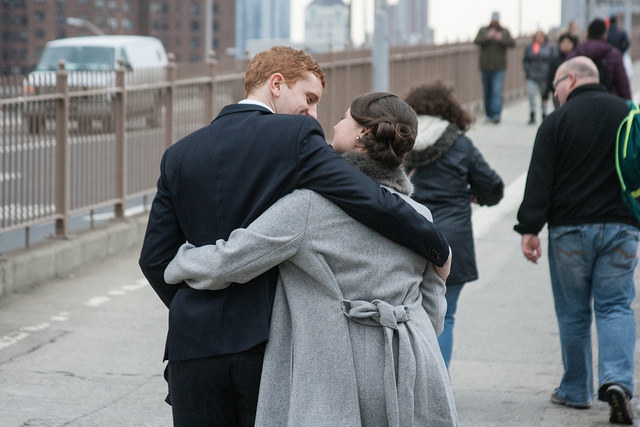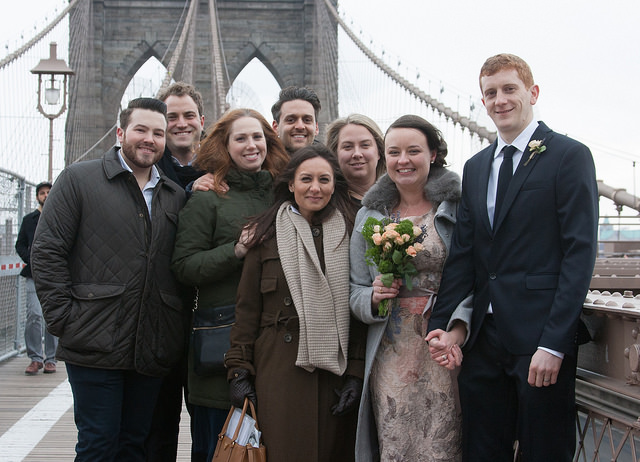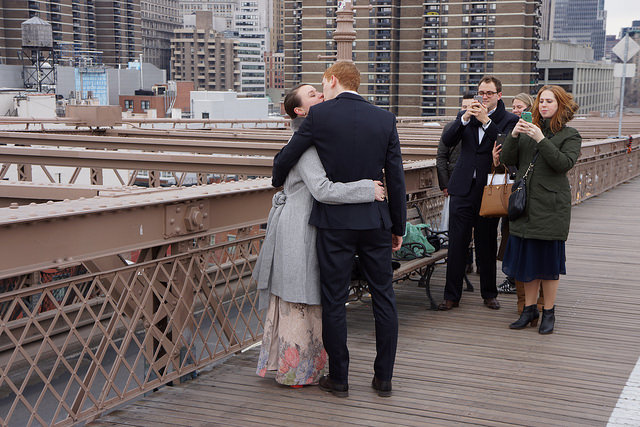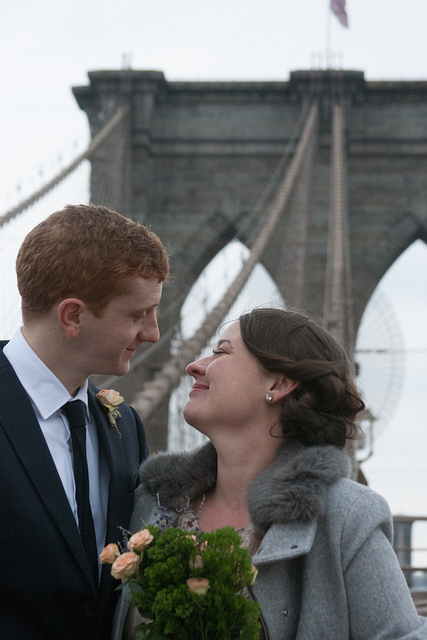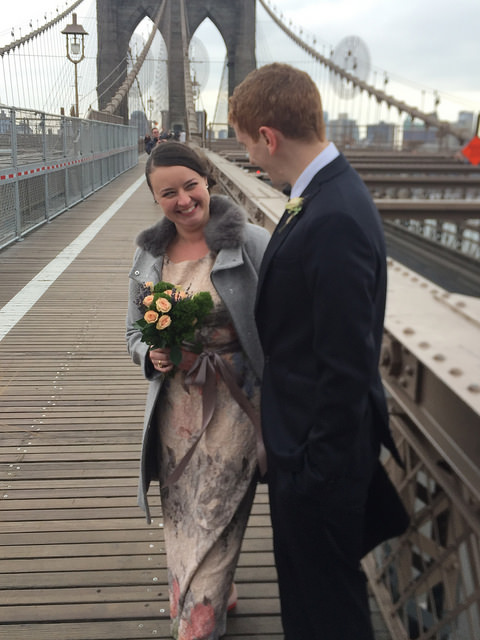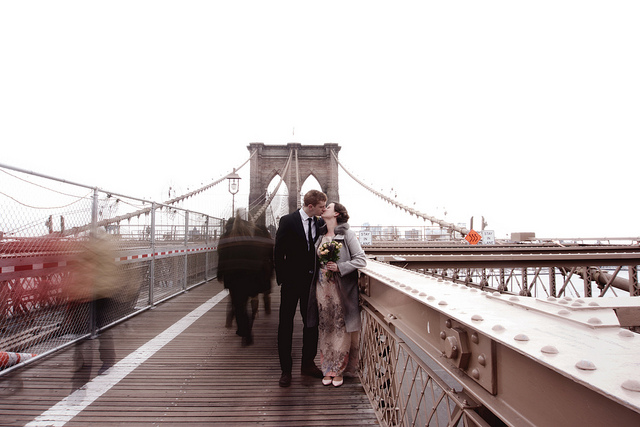 By then we were all freezing and starving, so we piled into cabs and headed to my favorite Italian restaurant for lunch, Rubirosa, and proceeded to order nearly everything on the menu.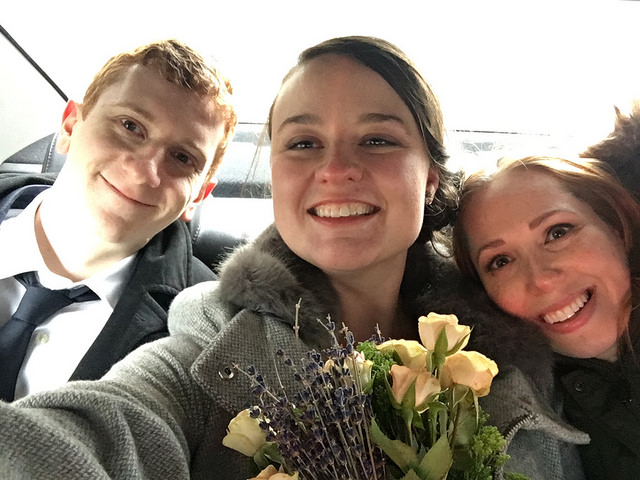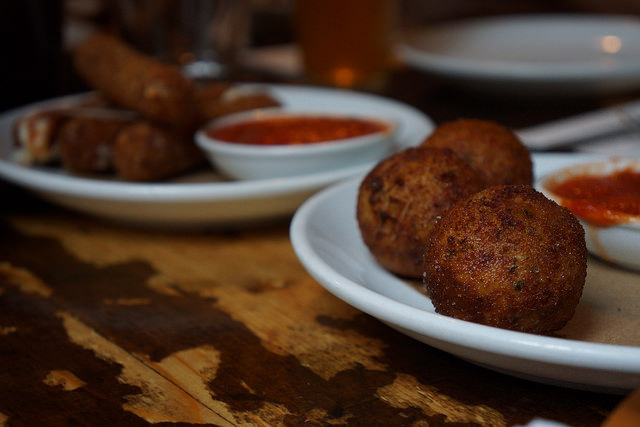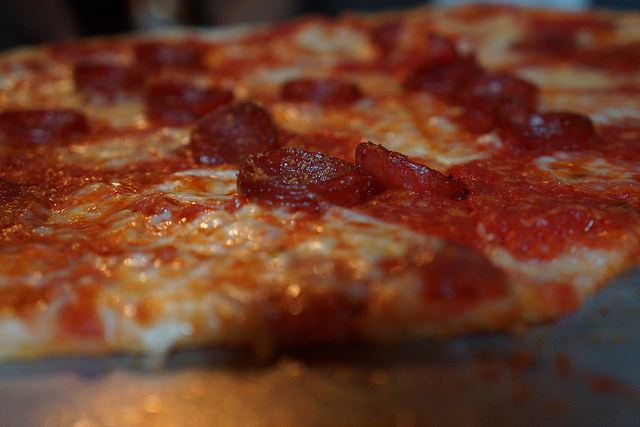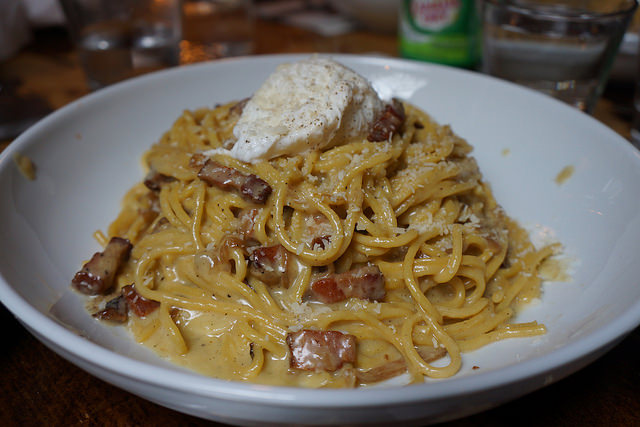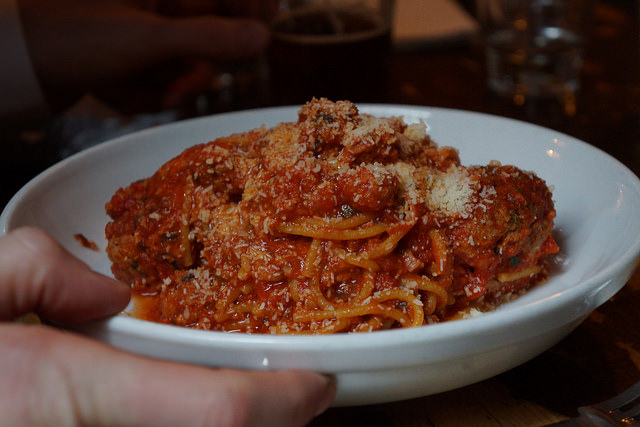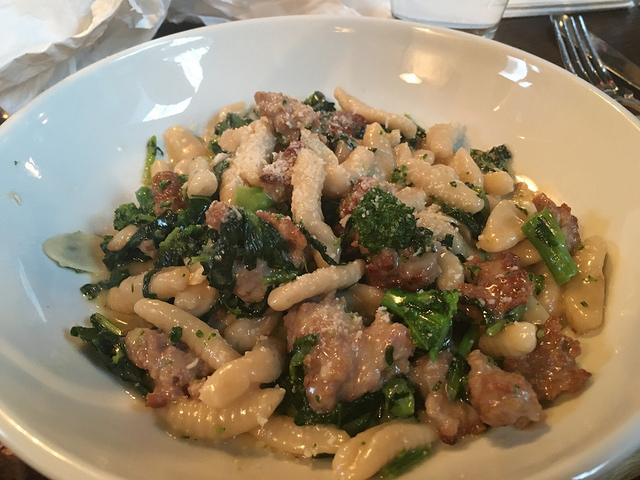 During the meal, a couple at a table nearby saw that we were a wedding party, and told us to pick out 4 desserts for the table, on them. We went over after to talk to them: they were a lovely couple who had been happily married for decades and told us adorable stories from their courtship. And the desserts they bought us were divine: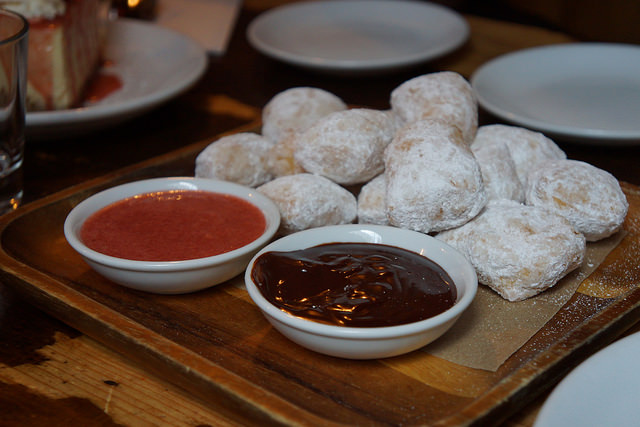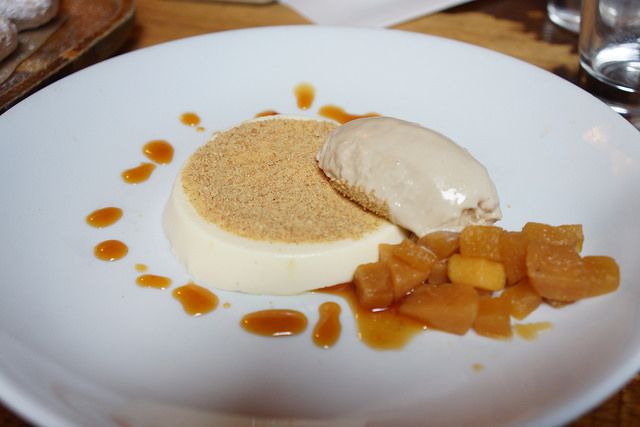 Here's Graham, about to eat the entire tiramisu, his favorite dessert, himself: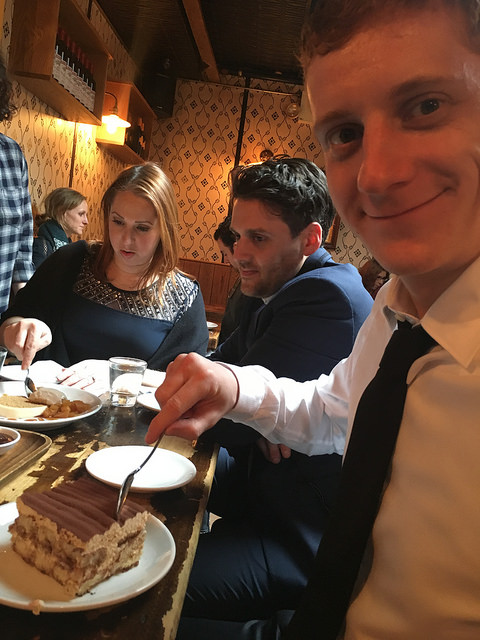 The rest of the day is a happy, contented blur in my memory. We relaxed at my friend Jon's apartment for a little while, and then headed to Brooklyn for drinks & a french fry bar at Fawkner, where we met up with more friends who came out to celebrate. By 9pm we were all completely exhausted: full of joy, Italian food, and disco fries. We set off back home to crash for the night, before heading out early the next morning for a honeymoon in Newport, Rhode Island, and the rest of our lives to spend together.  ♥