I read more in June that I expected, thanks in large part to a few books that I could not put down. (See: Homegoing, You'll Grow Out of It, and The Thing Around Your Neck.) Here's a look at the books I read during the crazy, wonderful month of June: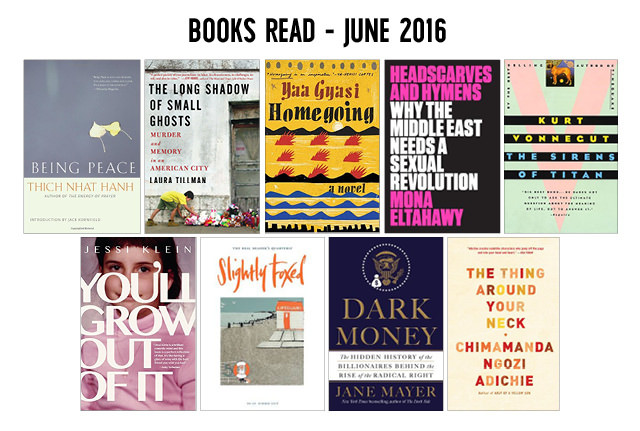 Books Read: 9
Previously Reviewed:
NON-FICTION
I'll read anything and everything Thích Nhất Hạnh writes. His books are usually quite short, but they hold so much peace and compassion. They are restorative, and a reminder to be kind to ourselves and build in time for being present in each moment. In Being Peace, he writes about the need for every single person who wants to live in a peaceful, compassionate world to start with their own lives and thoughts.
The only thing worthy of you is compassion —
invincible, limitless, unconditional.
Hatred will never let you face
the beast in man.
I listened to the audiobook of The Long Shadow of Small Ghosts by Laura Tillman for June's Social Justice Book Club. I don't read a lot of true crime, and it was nice to get out of my comfort zone. It's a deep look into the background of a horrible crime committed in a small Texas town near the Mexican border. It's a haunting look into the circumstances that can lead people to commit unthinkable acts. It asks questions about how much responsibility society shares in these acts. It pairs very well with Just Mercy. (Also: don't miss the great interview with Laura Tillman that Kerry posted.)
The milestone 50th issue of Slightly Foxed was just as delightful as always. I've already purchased two of the books featured in the issue and am stalking used copies of a third, out of print title. Slightly Foxed never disappoints.
I listened to Dark Money by Jane Mayer on audiobook in June. I had to take a break from it the week of our wedding because I wanted the week to be full of joy and listening to how the Koch brothers are ruining our democracy was making me cranky. It's such an important book – everyone should be aware of the implications of Citizens United and the way we've allowed corporations to hide their contributions and political influence. But it may give you tension headaches.
I also listened to Headscarves and Hymens: Why the Middle East Needs a Sexual Revolution by Mona Eltahawy on audiobook. I want to learn more about oppression of women (and what it means to be a feminist) in the middle east directly from the women who experience it firsthand, and this was a great introduction. Mona Eltahawy is a journalist bringing a powerful voice to these issues. I highly recommended it, if you're interested as well.
FICTION
I finished one of the remaining Kurt Vonnegut novels that I haven't read, The Sirens of Titan. The plot of this one is classic zany Vonnegut, and explores Free Will through a lens of intergalactic space travel and religion. It was a lot of fun to read, and great to get back into Kurt Vonnegut's vivid imagination and gift for storytelling.
I read The Thing Around Your Neck by Chimamanda Ngozi Adichie. It's a collection of short stories by the talented Nigerian-American writer who wrote Americanah and Half of a Yellow Sun. Her short stories are just as beautiful as her novels, and I couldn't put this collection down. I want to read her first novel, Purple Hibiscus, but I'm dreading finishing her published work and then having to wait impatiently for her next release.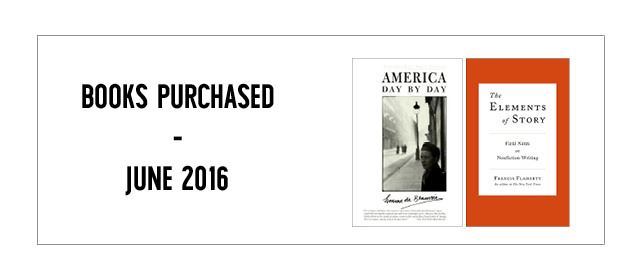 A few days before our wedding I spent a Thursday morning running some errands around Union Square in preparation for the big day. I didn't actually have to do anything at the Strand, but I couldn't resist popping in anyway to spend some time in the stacks on a weekday morning, when it's not as crowded. I came home with two books: America Day by Day – the travel diary Simone de Beauvoir kept during her four month cross country road trip in 1947, and The Elements of Story: Field Notes on Nonfiction Writing by Francis Flaherty.