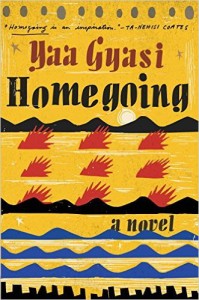 "How could he explain to Marjorie that what he wanted to capture with his project was the feeling of time, of having been a part of something that stretched so far back, was so impossibly large, that it was easy to forget that she, and he, and everyone else, existed in it — not apart from it, but inside of it."
They say in journalism that you should never bury the lead. So here you go: Homegoing by Yaa Gyasi is a masterpiece. It's stunning, haunting, upsetting, and beautiful. This story is so important, and it's written masterfully. This is the reason why we need diverse books: to hear a variety of voices that expand our horizons and understanding.
Homegoing is the story of two half sisters who never knew each other, born in Ghana during the heart of the slave trade. One sister was married off to a powerful white governor of the British Cape Coast Castle. The other sister was captured and sold as a slave, passing through the dungeon that served as the women's slave quarters under the castle where her sister lived. It follows their bloodline on each side through the next six generations. It breathes so much life into our understanding of how our ancestry shapes who we became.
How does Yaa Gyasi weave such an affecting saga in only 300 pages? How does she introduce us so effortlessly to each new generation? We're with each character for a maximum of 30 pages, but they're painted so richly that we feel we know them as well as if they each had the entire novel to themselves. Despite the heaviness of the storylines, Homegoing is a joy to read — it will remind you of why you love reading.
This is a story that puts down roots inside you and won't let go.
"Whose story is correct?" Yaw asked them. They looked around at the boys who had spoken, as though trying to establish their allegiance by holding a gaze, casting a vote by sending a glance.
Finally, once the murmuring subsided, Peter raised his hand. "Mr. Agyekum, we cannot know which story is correct." He looked at the rest of the class, slowly understanding. "We cannot know which story is correct because we were not there."
Yaw nodded. He said in his chair at the front of the room and looked at all the young men. "This is the problem of history. We cannot know that which we were not there to see and hear and experience for ourselves. We must rely upon the words of others. Those that were there in the olden days, they told stories to the children so that the children would know, so that the children could tell stories to their children. And so on, and so on. But now we come upon the problem of conflicting stories. Kojo Nyarko says that when the warriors came to his village their coats were red, but Kwame Adu says that they were blue. Whose story do we believe, then?"
The boys were silent. They stared at him, waiting.
"We believe the one who has the power. He is the one who gets to write the story. So when you study history, you must always ask yourself, Whose story am I missing? Whose voice was suppressed so that this voice could come forth? Once you have figured that out, you must find that story too. From there, you begin to get a clearer, yet still imperfect, picture."
//
Author photo by Michael Lionstar.