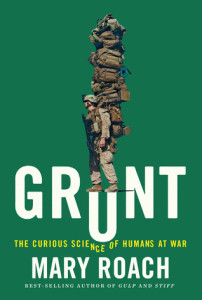 "People tend to think of military science as strategy and weapons – fighting, bombing, advancing. All that I leave to the memoir writers and historians. I'm interested in the parts no one makes movies about — not the killing but the keeping alive."
Grunt: The Curious Science of Humans at War is not for the squeamish. Or maybe it is, because I can be a bit squeamish about anything medical or health related, and I still managed to not pass out while reading it. Barely.
Mary Roach likes to take topics most of us are somewhat familiar with and turn them on their side to inspect them from a new angle. It's lead to a whole collection of fascinating work such as: Packing for Mars: The Curious Science of Life in the Void, Gulp: Adventures on the Alimentary Canal, Bonk: The Curious Coupling of Science and Sex , and Spook: Science Tackles the Afterlife. (She finds a lot of things curious, which I like.)
In Grunt, Mary Roach dives into the science behind keeping our armed forces alive, and of rehabilitating them if they get injured. This covers topics like what they wear and drive, how they preserve their hearing, and how they battle diarrhea (a frequent factor, especially for special ops teams who arrive in areas before food & water supplies). It also covers the pioneering medical fields of genital restorations and transplants, and how medics train for working in war zones. (She doesn't cover PTSD – a hugely important topic she defers to the experts to address.)
My favorite chapter was  about Navy submarines and the high pressure stakes involved in fixing issues deep below the surface. It's terrifying just to read about it, safely sitting on a couch on land. She also spends a little bit of time talking about the things that haven't been solved or improved on, despite our best efforts. Namely: sharks. Despite a fair amount of research, the concept of "shark repellent" has never amounted to anything that's actually useful. Studies into what human behavior attracts or repels sharks is also inconclusive: there's far to much variance in the behavior of different species of sharks, as well as how sharks will behave under different situations or circumstances.  "Cantrell's main advice to the diver who encounters a shark? Enjoy the experience." Luckily, sharks attacks on our service men and women are not that common — the best way to make someone feel safe in the event they have to abandon ship or ditch their plane is to share the real statistics.
I also enjoy the little bits of appropriately sprinkled humor throughout Mary Roach's books.
He helped me put on my gear. ("I can stick my lip balm and tape recorder in these little skinny vest pockets." "Those are for ammo.")
Reading Grunt will give you a new appreciation of the innovative science behind our military, and the dedicated professionals working hard behind the scenes to keep our service men and women safer.
If you'd like to hear more about the book, listen to Mary Roach's great interview on Fresh Air.
//
Author photo by David Paul Morris.
I received a review copy of this book from the publisher.