Holy non-fiction, Batman! Of the 11 books I read in May, only 1 — a re-read of Betsy and Joe by Maud Hart Lovelace — was fiction. I didn't realize that until I started this post. I might be on track to do the same in June, too. Here's a look at the books I read and bought last month: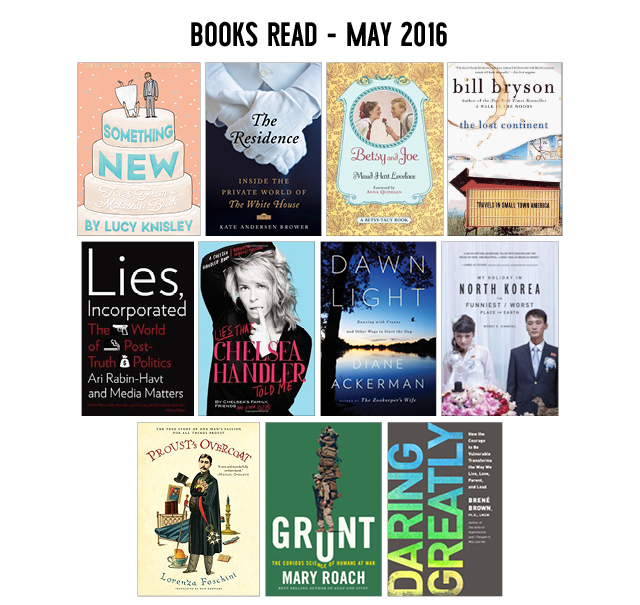 Books Read: 11
Previously Reviewed: My Holiday in North Korea by Wendy E. Simmons
GRAPHIC NOVELS
The wonderful Lucy Knisley's latest graphic memoir, Something New, could not have been more well timed for me. It's about her adventures planning a wedding, as she grapples with an aversion to the overblown wedding industry and a desire to do things her own way. I can relate. While Lucy planned and executed a much larger (and impressively handmade) wedding than we're having, I could still relate to her experience. Even if you're not currently planning a wedding, it's still a very fun read.
RE-READS
You guys might be sick of me endlessly re-reading the Betsy-Tacy series, but I have no shame: I love these books so much. I re-read Betsy and Joe in May, and I'm looking forward to re-reading the last two books in the series this summer. I'm pretty sure I've read the entire series more than 10 times in the past 20 years.
NON-FICTION
For some unknown reason, I've never read The Lost Continent by Bill Bryson, despite the fact that he's one of my favorite authors. I just missed picking this one up along the way. When I made my Read My Own Damn Books list at the start of the year, this was towards the top of the list: it's been on my shelves since 2006. It's not one of his best travel memoirs, but it still pleased this Bryson fan.
If you pick up Lies, Incorporated – be prepared. It's likely to make you fairly depressed about the challenges we face as we try to make forward progress as a society. But it's such an important book and message – we have to be diligent in our efforts to seek out the truth in politics. Lies that are perpetuated in the name of big businesses or special interest groups are very powerful at obstructing progress. When your only goal is to stop change from happening and maintain the status quo, lies are incredibly powerful. They halt progress in its tracks. This book will change the way you think about the media you consume and how quickly you accept "information" as fact.
Dawn Light is the second collection of nature essays that I've read by Diane Ackerman. It was beautiful and meditative. I'm hoping to write a post soon that highlights and compares this book and The Moon by Whale Light, because they are both quiet different, but so lovely.
I read a tiny little book called Proust's Overcoat this month. I'm going to admit something super bad here: this galley has been sitting in my apartment since 2011. Yikes. I finally read it for my RMODB project. I'm taking a few months break from Proust before starting volume three, and I thought it was fitting to read this quirky little book about him in the meantime. It was surprisingly enjoyable – you don't have to be a fan of Proust to enjoy the story of how his personal possessions came to be rescued from obscurity or destruction. It's alarming how close we came to losing precious manuscripts, letters, and iconic personal effects from such a celebrated author. It makes you wonder how many such treasures have been lost or how many other fascinating stories of rescue exist in the world of literary history.
AUDIOBOOKS
I was so curious about The Residence by Kate Andersen Brower when it came out last year – it sounded like the perfect read for my The West Wing and Madam Secretary obsessed brain. But I also wanted to read it via audiobook – this type of non-fiction is perfect for audio. But I listened to the sample, and my reaction was something like this. (I know that's not very kind – but sometimes you just don't mesh with a particular narrator.) HOWEVER. Lauren recently listened to the audiobook and reported that the book was just as fascinating as it sounds. So I sucked up my hesitations and went for it. And I'm happy to report back that I really enjoyed it. I got used to the narrator pretty quickly, and liked her better by the end. And it's such a fun topic! Who isn't insanely curious about what it's like to work for first families? It's like reading a highbrow gossip magazine, and so much more satisfying.
Speaking of Lauren, her influence in my May reading was also a factor in my selection of Lies That Chelsea Handler Told Me. I've been enjoying all of Chelsea Handler's audiobook memoirs – they are a lot of fun, and the perfect lighthearted listens. But this one wasn't on my radar until she recommended it. The stories in this collection are outrageous and a lot of fun to experience second hand. That's right: second hand. I'm way too gullible to be friends with Chelsea.
So: that narrator I wasn't sure I was on board with for the audiobook of The Residence? Well – I'm glad I ended up getting used to her, because she also narrates the Daring Greatly audiobook. I definitely preferred Brené Brown's own narration (she reads the audiobook of Rising Strong), but this book is still so powerful and amazing. If everyone read this book, the world would be a better place.
I also enjoyed reading Grunt by Mary Roach, and will share a review next week on its release date.

I've owned a digital copy of Winter Journal by Paul Auster for a few years, and haven't gotten around to reading it, mainly because it seems like the kind of book that should be read in print. So when I saw a copy on clearance at BookCourt, I bought it. In early May I went book shopping when I was particularly disgusted with Donald Trump and disheartened by the state of political discourse in America (more so than normal), and came home with Lies, Incorporated and A People's History of the United States as a result. I skipped Friday morning at BEA to have brunch with the hubs, and missed the signing of Homegoing by Yaa Gyasi, a book I'm super pumped to read. So I was very happy to see a 50% off copy at Strand when I got home to NYC, and I grabbed it. And finally, I impulse bought The Hour of Land by Terry Tempest Williams – it just looks so lovely.