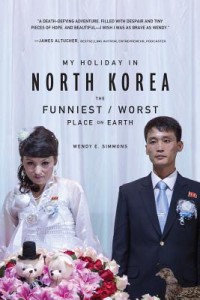 Most of the travel writing I read inspires a great deal of wanderlust. Not so with My Holiday in North Korea: The Funniest/Worst Place on Earth by Wendy E. Simmons. She toured North Korea so we don't have to.
North Korea is not a responsible tourist destination – we shouldn't spend our money contributing to a terrible and oppressive regime. But I do respect that Wendy K. Simmons actually made an effort to see the country, ask questions, and report back. It's brave. She went for 10 days, unlike many completist travelers who only want to tick off an "exotic" destination on their travel score card.
The chapters in her travelogue are interspersed with quotes from Alice's Adventures in Wonderland and Through the Looking Glass, and the literary parallel of finding yourself in a strange place where you can't quite tell what's real and what the rules are, or why, is quite fitting.
Her 10 days are packed with a well orchestrated itinerary, and managed by two handlers and a driver. She's taken around to national museums, libraries, schools, orphanages, the Korean border, monuments, amusement parks, a soccer game; all staged with a heavy hand. So much is fake that it's hard to tell what unexpected moments might be real. But her moments of real connection with North Koreans show the humanity and spirit of the people living under this oppressive regime.
This is a quick read, and Wendy's writing makes it more enjoyable than an account of visiting North Korea has any right to be. But it's horrifying too. A strange cocktail, but it works. If you want a peek behind the strange curtain of North Korea, this is an enlightening introduction.
"I travel with an open heart, and an open mind, with the intention of learning and sharing, and then sharing what I've learned with people back home. Travel is truly a love affair. But, just like love, it's a two way street. And North Korea deprives you of all this. They want you to fall in love with the singular vision of the country they're willing to show you and nothing more. Everything you do and see is staged and managed. Everyone with whom you are allowed to speak knows what he or she can and cannot say.  When there are real people doing ordinary things, you're not allowed to engage."
//
Main photo by the author, Wendy E. Simmons.
I received a copy of this book from the publisher.