I had great luck last year at BEA grabbing a few galleys that I knew nothing about but that looked intriguing. Out of those came two books I read and loved last year: Kitchens of the Great Midwest and Girl Waits With Gun. I call these galleys "Take a Chance on Me" selections, and yes, they should be referred to in song.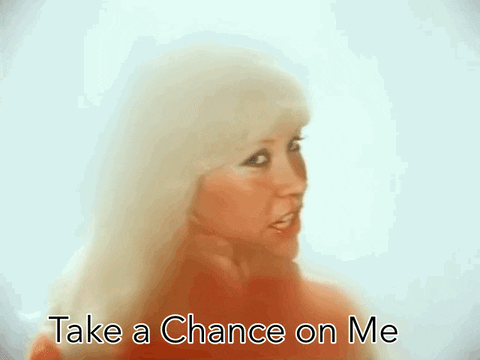 Here's this year's batch of "Take a Chance on Me" galleys:

Please Enjoy Your Happiness by Paul Brinkley-Rogers (Touchstone, October 2016)
"Pulitzer Prize–winning war correspondent Paul Brinkley‑Rogers was a sailor aboard the USS Shangri‑La that long‑ago summer when he met Kaji Yukiko in the seaport of Yokosuka. A fierce intellectual, Yukiko shared her astonishing knowledge of literature, film, and poetry with Paul and encouraged, even demanded, that he use his gifts to become the writer he is today. But theirs was not a quiet love story. When a member of the yakuza, Japan's brutal crime syndicate, attempted to kidnap Yukiko, Paul realized that there was much more to her—and to Japan in the devastating wake of World War II—than he saw at first glance. Through the searing letters that Yukiko wrote to him and Paul's vivid telling of a history made all the more powerful and poignant by the weight of time, Please Enjoy Your Happiness reaches across decades and continents, inviting us all to revisit those loves of our lives that never do end."
The Mortifications by Derek Palacio (Crown, October 2016)
"In 1980, a rural Cuban family is torn apart during the Mariel Boatlift. Uxbal Encarnación—father, husband, political insurgent—refuses to leave behind the revolutionary ideals and lush tomato farms of his sun-soaked homeland. His wife Soledad takes young Isabel and Ulises hostage and flees with them to America, leaving behind Uxbal for the promise of a better life. But instead of settling with fellow Cuban immigrants in Miami's familiar heat, Soledad pushes further north into the stark, wintry landscape of Hartford, Connecticut. There, in the long shadow of their estranged patriarch, now just a distant memory, the exiled mother and her children begin a process of growth and transformation."
I Will Send Rain by Rae Meadows (Henry Holt, August 2016)
"Annie Bell can't escape the dust. It's in her hair, covering the windowsills, coating the animals in the barn, in the corners of her children's dry, cracked lips. It's 1934 and the Bell farm in Mulehead, Oklahoma is struggling as the earliest storms of The Dust Bowl descend. All around them the wheat harvests are drying out and people are packing up their belongings as storms lay waste to the Great Plains. As the Bells wait for the rains to come, Annie and each member of her family are pulled in different directions. Annie's fragile young son, Fred, suffers from dust pneumonia; her headstrong daughter, Birdie, flush with first love, is choosing a dangerous path out of Mulehead; and Samuel, her husband, is plagued by disturbing dreams of rain. As Annie, desperate for an escape of her own, flirts with the affections of an unlikely admirer, she must choose who she is going to become. With her warm storytelling and beautiful prose, Rae Meadows brings to life an unforgettable family that faces hardship with rare grit and determination. Rich in detail and epic in scope, I Will Send Rain is a powerful novel of upheaval and resilience, filled with hope, morality, and love."
War Porn by Roy Scranton (Soho Press, August 2016)
"'War porn,' n. Videos, images, and narratives featuring graphic violence, often brought back from combat zones, viewed voyeuristically or for emotional gratification. Such media are often presented and circulated without context, though they may be used as evidence of war crimes. War porn is also, in Roy Scranton's searing debut novel, a metaphor for the experience of war in the age of the War on Terror, the fracturing and fragmentation of perspective, time, and self that afflicts soldiers and civilians alike, and the global networks and face-to-face moments that suture our fragmented lives together. In War Porn three lives fit inside one another like nesting dolls: a restless young woman at an end-of-summer barbecue in Utah; an American soldier in occupied Baghdad; and Qasim al-Zabadi, an Iraqi math professor, who faces the US invasion of his country with fear, denial, and perseverance. AsWar Porn cuts from America to Iraq and back again, as home and hell merge, we come to see America through the eyes of the occupied, even as we see Qasim become a prisoner of the occupation. Through the looking glass of War Porn, Scranton reveals the fragile humanity that connects Americans and Iraqis, torturers and the tortured, victors and their victims."
Children of the New World by Alexander Weinstein (Picador, September 2016)
"Children of the New World introduces readers to a near-future world of social media implants, memory manufacturers, dangerously immersive virtual reality games, and alarmingly intuitive robots. Many of these characters live in a utopian future of instant connection and technological gratification that belies an unbridgeable human distance, while others inhabit a post-collapse landscape made primitive by disaster, which they must work to rebuild as we once did millennia ago. Children of the New World grapples with our unease in this modern world and how our ever-growing dependence on new technologies has changed the shape of our society. Alexander Weinstein is a visionary new voice in speculative fiction for all of us who are fascinated by and terrified of what we might find on the horizon."
//
Have you heard any buzz about any of these? Which one should I read first and report back on?