The best part of BEA is getting to hang out with super awesome book bloggers in real life. My biggest regret of BEA this year is not taking more photos, so I don't have photos with everyone. But I do have a copy of this excellent photo of the Glasses Mafia: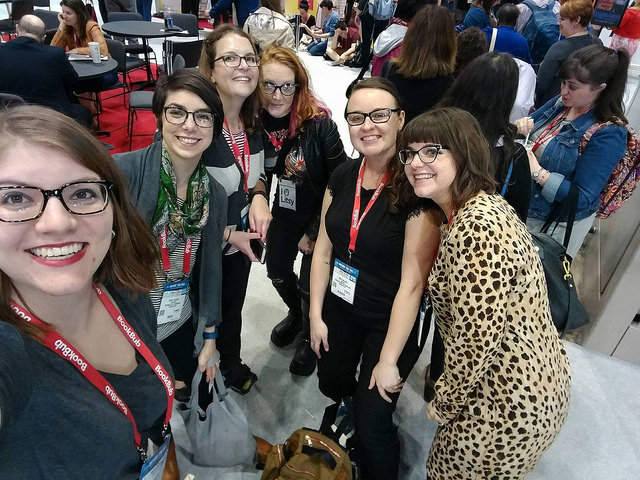 The second best part of BEA is bringing home exciting new books. Here are the 10 books I am most excited to read:

Lincoln in the Bardo by George Saunders (Random House, January 2017) 
This was the number one galley on my list for BEA this year. George Saunders is one of my favorite short story authors, and I'm so excited to read his first novel.
A Gentleman in Moscow by Amor Towles (Viking, September 2016) 
I loved Rules of Civility so much, and I'm excited / nervous to read Amor Towles's second novel.
Textbook by Amy Krouse Rosenthal (Dutton, August 2016)
Encyclopedia of an Ordinary Life was so unexpectedly delightful, and it's been over 10 years since Amy Krouse Rosenthal has published a book for adults. (She's a prolific children's book author.) Her latest looks completely different, but just as delightful.
The Underground Railroad by Colson Whitehead (Doubleday, September 2016) 
I've never read anything by Colson Whitehead before, but he's well regarded by book bloggers I trust, and this one had a lot of buzz at BEA. The story sounds fantastic, and I'm excited to start it.
You'll Grow Out of It by Jessi Klein (Grand Central, July 2016) 
Jessi Klein is a comedian and writer on Inside Amy Schumer, among many other credits. There aren't many memoirs by female comedians that I'm not interested in reading, and this one looks particularly fun.

Exoneree Diaries by Alison Flowers (Haymarket, June 2016) 
Kerry, Shannon and I had an awesome chat with a guy from Haymarket Press — they have so many great books coming out this year. We grabbed several galleys, and Exoneree Diaries sounds like a perfect addition to to the social justice book list.
The Terranauts by T. C. Boyle (Ecco, October 2016) 
I've only read a little of T. C. Boyle's work, but I always enjoy his writing and the fascinating ideas and worlds he creates. This one sounds extra-interesting: eight scientists are selected to live inside a controlled, sealed colony, designed as a prototype of a possible space colony.
Gertie's Leap to Greatness by Kate Beasley (FSG, October 2016)
I love a good middle grade novel, and this one is getting all kinds of wonderful buzz. Bonus: the cover is so lovely.
Among the Living by Jonathan Rabb (Other Press, October 2016) 
A post-WWII novel about a holocaust survivor who relocates to Savannah to live with distant relatives. The combination of a WWII story with a Jim Crow south setting was too intriguing to pass up.
Blood at the Root by Patrick Phillips (W. W. Norton, September 2016) 
The history of racial terrorism in Forsyth County, Georgia that spans the Cherokee removals to present day white supremacy. This is bound to be a tough one, but powerful.
//
Now – has anyone figured out how to cure the feeling of needing to read ALL THE BOOKS AT ONCE?