The Readathon pushed me from a great April (11 books) to an amazing April (14 books). And I enjoyed every single one of them. Here's a quick look at everything I read last month.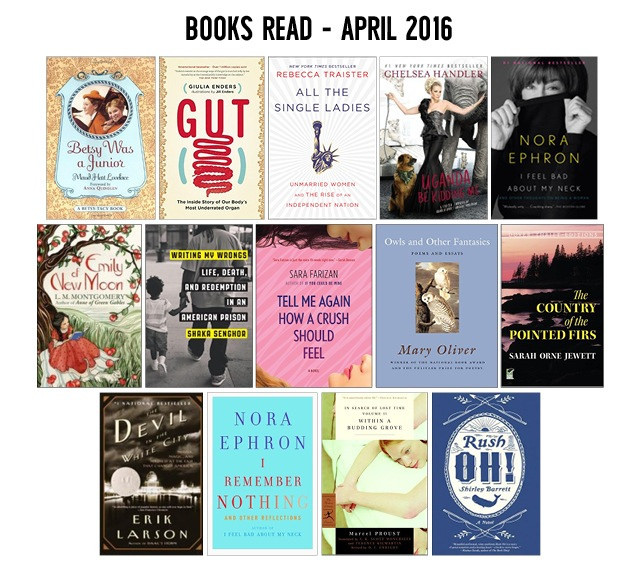 Books Read: 14
Previously Reviewed:
RE-READS
I re-read three books in April. The first was Betsy Was a Junior by Maud Hart Lovelace. I'm making my way through my beloved Betsy-Tacy series again, and they still do not fail to completely delight. In prep for watching the new Nora Ephron documentary on HBO, Everything is Copy, I breezed through re-listens of both her memoirs on audiobook: I Feel Bad About My Neck and I Remember Nothing. Nora's conversational tone in these essays works so perfectly on audiobook, it feels like an old friend is chatting with you on the phone.
FICTION
I've been a devoted fan of L.M. Montgomery's Anne of Green Gables series for a long time, but until this month I've never read anything else from her extensive body of work. I've heard rumblings that the Emily series is better than the Anne series, and apparently Montgomery said Emily was her favorite character. But so far I disagree: I liked Emily of New Moon, but it's in no way as good as the Anne series. There's just not the same depth of character as the people we meet in Green Gables — New Moon characters are mostly one dimensional, and therefore not as endearing. I just bought the other two books in the series, so we'll see if it improves.
I read Sara Franzen's Tell Me Again How a Crush Should Feel during the Readathon, a YA book that's been on my list for a while. This book has so much heart, and I'm glad to see more LBGTQ literature for teens.
I also read The Country of the Pointed Firs by Sarah Orne Jewett during the Readathon. It's a slim volume, but it's so very lovely. There's not a lot of plot, it's more of a sketch of a small coastal town in Maine in the late 19th century. But for a novel without much plot, it packs a huge punch character wise. At the end of 88 pages you'll feel like you're parting from wonderful friends. It's probably not a book for everyone, and I'm not sure what to compare it to, but those who will appreciate it will probably absolutely love it.
I finished the second volume of In Search of Lost Time by Marcel Proust: Within a Budding Grove, which I've been reading since early March. I'm still enjoying getting lost in Proust's world, and plan to dive into the third volume this summer. I'll post a full review once I've read them all.
NON-FICTION
Gut by Giulia Enders tells you everything you ever wanted to know, and more, and about your digestive system. Enders makes the point that a lot of time and research has been spent learning about the nervous system and cardiovascular system, but until the past decade or so there hasn't been as much emphasis on the crucial role our digestive system plays in our overall health and well being. This is a great introduction to how our guts work, and best of all: it's very readable and funny.
I listened to Uganda Be Kidding Me by Chelsea Handler and enjoyed all her ridiculousness. With how busy April was, I needed the escape of lighthearted, funny memoirs like this one, and the Nora Ephron re-reads.
I've owned The Devil in the White City by Erik Larson for 8 years without ever getting around to it until now. What a mistake. All the praise for this one is well earned: it's one of the most engaging pieces of non-fiction I've read in a long time. If you haven't read it yet, pick it up the next time you're craving a good history story. You won't be disappointed.
POETRY
Owls and Other Fantasies by Mary Oliver is a collection entirely devoted to birds. It's as delightful as it sounds.

I bought A History of Britain in Thirty-Six Postage Stamps for 50% off at a bookstore near my work that is (sadly) going out of business. I got a copy of The Country of the Pointed Firs before the readathon, because I didn't want to read my digital copy. (It's a book you need to hold in your hands.) And as mentioned above, I bought the next two Emily books to finish the trilogy.
As of the end of April, I've read 42 books in 2016, and purchased 21. So, I've read twice as many as I've purchased. I'm super pleased about that, because years ago it was usually the opposite.