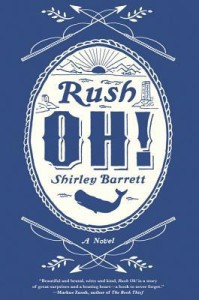 Let's get right down to details: here are 5 reasons to read Rush Oh! by Shirley Barrett:
1. The narrator.
Rush Oh! is narrated by Mary Davidson, the eldest daughter of a whaling captain. Her mother died before the story begins, and she's now responsible for helping to run the household and for taking care of her younger siblings. Her narrative voice is one of most captivating I've encounter in fiction in the past year.  She's authentic and unintentionally funny. Her voice feels appropriate to the time period but also timeless and modern. You won't want your time with her to end.
2. The subject matter.
Not many people dispute that whaling is horrific, but as we know from Moby Dick, it also makes for an incredible story. Rush Oh! covers many angles of whaling in the early 1900s: the bravery and physical stamina of the captain and crew, the small town's excitement over the activity of the company, and the horror and reality of a kill. And ecause it's told from a female perspective, we also see a different side of whaling than what's been commonly told in the past.
3. The setting.
There's something about reading a novel set in a secluded location – in this case a remote little town in one of the most remote countries in the world, Eden, Australia, that makes you feel like you've slipped away for a little escape as well. Watch the book trailer below for peek at this beautiful setting.
4. The historical context.
Isn't historical fiction even more delightful when it's loosely tied to true events? In this case, the story of the Davidson daughters is fictional, but there really was a whaling captain named George Davidson who had a large family in Eden Australia, and — best of all — there really was a killer whale named Tom, whose personality was strikingly similar to his fictional counterpart.
5. The ending.
I obviously don't want to say very much about the ending here, but Shirley Barrett's approach to the ending was unique and a bit surprising. It took me a few hours of thinking about it to decide how I felt, but I ultimately decided I really liked it. I'll say no more, but let's discuss if you read it!