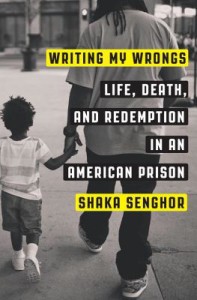 "The system that currently holds 2.5 million people in prison is designed to warehouse as opposed to rehabilitate or transform."
Writing My Wrongs by Shaka Senghor is a powerful addition to the literature fueling the criminal justice reform movement.
Shaka Senghor doesn't focus his memoir on outlining all the issues with our incarceration system and what we can and should do to make progress on fixing those issues. There are many other books that serve that purpose. Instead, he shares his personal story — his experience serving two decades (including seven and a half years in solitary confinement) in a system that was not set up to transform him into the man he is today. He's incredibly honest about the crimes he committed and the anger, fear, and desperation that brought his life to the point when, at 19, he killed a man in a drug related interaction.
Through reading Shaka Senghor's story, we see that his transformation was fueled by the few people who had faith in him and who showed him love at times when he didn't love himself. Most powerfully – a letter of forgiveness and love from the godmother of the man he killed. His journey rebuilding his life into the powerful force for good he now serves in his community is incredibly inspiring. Our incarceration system tears people down more often than it helps rebuild and redeem them. We have the ability to change this. This book shows us an incredible example of why that work is worth doing.
"Through my experience of being locked up, one of the things I discovered is this: the majority of men and women who are incarcerated are redeemable, and the fact is, 90 percent of the men and women who are incarcerated will at some point return to the community, and we have a role in determining what kind of men and women return to our community."
I've shared his TED Talk and some of my favorite passages from the book below, and you can also watch his Daily Show interview here. If you are interested in reading Writing My Wrongs, I highly recommend the audiobook, which he narrates himself.
One last note: in this book we read about the vital role books played in Shaka's life in prison. As readers, I think we all understand this well. Donating books to prisons is a wonderful and easy way to make a small but impactful difference in the lives of people serving time in our prison system. There are many organizations that you can donate or contribute to, including NYC Books Through Bars, which helps send donated books to incarcerated people throughout the United States.
"And that's the thing about hope, in the moment when you you feel it, it can seem foolish, or sentimental, or disconnected from reality. But hope knows that people change on a timeline that we can't predict. We can never know the power that a word of kindness or an act of forgiveness will have on the person who needs it most."
"I was once an angry, lost teenager holding the community hostage to fear and greed. Thousands of youth are making the same mistakes every day. But we weren't born that way. None of our children are born that way. And when they get that way, they aren't lost for good. That's why I'm asking you to envision a world where men and women aren't held hostage to their past. Where misdeeds and mistakes don't define you for the rest of your life. In an era of record incarcerations, in a culture of violence, we can learn to love those who no longer love themselves. Together we can begin to make things right."