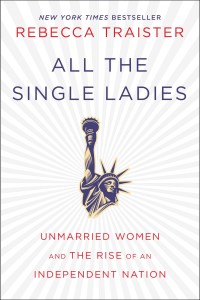 Last week I finished the audiobook of All the Single Ladies: Unmarried Women and the Rise of an Independent Nation, which I bought as soon as I heard Rebecca Traister's interview on Nerdette.
As a very recently unsingled lady, I initially didn't seek out this one when it was released — it sounded interesting, but it also sort of felt like my window to benefit from it had passed — kind of like reading a travel guide for a country you've just left. I could not have been more wrong. This isn't a guide or book just for single women (Rebecca Traister herself is married), it's an important piece of feminism that should be required reading for all women and men.
Through the research and statistics included in All the Single Ladies, it becomes readily apparent that progress towards equality for all women means the freedom — and means, for every single woman to live her life on her own terms: whether that's choosing to delay marriage, build a career, become a single mother, travel, pursue higher education – anything and everything. Our society's ability to support (and attitudes toward) single women's pursuit of these paths reflects the stations of all women – single and not single.
Despite all our progress as a society, we still live in a world where marriage is the most common definition of "happily ever after." That women who, like me, choose not to marry in their 20s and instead spend time building a career, or traveling, or anything else, have not unlocked full life achievement until they get married. I've been lucky to have a lot of different women in my life to show me the variety of paths available: ridiculously cool older single women, women who got married young and are happily taking care of families, women who balance incredible careers with family lives, incredibly strong women who chose to seek out having a child on their own when the traditional paths didn't pan out for them, married women who chose to not have children, and so many other inspiring lives. But I live in New York City – where these diverse stories are easier to find.
We not only need to change the narratives about what happy ever after means, we need to actually support woman on whatever path they take, or find themselves on. All the Single Ladies is a roadmap that shows us how far we've come and where we need to go.