March in Brooklyn brought sunshine, a bit of snow, sandal appropriate afternoons, rain, wind, and days when I had to pull out my down jacket and winter boots again. My reading was just about as varied as the weather. I finished 10 wonderful books, and also made a decent amount of progress in the second volume of Proust, Within a Budding Grove. Here's a look at what I finished in March.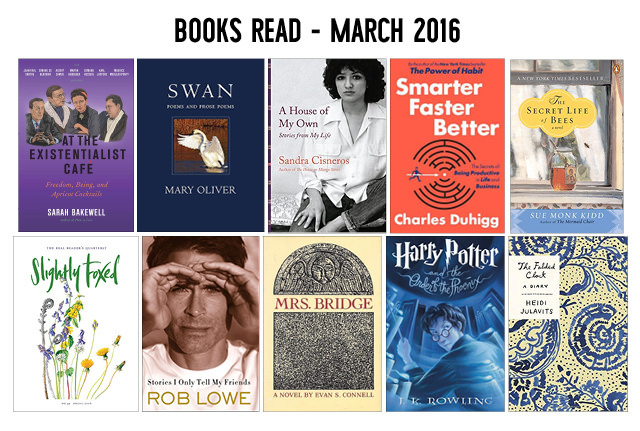 Books Read: 10
Previously Reviewed:
NON-FICTION
I listened to Rob Lowe's memoirs out of order, finishing Love Life last month, and Stories I Only Tell My Friends this month. They're both great, but I'm glad I didn't miss the stories of his early career that he shares in Stories I Only Tell My Friends. I enjoyed the backstory of The Outsiders, and (of course) the behind the scenes look at his role on The West Wing.
I read the spring issue of Slightly Foxed, and it was a particularly good one. I loved the essay on Slaughterhouse Five, and it also made me want to immediately read Autonauts of the Cosmoroute and Mrs. Bridge. Funnily enough, I had a copy of Mrs. Bridge that I bought in 2012 and had forgotten that I owned.
The Folded Clock: A Diary by Heidi Julavitz isn't a book for everyone. People who like plot, even in memoirs, will probably find it unappealing. But it was certainly a book for me. I loved her reflections on life and culture that she ties into musings about her everyday life. I loved her honesty, even when it didn't show her in the best light. And I loved the inspiration she provides for diary or journal writing: they can be so much more than rather dull lists of the things we've done – they can be ways to explore yourself and your personality. I really enjoyed this one.
FICTION
My "rules" for my personal Read My Own Damn Books challenge state that a book qualifies if I've owned it for longer than a year. But my goal is to ensure I'm also making time for books that have been on my shelves for years. Books that I'm still interested in reading, but have never gotten around to. One such book was The Secret Life of Bees by Sue Monk Kidd. A few chapters in and I had my guard up a little bit. I knew it was a book that fit into the "Magical Negro" stereotype that Roxane Gay has called out (black characters who exist in the plot in order to "save" broken white characters). I was aware of this while reading, and I guess that's the important part: that we're aware of popular culture & Hollywood's obsession with this plot device, and aware that this material nearly always originates from white authors. I liked The Secret Life of Bees more than I expected to, and I think that's ok, so long as that's not the only perspective I'm reading. If we place an importance on reading diversely, we need to ensure that we're reading diverse characters written by diverse authors, too. Those characters tend to have their own richly lived lives, and their plots don't usually revolve around saving lost white people.
As I mentioned above, I had forgotten I owned Mrs. Bridge by Evan S. Connell. I have no idea where I first heard about it, or why I bought it at strand in 2012. A few of my GoodReads friends also added it to their TBR lists in 2012, so maybe there was a review or feature of it posted somewhere? Nevertheless, as I was reading the essay about it in latest issue of Slightly Foxed, the title started to sound familiar. I dug around my bookshelves and found it, I double stack a few of my shelves and it was hidden in the back behind a pile of galleys. I promptly read it, and I'm so glad I did. It's fast paced, and uniquely plotted. It consists of 117 short chapters that boldly dive into the world of Mrs. Bridge, a housewife in Kansas the 20s, 30s, and 40s. She's privileged, devoted to her family, unfulfilled, and a bit repressed and mildly unhappy. We watch everything from her children grow to become strangers, to her struggles to park her car, to her attempts to occupy her time. Connell paints her portrait with care, and the reader, somewhat unexpectedly, has a lot of sympathy for her. Highly recommended.
RE-READS
I finished Harry Potter and the Order of the Phoenix on audiobook this month. This is probably my least favorite book of the series, but I still enjoyed re-visiting it (for probably close to the 8th time). It also left me feeling very confused about the Knight Bus. If it just appears or apparates to wherever you are when you hail it, why does it drive around at all?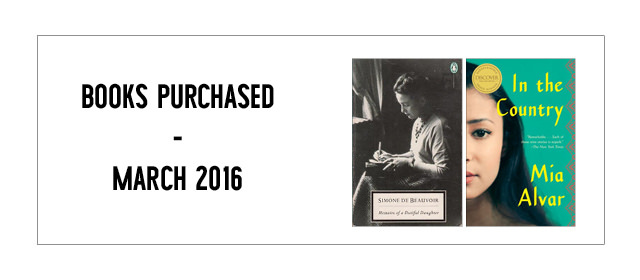 Books Purchased: 2
Reading At the Existentialist Café made me want to read many of the works of the writers she profiles, but none moreso than Simone de Beauvoir. I've read a bit of her fiction before, but I'd like to read one of her autobiographies next. So I picked up Memoirs of a Dutiful Daughter at Strand. I also picked up a copy of In the Country by Mia Alvar, a book that's been on my TBR list and is now out in paperback.
//
How was your reading month? What's the best book you read?