Today I'm participating in A Day in the Life blogger event, hosted by Trish at Love, Laughter, Insanity. As Trish points out – our lives change very quickly, and taking a moment to capture the minutia of our daily lives can be a great way to record a little snapshot of a particular time in life. And since it's often unexpectedly fun to get a peek into the day to day lives of other people, why not share? I'm looking forward to reading everyone's day in the life posts today!
So, here's a typical Thursday in my life right now:
//
6:41 am
My internal body clock wakes me up. I roll over, check the time on my phone, and then snuggle up to Graham while I wait for the alarm to go off.
7:00 am
The West Wing theme song starts playing from my phone – time to get up. I roll out of bed, leaving Graham in a blissful slumber.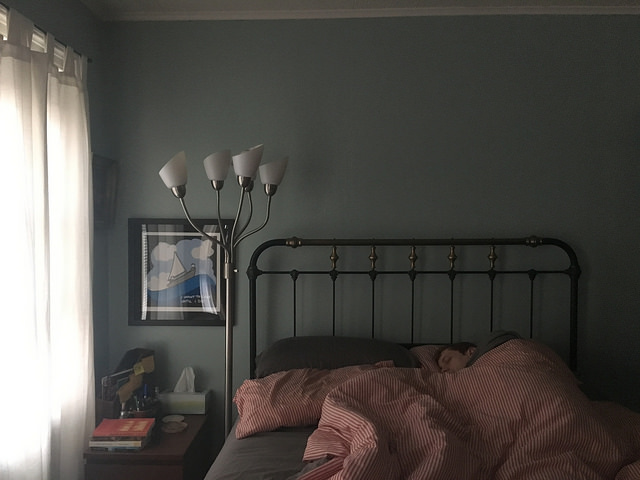 7:05 am
I turn the coffee maker on, and then head to the bathroom to shower. We have a waterproof shower speaker, and I always enjoy listening to an audiobook while I shower and get ready in the morning. This morning it's Harry Potter and the Order of the Phoenix, which I'm listening to for the 6th or 7th time. (Harry has just arrived at Number 12 Grimmauld Place and is awaiting his underage magic hearing at the Ministry of Magic.) I shower, brush my teeth, wash my face, apply SPF 30 facial lotion, fix my hair into a ponytail, and put on eyeliner, eyeshadow, and foundation.
7:25 am
I don't start work until 10am, but I love having some down time to myself in the morning. I loaf about on the couch in my bathrobe, and I use my free time to read or work on my blog. This morning I'm plugging away through the second volume of Proust, Within a Budding Grove. I listen to the audiobook while I follow along in my vintage Random House copy. I also drink my first cup of coffee of the day, and eat a Fage yogurt with honey.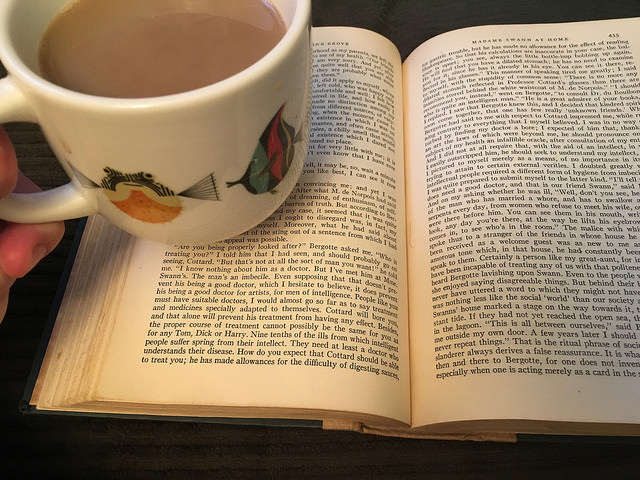 8:45 am
I pull my green lotus patterned meditation cushion out of the closet, and meditate for 10 minutes. Then I get dressed and pack my backpack.
9:10 am
I kiss Graham goodbye and leave for work. The walk takes about 35 minutes, and I love being able to start my day with a nice walk outside. Today I listen to an episode of the NPR Politics podcast.
I usually walk a slightly different route every day, but there is a particular street I always try to walk down because this friendly dog is usually out in the morning, just chilling. I like to say hello.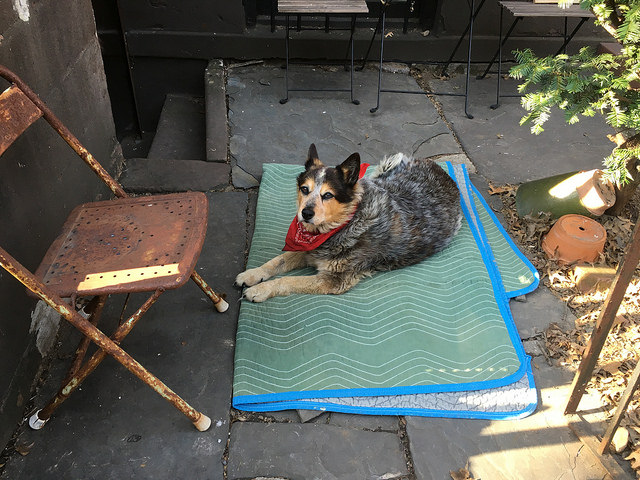 9:51 am
I arrive at my desk at work and start getting settled in. I usually go down to the main kitchen and grab more coffee and second breakfast. We have a whole assortment of cereal, yogurt, fruit, and bagels, and I usually opt for Gorilla Munch cereal.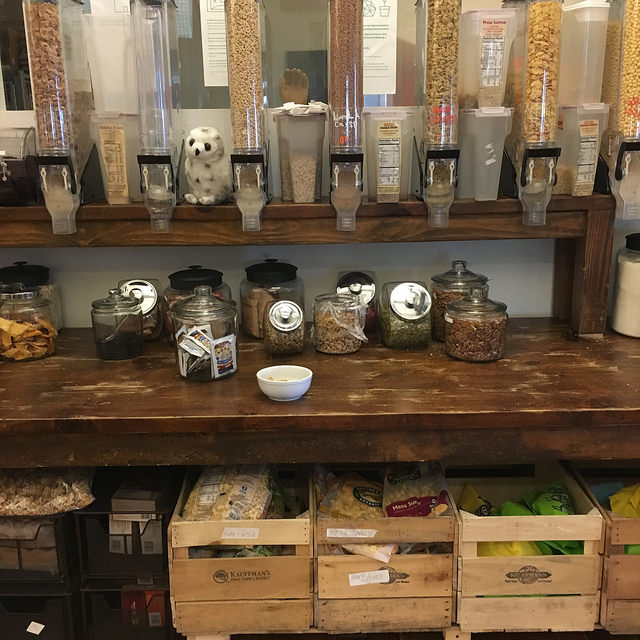 10:00 am
Back at my desk, I watch our CEO's weekly office hours Q&A on the webcast. It's happening live upstairs, but I usually opt to tune in from my desk so I can relax and have breakfast while I watch. (And catch up on emails.)
11:00 am
The webcast is over, so now I start my work for the day. I'm writing a lot of help content this week, so I put some good music on Spotify through my headphones and get to work.
12:30 pm
It's Eatsy time! We have an incredible catered lunch program twice a week, and it's time to go get in line.
Today's lunch is Swedish meatballs, orzo, and a green salad. It's delicious, and I check in at my desk before eating lunch with a few colleagues in the lounge area of our suite.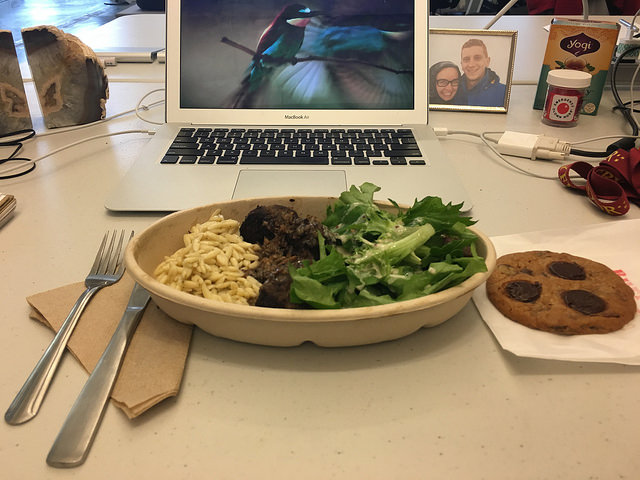 1:00 pm
If I have time, I like to step out and get a bit of fresh air after lunch. Brooklyn Bridge park is one block from our office, and it feels glorious to get a bit of sunshine and take in the view. I wander a bit and snapchat photos of dogs to Graham.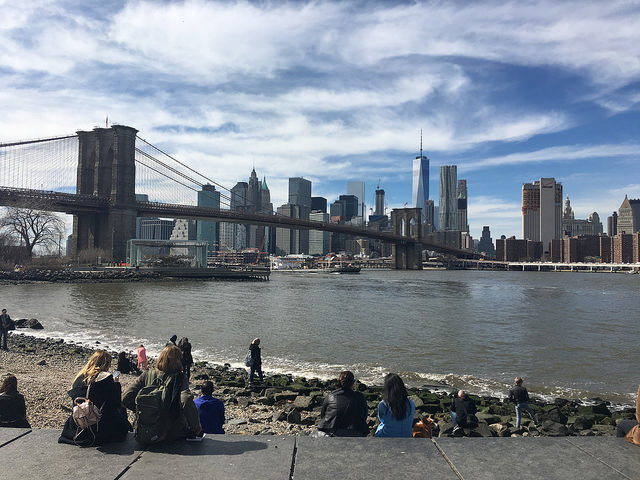 2:00 pm
This afternoon I'm working a first draft of an article, and when I need to focus on writing I like to sit down in the Wu Tang Clams lounge (all our conference rooms are band names mashed up with food) – it's dark and quiet, and I find it very easy to focus there.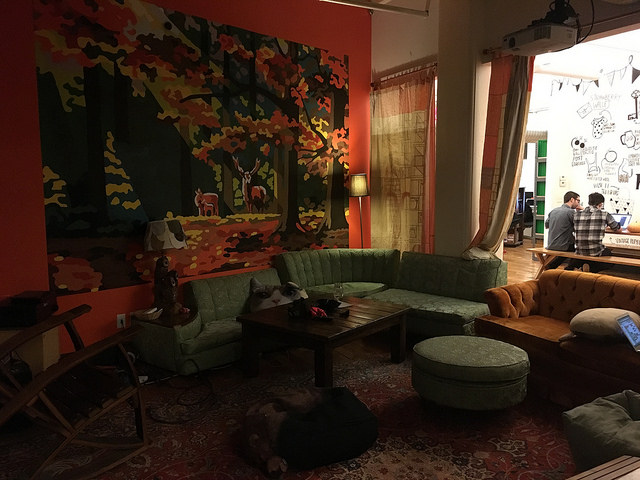 3:30 pm
I have a meeting to touch base with a co-worker I'm working closely with on a project, and we meet in the kitchenette on the 4th floor. I grab my last mug of coffee for the day.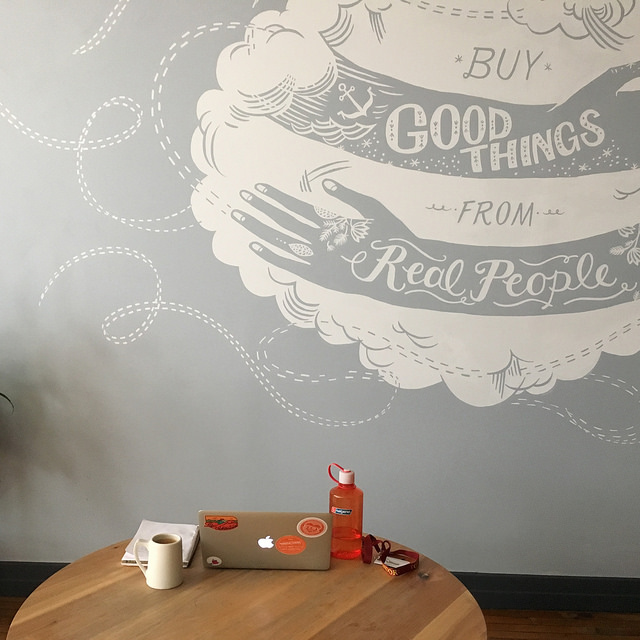 4:30 pm
For the rest of the work day I head back to my desk and finish up work, read and answer more emails, and chat about projects with my co-workers. I usually have a mug of peppermint tea.
6:00 pm
I leave work, listing to an episode of Fresh Air while I walk.
6:20 pm
I meet Graham at the gym, and we put in a modest 30 minutes on the treadmill.
7:15 pm
Graham and I get back home and make tacos for dinner. We eat dinner while watching last night's Daily Show. (The nice thing about a small apartment is you can sit at the dining room table and still be only 6 feet from the TV.)
8:00 pm
We cuddle up on the couch. Some nights we watch a show together, and some nights we read or talk or play Mario Kart. Tonight we watch an episode of the BBC Planet Earth series, and then I read for a while.
9:45 pm
I start getting ready for bed. Always the same steps: wash face, brush teeth, floss, lotion face, use mouthwash.
10:00 pm
We read in bed: Graham reading Reddit on his phone, me reading a paperback copy of Mrs. Bridge.
10:30 pm
I'm usually passed out by now, most often with the book I'm reading either plopped down over my face, or cuddled up in my arms. Graham removes the book, tucks me in, and turns off the light.