My mom has been making quilts for as long as I can remember. Her quilts have kept me warm in every place I've lived. Graham is wrapped up in one as I type this. When I was a little kid she encouraged me to sew whatever my heart desired, and I made American Girl Doll accessories, sleeping bags for my Beanie Babies, pillows, bags, and more. But I never made a quilt, and I pretty much stopped sewing after I went off to college.
Until this past November, when she had the wonderful idea that we could make my first quilt together when I came home for Thanksgiving. One of my best friends is pregnant with her first child, and she thought that a baby quilt for Dara's baby would be a perfect project. (She was right.)
The first step was to go to the store and select the fabrics to use. I am extremely particular about anything aesthetic or design related, so it took us a while to pick out what we wanted to use. To assemble fabric for a patchwork quilt you need to have a good mix of prints and colors, and you need a balance of bold designs that "pop" and designs that are little more subtle. I left very pleased with our selection.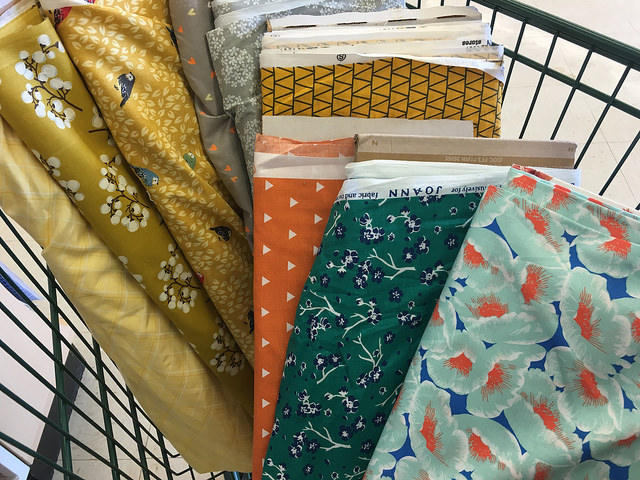 Once home, we pre-washed all the fabric, and my mom taught me how to cut against the fabric grain on the corners to prevent it from raveling in the wash. Once it was all washed and ironed, I began to cut it all into 5 inch x 5 inch squares. This was my favorite part of the entire project — I loved the orderly cutting process, and seeing the blocks all stacked up.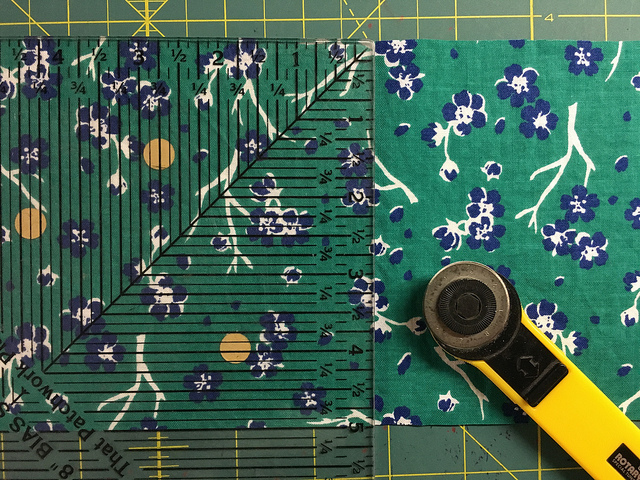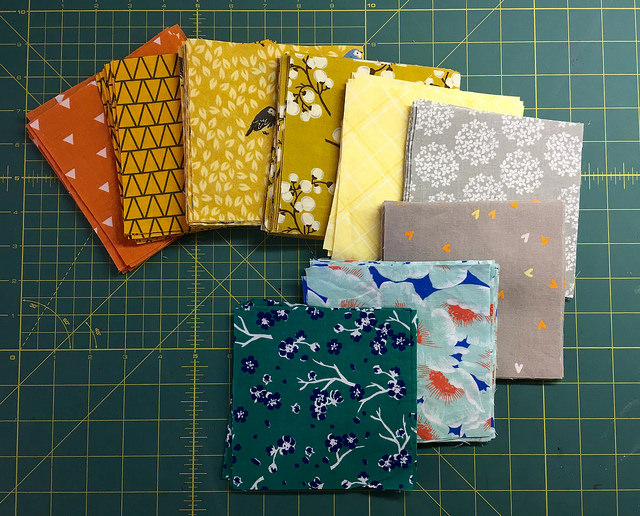 After all the blocks are cut up, the next step is to lay out the quilt and decide where to place each block.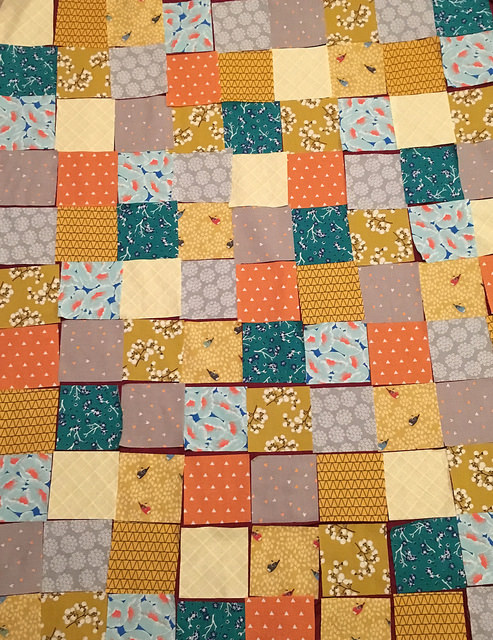 Once it's all laid out the way you'd like it, there's a very special way of stacking them all together so that the top comes out exactly as you've designed it. (Did I mention that my mom is a Pro quilter?)
Then, it's time to sew! And sew and sew and sew!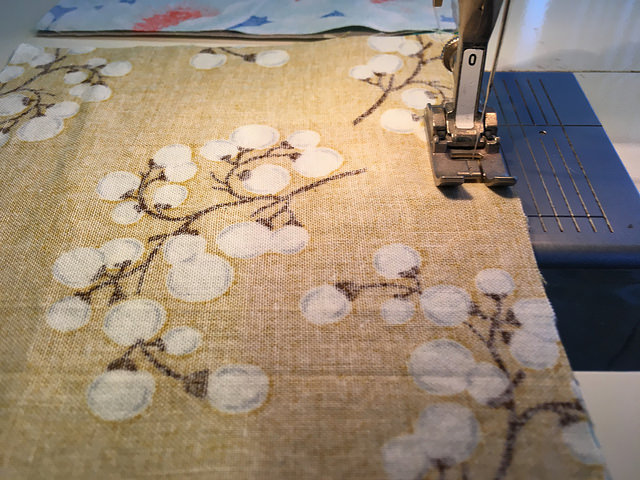 (This part is an excellent time to listen to audiobooks.)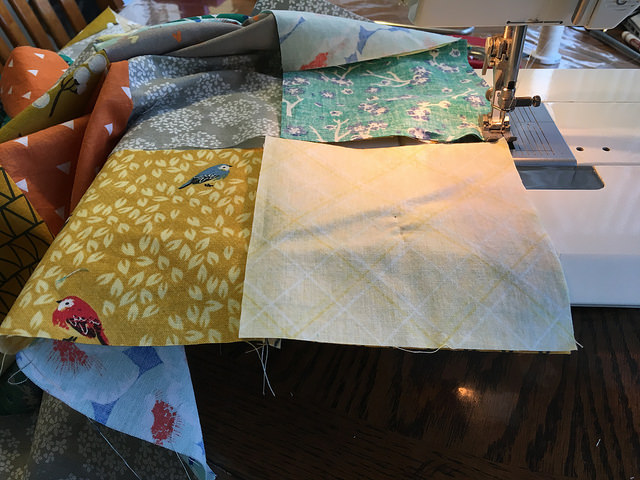 Sometimes you have to take a break and cuddle the dog.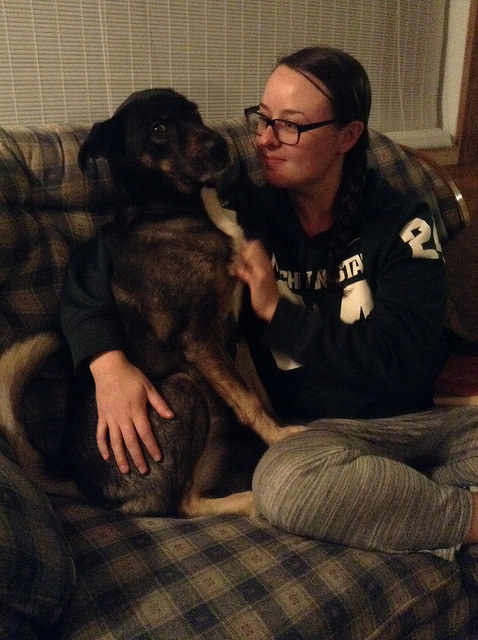 Once the top is finished you feel like you've accomplished a great deal. And you have. But there is still so much more to do! You have to layer the top with the batting and the backing, and use a lot of safety pins to keep it all together.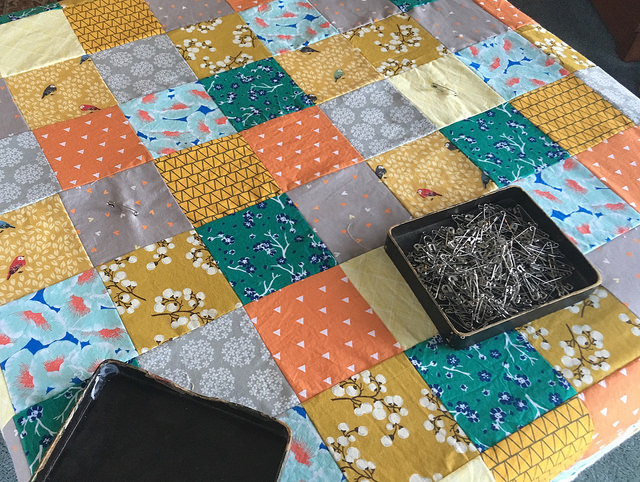 At this point a quilter can choose to finish a quilt one of three ways: you can "tie it," you can hand quilt it, or you can machine quilt it (yourself, or you can take it to a place that will machine quilt it for you). We tied it, which is best for beginners, and / or those who would like to finish their quilt within the current decade.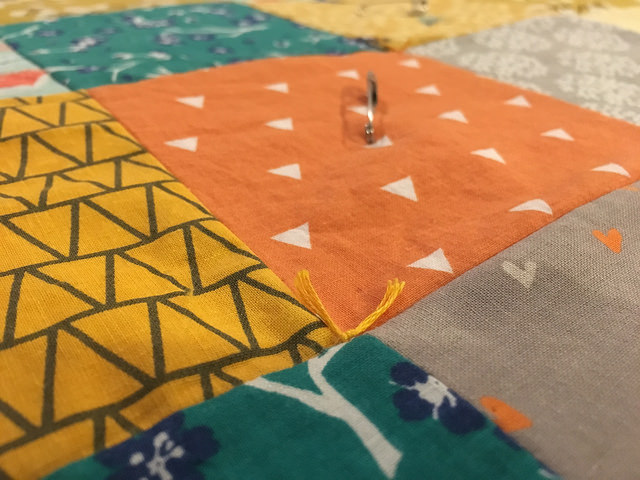 The last step is to cut the piping for the binding, and sew it all on. I found this part especially tedious.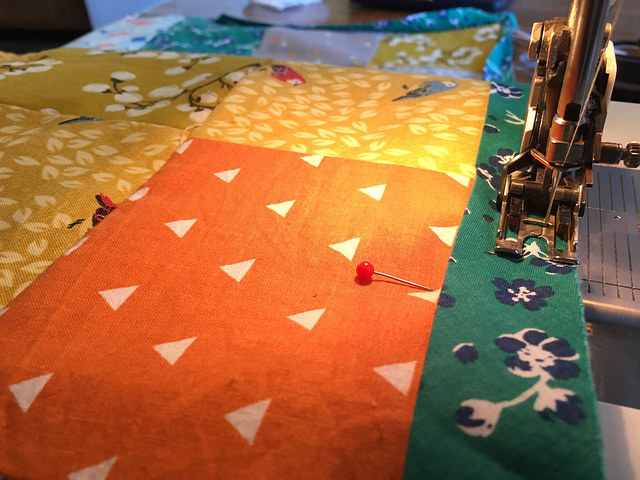 But then – voila! A quilt! It's finished! It feels so good to have made a quilt. It's a big undertaking, but very rewarding.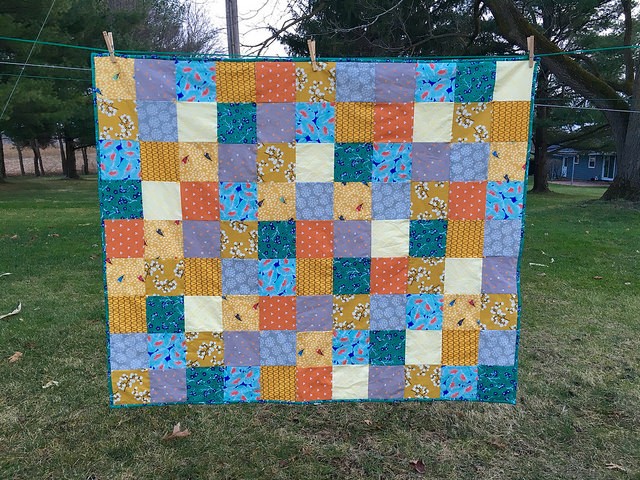 The last step is to give it to your best friend and then wait patiently for her baby boy to arrive (due April 29th!), so he can be wrapped up in it!
//
If there's anyone in your life who knows how to make wonderful things: quilts, chairs, screen prints, birdhouses — anything and everything, I encourage you to ask them to share their expertise with you, and help you make something. It's a great way to spend quality time together, and it's a lot of fun to learn something new.