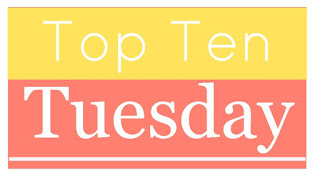 Today's Top Ten Tuesday theme is 2016 Resolutions. I love writing goals & resolutions every year, and I especially love reading other people's, so this topic is a fun one for me. Here are my reading and blogging goals for the coming year.
Reading Resolutions:
Read my own damn books. Andi picked up on something a lot of book bloggers seem to feel lately – we have a huge amount of wonderful books sitting around on our shelves, waiting to be read while we read galleys, library books, and shiny new books we just brought home from the bookstore. She started the Read My Own Damn Books 2016 reading challenge, and I'm planning on making this a focus in 2016. I'm planning on trying a 1 to 1 ratio rule: for every 1 new book (galley, library book or book I've own less than a year) I need to read 1 book I've owned for more than a year.
Continue reading diverse books. Specifically I'd like to read books from at least 15 different countries (more than 2015's total of 14), and continue to seek out diversity in all areas: race, age, sexual orientation, social or economic status, writers with disabilities, genres outside of my comfort zone, etc. I'd also like to read a wider mix of modern vs. older books; last year I read a very disproportionately modern selection.
I'd like to finish the next two volumes of In Search of Lost Time: Within a Budding Grove and The Guermantes Way. I'd also like to (finally) read Catch-22 and Cold Comfort Farm. And I'd like to re-read a favorite classic book that I haven't read in a while (possibly one by Jane Austen, J.D. Salinger, or Charles Dickens).
Don't get hung up on numbers. I'm not setting a specific number of books to read as a goal this year. I set my GoodReads goal for 80 just to be able to use it to record my books. I suspect my 2016 total will end up somewhere between last year's (127 books) and 2014's (62 books).
Blogging Resolutions: 
Write the posts I want to write. This seems obvious, but I often get caught up in posting things I feel obligated to write, and the things I'm passionate about writing about "someday" get pushed to the back burner. I want to make blogging more joyful, and minimize the times when it feels like a chore.
Improve my editing. This is my goal for my work writing as well. I want to fine-tune how I edit my own writing, and work on simplicity and clarity.
What are your 2016 reading and/or blogging goals?