I went into December with a big ambitious list of books I wanted to read by the end of the year. And then I started living the reality of December: events and parties and pottery classes and holidays. A huge amount of fun, but not an atmosphere conducive to hunkering down and finishing a list of heavy books. And so I decided to rip up the list and read at whim. The result? I decided to re-read two of my very favorite "comfort reading" series… and I started reading the most difficult series I've ever attempted: In Search of Lost Time by Marcel Proust. You really can't predict reading whims.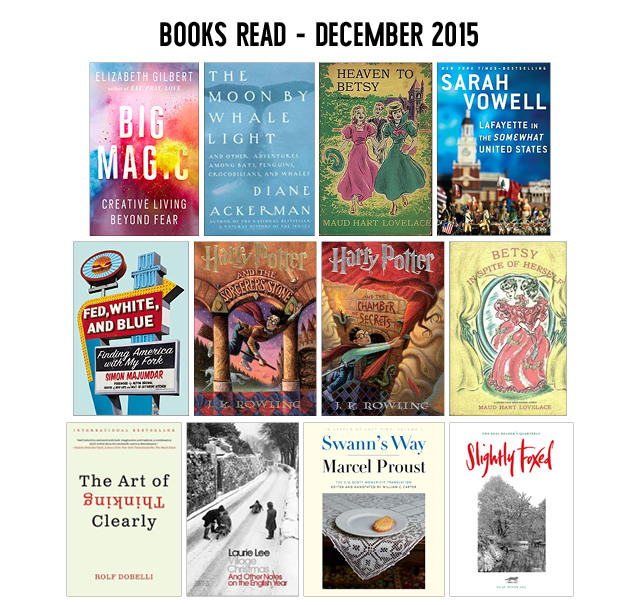 Books Read: 12 (4 re-reads, 4 audiobooks, 1 library book)
Already Reviewed: Big Magic by Elizabeth Gilbert
I've read a decent amount of nature writing during the past few years, and I think that The Moon by Whale Light by Diane Ackerman is one of the very best. It's comprised of four individual long-form essays about a particular species: bats, crocodilians, whales, and penguins. Diane Ackerman writes so beautifully, and transports the reader into the world of naturalists, biologists, and specialists who devote their lives to the study of these animals. She'll have you thinking differently about bats, longing to visit Antarctica, and becoming desperate to help foster a penguin chick. It's a completely lovely book, and I'd recommend it to everyone who loves animals, and/or nature writing. "One of the things I like best about animals in the wild is that they're always off on some errand. They have appointments to keep. It's only we humans who wonder what we're here for." 
A new Sarah Vowell book is always a cause for celebration, and I was determined to fit Lafayette in the Somewhat United States by Sarah Vowell in before the the end of the year. I loved learning more about the Marquis de Lafayette, and Sarah Vowell makes history so much fun. One of the the best non-fiction treats of 2015.
I read The Art of Thinking Clearly by Rolf Dobelli slowly over the past year. There are 99 very short (3 page) sections, each confronting a different cognitive bias that prevents humans from thinking clearly. Many of them have evolutionary roots – ways of thinking that are completely primal. Together they cover a broad spectrum of the cognitive biases and flawed thinking that lead to bad decisions or conclusions. Being aware of these biases and evaluating how they can cloud our judgement is the first step to attempting to learning how to overcome them. It's an interesting read, and it's a good book to read slowly and savor – to pick up every few days and read a new section.
Simon Majumdar is a chef and frequent judge on the Food Network, and he decided to prepare to become a US citizen by traveling around America to discover the culture of his adopted country through food. Fed, White, and Blue is the result. He covered everything from county fairs and eating competitions to food of our immigrants. He attempted to look into the dark side of food in America as well: the proliferation of fast food, the number of Americans — especially children, who go hungry despite of our abundant food supply, and the practices of the beef industry. This isn't a hard hitting journalistic look at those subjects though – I think he covers them fairly and it's appropriate that he did not overlook them, but the book is meant to be lighthearted and the overall tone is very positive. The one thing that bothered me about the audiobook was the choice of narrator. It's a book about an Indian Londoner emigrating to America, and it was narrated by an American. Get someone with an accent to narrate it! It's a memoir about an immigrant discovering the incredible diversity that makes our country great, and having an American narrator made it feel wrong and disjointed. Narrator aside, it's an enjoyable food memoir that I probably wouldn't have gotten to if not for the audiobook.
Over Christmas I read Village Christmas. It's a short collection of memories from the English writer & poet Laurie Lee. Despite the wintery cover and title, it's actually divided up into the four seasons, and each section holds lovely little vignettes about life in England, in particular the small village in the Cotswolds where he grew up and later returned to. The best essays are about his childhood, but all were enjoyable. It's a nice celebration of a place and time that's nearly lost to us now.
I read the latest issue of Slightly Foxed, #48 Winter 2015. As usual, it's full of delightful essays about backlist books that deserve more attention. My favorite this issue was Richard Holloway's account of tackling the works of Virginia Woolf. I have thousands of books on my TBR list, so I certainly don't need help discovering new things to read, but that's not the point of Slightly Foxed. Yes, it usually does add a few things to my never-ending list of books to read someday, but the delight of Slightly Foxed is in the essays themselves – they are the ultimate in the lovely "writing about books" genre, and each essay is a treat to read on its own.
In December I re-read or re-listened to: Heaven to Betsy, Betsy in Spite of Herself, Harry Potter and the Sorcerer's Stone, and Harry Potter and the Chamber of Secrets. Letting myself re-read favorites made the holidays even cozier.
And last, but most unexpectedly, I read Swann's Way by Marcel Proust. I picked it up at whim – I saw some tweets from DeAnna about her journey through Proust, and decided that I was in the mood to begin as well. I finished the first volume, and want to finish at least the next two in 2016. More to come on Proust as I make my way through his masterpiece.
//
Books bought: 0
I always fall victim to buying a lot of things for myself while Christmas shopping for other people. So this year I decided to set a goal for myself: no buying anything for myself in December, except for food & necessities. I'm happy to report I succeeded, and therefore my books purchased tally for December is 0. (I did get the wonderful Do Unto Animals by Tracey Stewart from Graham as a Christmas present.)