October was a good reading month, mostly because of the Readathon and audiobooks. Without the Readathon or audiobooks I would have finished only 4 books in October! Let's not imagine such a bleak world, and instead rejoice in all the wonderful books that did get read.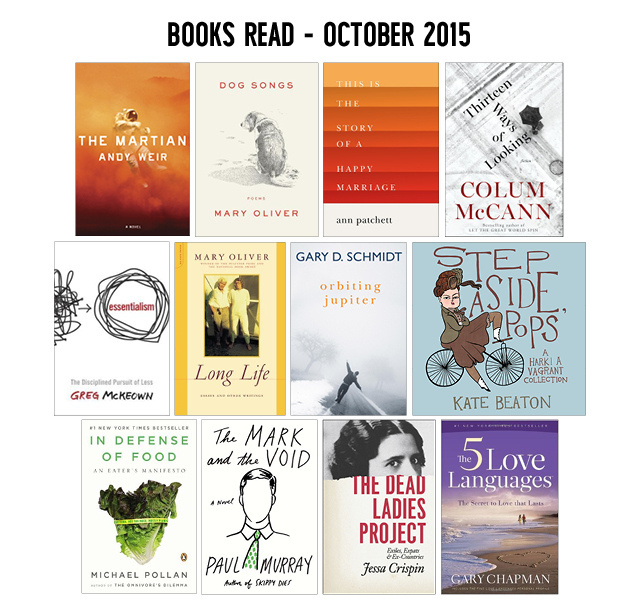 Books Read: 12
Already reviewed:
NON-FICTION
This is the Story of a Happy Marriage by Ann Patchett is one of the best collections of non-fiction essays that I've read in a long time. I don't think there was a single essay in the collection that I didn't enjoy, but the ones about how she developed her writing craft were particularly excellent. (I listened to the audiobook, which is read by the author and extremely lovely.)
I also listened to the audiobook of Essentialism: The Disciplined Pursuit of Less by Greg McKeown. It has a great central message: that it's not important to get more things done – it's important to get the right things done. If you don't choose your priorities, someone else will. "We can either make our choices deliberately or allow other people's agendas to control our lives."  This idea resonated with me, and Greg McKeown presents the topic in a clear and inspiring manner. My only criticism of it is that I'm not sure how well it succeeds at its attempt to extend the topic all at once to business structures, our work lives, and our personal lives. It seemed to hit the former pretty well, and decently covered how this can influence our work lives. But it lacked sincere reflection about how to apply this concept to our personal lives as well – it hinted vaguely at "finding your true purpose in life" but ended up creating more questions than it was able to answer.
Long Life is the first collection of essays that I've read from one of my favorite poets, Mary Oliver. Not surprisingly for a poet, her essays are short and lyrical, and full of the beauty and joy for life that we find in her poetry. The subjects are eclectic and range from the ocean to habits to dogs to Nathaniel Hawthorne. She brings delight to every subject she selects, and we're just lucky to be along for the ride.
I've been on a bit of a personal food education kick lately, due to the documentary Fed Up. (Watch it on Netflix if you haven't already!) To that end, I listened to In Defense of Food by Michael Pollan. His "rules" for how to eat as healthy as possible are simple. (In fact, if you just want to read his guidelines for how to eat, you can find them in his short and beautiful Food Rules: An Eater's Manual, wonderfully illustrated by Maira Kalman.) The majority of In Defense of Food explains the history of how we've drifted so drastically away from healthy eating, and sheds a lot of light on how the food industry works. It also pairs very nicely with a recent On the Media Podcast about the World Heath Organization's recent classification of bacon as a class 1 risk factor. The podcast does a fantastic job at dissecting what health studies actually tell us, and what to take with a grain of salt.
I also listened to the audiobook of The Five Love Languages by Gary Chapman. I've been curious about this book and have heard a lot about it recently, so I decided to give it a go on audio. It's geared toward people in marriages that are struggling, which isn't me, but the concept is valuable for people at any stage in a relationship. Gary Chapman says that there are 5 primary "love languages" and that it's important to know the love language of your partner so that you can "keep their love tank full." If you're not showing love to your partner in their love language, you're not fostering love in your relationship. For example – someone who thinks buying little gifts for their partner or bringing home flowers is fully expressing their love, when in reality their partner wants quality time with them instead – sitting and having a real conversation over dinner, or going on a little retreat together. I can see how this book has been helpful to a lot of couples (it's a crazy popular bestseller worldwide), particularly ones that aren't good at communicating. My one big issue? Towards the end he dispenses advice for people with spouses that aren't willing to read the book or go to therapy themselves – he talks about how to take on the challenge of showing them love in their language for 6 months, even if it's not reciprocated. He notes that most of the time, showing the other person love will break down their resistance to working on the relationship, and will likely create positive change. That's all well and good – but I wish he'd at least speak to the reality of domestic violence in some relationships, and that if you're being physically harmed in any way you need to seek a different kind of help. He dances dangerously around example stories of "husbands who express hatred toward their wives." In his example stories, the husbands come around and the marriage is saved, but there are too many real life situations in which "expressing love" is not going to stop violence. In my mind, he missed a big responsibility.
FICTION
Orbiting Jupiter is the new novel from one of my favorite middle grade authors, Gary D. Schmidt. It's a short, quick story – much shorter than his other novels. But it packs a major punch – it's completely heartbreaking. It's a wonderful story, and deals with a lot of important issues (most particularly: projecting assumptions and stereotypes onto kids and expecting them to fail, instead of supporting them equally and giving them the benefit of the doubt). Beware, though: it's a doozy on the tear ducts.
COMIC COLLECTIONS
Oh how I love Kate Beaton. If you're not familiar with her, check out her website, or pick up a copy of her first book, Hark a Vagrant. This collection continues the brilliance. I particularly love the "Strong Female Characters" comics – a satirical look at female stereotypes in pop culture. I also love when she takes old art or book covers and creates a backstory around them.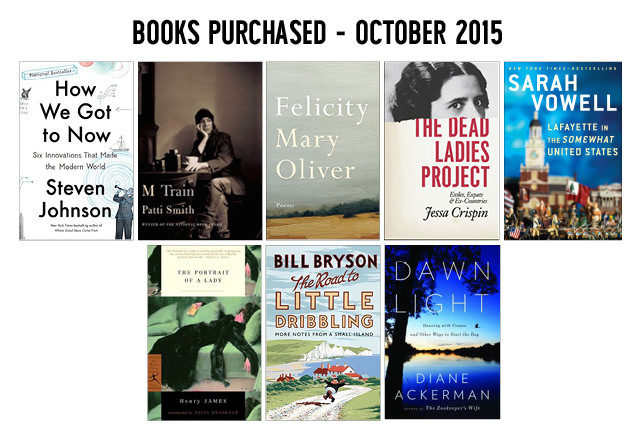 Half of the books I bought in October were new releases from some of my "auto-buy" authors: Patti Smith, Mary Oliver, Sarah Vowell, and Bill Bryson. The Dead Ladies Project was recommended by Kerry, How We Got to Now was recommended by my uncle Dennis, and The Portrait of a Lady is a book that's been on my to-buy list for quite a while, and I pulled the trigger largely based on Stephanie's recent review. I spotted Dawn Light by Diane Ackerman at a cute used bookstore upstate, and bought it due to both my love for Diane Ackerman and my devotion to supporting cute used bookstores.
//
Whew! That's the month. What was your favorite book you read in October? What are your November reading plans?