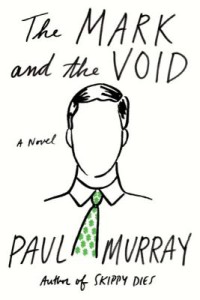 A lot of non-fiction books came out of the most recent financial crisis — books explaining what happened and why, how things got so bad, biographies and analysis of the major players, and details of the aftermath. But it hasn't spawned a lot of novels, so far. There are a few, but Paul Murray's new novel, The Mark and the Void, is the first that I've read.
I imagine that there are a huge number of challenges to writing a novel about the financial crisis. One is attempting to turn greedy financial employees into any kind of redeemable characters. Another is the enormous difference in world views between writers and Wall Street executives — how do you bridge that gap and get into the mind of someone on the opposite spectrum of Art and Business? I don't have the answers to those challenges, but Paul Murray's novel proves that it's possible. And he does it very well.
The Mark and the Void is a bit meta. Our main character, Claude Martingale, is a French philosophy major turned banking executive, transplanted into Dublin's financial center. One day, he realizes he's being followed. His stalker turns out to be a writer, Paul (meta-ness begins), who tells Claude that he wants him to be the subject of his next novel — he wants to tell the story of the financial sector's Everyman. Claude is excited, but also slightly skeptical.
"Could you really set a book in such a place? In a city that is not a city? Filled with people who are paid not to be themselves? He says he wants to find the humanity inside the machine, to track down the particular amid the golden abstractions; he says he can see something different about me, and standing on the balcony I thrill at the thought that I might see it too. But what if he's wrong? What if he holds up the mirror, and nothing is there?" 
The story unfolds, and we learn that Paul's motives aren't as pure as they appear. I don't want to rattle off any more details about the plot, because I think it's best if you don't know much more going in. But it's a big story, with a lot of humanity. It's packed full of art, politics, existential crises, love, crime, heartbreak, strip clubs, friendship, and yes — and few giant egotistical maniacs, necessary for a novel about the banking world. It's a big messy plot and it somehow works.
There's also a lot of humor:
"Yeah, writers don't play much golf. Though mostly because they can't afford the green fees. Otherwise they'd never pass up an opportunity to procrastinate like that." 
You don't have to be overly interested in rehashing details of the financial crisis in order to enjoy The Mark and the Void. I certainly wasn't. You will likely learn a bit about finance along the way, which I think is a nice benefit. But its ultimate themes are about the line between creating yourself and your story, and allowing it to be created for you. The narratives that we're told verses what we believe. The false narratives that lead to devastating destruction. These are themes I think any reader can enjoy. And it's a wild, funny ride.
(I also want to note this: if you didn't love Paul Murray's first novel, Skippy Dies, but this book sounds interesting to you — give it a shot. I loved Skippy Dies, but I think the story & characters were not for everyone. I think it was one of those "love it or meh" types of novels. But the Mark and the Void is different enough that I think people who didn't care for Skippy may be won over.)
//
Affiliate links to buy this book: IndieBound | Amazon
FTC disclosure: I received a review copy of this book from the publisher.
Main author image is from his October 21, 2015 author event at BookCourt in Brooklyn, NY.