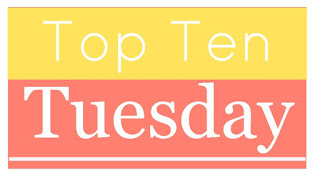 This week's Top Ten Tuesday, hosted by the Broke and the Bookish, asks what bookish things we've quit. Once I got going, I had no trouble thinking of 10 things. Here's my ten:
1. Collections of letters.
I used to be an absolute sucker for collections of letters. There was something irresistible about them for me and I'm not quite sure what it was. Maybe I just wished I was a professional bookish person (maybe a writer or critic?) who could spend free time reading in my study, pouring over collections of letters. I bought letter collections for authors I love (P. G. Wodehouse) and for authors I didn't love (Ted Hughes) and letter collections between writers (Elizabeth Bishop and Robert Lowell). And then they sat there. Collecting dust. Untouched. It turns out I am not a professional literary person who can pour over letter collections at my leisure. I am a person who can't keep up with all the novels and non-fiction and galleys that I want to read. During my Great Book Purge of 2014, I accepted that about myself, and got rid of these collections. As of today, I've only finished reading one collection of correspondence (As Always, Julia: The Letters of Julia Child and Avis DeVoto) and I only own one letter collection (Kurt Vonnegut – I figure I can keep my favorite author's, and I have read some of it).
2. Buying fiction from authors I've never read before in hardcover.
I've had to stop this habit because one of two things usually happened: 1. I read the book and I enjoyed it ok, but it wasn't something I felt I needed to own in hardcover. 2. Because I wasn't familiar with the author, the book lost its initial excitement in my eyes and I wasn't motivated to read it right away. And then it was still sitting there, unread, months later when the paperback came out. Now I either wait for the paperback or, more often, reserve it from the library. I try to only buy hardcover fiction by authors I already know and love: things that I enjoy owning in hardcover and that I want to read right away: Jhumpa Lahiri, George Saunders, Jasper Fforde, and Nicholson Baker are the fiction authors that come to mind first.
3. Fancy journals.
I love beautiful journals. They are so lovely, and fun to look at. But I do not like writing in them anymore. I buy the 3 pack of 5 x 8.25 Moleskine Cahier Journals
 in craft paper brown, and I number the backs of them. I think I've filled 9 or 10, and I enjoy the way the filled ones line up uniformly.
4. Cookbooks
I used to buy a lot of cookbooks and baking books. I love them, but I think I hit a wall – I had a lot, too many really. I edited down my collection and got rid of the ones that I never opened. Now my collection is well used and well loved – mostly Alton Brown, America's Test Kitchen, and some particularly great baking books. They are my gold standards, and any other recipes I need I get from the internet.
5. Believer Magazine.
I love Believer Magazine, in theory. It's full of interesting articles and interviews, and it's responsible for introducing me to my beloved Nick Hornby column, Stuff I've Been Reading. In practice, I never had time or enough motivation to read it instead of all the books piling up. I've quit a few other literary magazines too, but The Believer was the one I subscribed to and kept all the back issues. It took a lot of gumption to accept this and get rid of it all, but I'm a happier, less burdened person now.
6. Buying multiple travel guides before a vacation.
Before all my vacations pre-2014, I would buy at least 3 to 4 travel guides about my destination. My devotion to studying them pre-departure did not match the intensity of my purchasing, but I bought them nevertheless. After traveling to 16 countries in 4 months last year and not having time to plan everything out ahead of time or space to bring along guides for each destination, I realized I don't need so many guides. I'll still buy a travel guide before a trip, but now I buy just one, which is much more manageable to study before leaving.
7. Bookplates.
I love bookplates. I think they're beautiful, and can be a quirky and fun way to add personality to a book. I used to collect them: I'd hunt for vintage bookplates on Etsy, and buy new ones at bookstores. But I found I was never using them – my preferred mark of book ownership is my name and the date & place purchased – written simply in the top right corner of the first page. I've recently had to embrace the truth that while I love bookplates in theory, I'm not someone who enjoys using them in practice. So I've stopped collecting them.
8. Amazon.
Ok, yes – once in a while I'll grab a used book from the Amazon marketplace that is out of print or hard to find, but for the most part – I won't buy books on Amazon. (I'll buy other stuff, not books.) I love Independent bookstores too much – I love slowly wandering through them on a weekend afternoon, popping in after work to grab a new release I'm excited about, and exploring indies when I travel. I value them, so my book money goes to help support them.
9. New editions of Harry Potter books.
Last year I owned 3 sets of Harry Potter books: the original hardcovers that my Mom and I collected and read as they were released, a set of British edition paperbacks, and the beautiful boxed set with the Hogwarts art across the spines. That's a lot of editions, even for someone who owns 3 Harry Potter wands and has been to Harry Potter World twice. In my recent book purging I donated the set of British paperbacks to an after school reading/writing program nearby, and now I'm quite content with just my hardcovers and beautiful boxed set of paperbacks. (And full set of audiobooks, although those don't take up space so they don't count.) I'm aware of the absolutely beautiful illustrated editions
that are coming out, but I'm standing firm: I don't need them. I'll admire them from afar.
10. Buying books to fill a house I don't live in yet.
Someday, hopefully, we will live in a cozy little house, with two dogs and a cat. It won't be huge, but it will be bigger than our NYC apartment, and it will have plenty of room for books. During the 9+ years I've lived in NYC, I've had this goal in my head, and it felt real enough that I would sometimes buy books to put in this house. Beautiful old copies of classic novels to fill a guest room shelf with. Old books about sea travel to put on nightstands, books of photography to put on coffee tables. I didn't buy them often – usually just when I saw them at a used book sale at a price that was too good to pass up. But I bought them enough that I had no room to store them in my NYC apartment alongside all the books I wanted to read, and own now. I usually lugged them home to my old closet in my parent's house in Michigan (sorry Parents!). Well – I've quit this habit now, it's no good. We will still move to a nice little house someday, but when that actually happens is when I will go out and enjoy hunting for books to fill it.
//
What bookish things have you quit? (Or what bookish habits do you NEED to quit? Or WILL NEVER quit?)