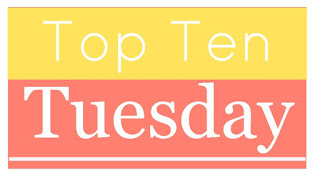 It's Freebie week for Top Ten Tuesday, hosted by The Broke and the Bookish, so I decided to use it as an opportunity to write about something that's been on my mind lately: authors whose work I've never read, but want/need to. Iconic authors who are glaring omissions in my "I've read that" lists.
Toni Morrison
This is by far the omission that feels the most ridiculous – how can I not have read any Toni Morrison? I bought a copy of Beloved this summer, and hope to get to it before the end of the year, once the Fall Releases / Galley madness slows down a bit.
John Updike
A heavyweight in the literary scene that I've somehow managed to not cross paths with thus far. (In literature – I'm aware that the opportunity to cross paths in person has unfortunately passed.) I own a copy of Couples that I got at a book sale somewhere, but I think I should probably start with the Rabbit series, yes?
Walter Isaacson
I'm an enthusiastic buyer of Walter Isaacson's biographies/non-fiction. I own three of them. I got to hear him speak at a conference a few years ago – he's smart and endearing, and a great storyteller. But those big biographies are still sitting on my shelves, unread. I started the one about Benjamin Franklin and was enjoying it, but then it got lost in the shuffle of life and was never finished.
Evelyn Waugh
Another heavyweight I've never read. I'd imagine that starting with Brideshead Revisited is the most obvious choice, but I've also heard great things about so many others. Are there any gems that make a better entry point to Waugh?
Henry James
I keep seeing quotes & passages from Henry James's novels, and they are all delightful. It's time that I actually read one of his novels. I want to start with The Portrait of a Lady because I absolutely love the painting on the cover of this edition. That's a good way to make a selection, right?
Stephen King
I'm not big on horror/thrillers, but I still feel like I need to try a Stephen King novel. Does anyone have a recommendation? The premise of 11/22/63 intrigues me, but I'm not sure if there's a better place to start.
George Orwell
I own 1984 and Animal Farm, and yet they sit on my shelves, unread. For no good reason.
Norman Mailer
I stated in a previous Top Ten Tuesday that I had no interest in reading The Naked and the Dead, but that doesn't mean that I don't want to read Mailer at all. I'm most interested in The Executioner's Song, but it's so long! I'll need to start it at a strategic time, when I have plenty of time to dive in. Should I read a different one in the meantime?
Salman Rushdie
Sigh. I've never read Salman Rushdie either. What should I start with? The Satanic Verses? Something else?
Barbara Kingsolver
Here's a more modern powerhouse that I've never read. I've owned The Poisonwood Bible for ages. My mom has often told me how great The Bean Trees is. It's time to get acquainted with Barbara. I think I'll start with The Poisonwood Bible, as I've been on a multiple-narrator kick / obsession lately.
//
What are your biggest unintentional "Author Omissions" … and who do you want to read next?
Can you assist in cornering me and making me read these 10 authors, ASAP? Do you have any advice on which books I should start with for the authors above? Please share!