My Inorganic Chemistry teacher in high school had a very dry, quiet sense of humor. He would spend a few minutes explaining the solution to a long equation and at the end he'd sometimes say, without changing tones, "Now doesn't that make your socks go up and down?"  I suppose that for some, Inorganic Chemistry did make their socks go up and down, but mine stayed firmly in place.
For me, the anticipation of getting my hands on all the big fall book releases that the publisher stack the end of the year with — that's what "makes my socks go up and down." Or, more accurately, makes me feel like this:
Here's a little preview of the fall books I'm most excited about this year: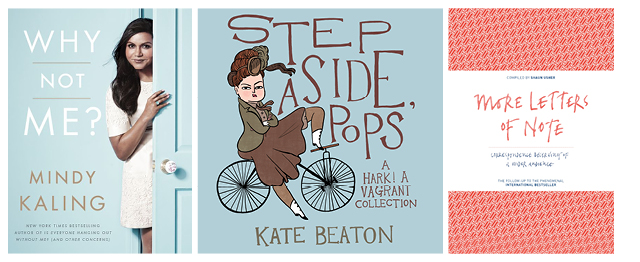 Why Not Me? by Mindy Kaling (September 15)
I have the audiobook edition of this pre-ordered on Audible, and I'm already looking forward to listening to Mindy chat at me while I walk to and from work.
Step Aside Pops by Kate Beaton (September 15)
If you have yet to discover the delightfulness that is Kate Beaton's comic collection Hark! A Vagrant, I recommend hightailing it to a store or library and grabbing it. It's full of smarts and playfulness, and it will please anyone who loves history and/or literature. Her follow up, Step Aside Pops, is sure to be lovely as well.
More Letters of Note compiled by Shaun Usher (October 1)
I really enjoyed Shaun Usher's first collection of fascinating & notable letters, and I'm looking forward to reading this sequel collection.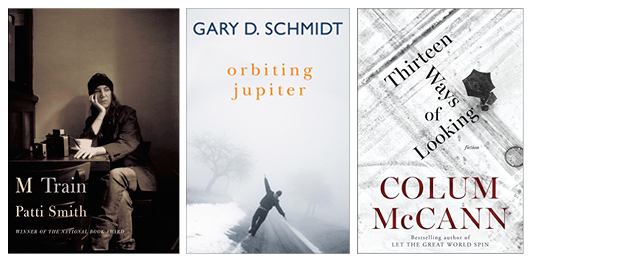 M Train by Patti Smith (October 6)
I was a bit floored by how much I loved Patti Smith's first memoir, Just Kids. It's stunningly beautiful. I absolutely cannot wait to read her follow up, M Train. I bought a ticket to see her speak about it the week it's released, which includes a copy of the book. I think I might also need this one on audiobook – hearing her read her work adds even more beauty to her writing.
Orbiting Jupiter by Gary D. Schmidt (October 6)
I think Gary D. Schmidt is one of the most talented middle grade writers out there right now. I especially love The Wednesday Wars, but everything he writes is unique and moving. From what I've heard, Orbiting Jupiter is no exception and I'm excited to read it.
Thirteen Ways of Looking by Colum McCann (October 13)
Glimpse into my inner monolog: "Colum McCann wrote something new? Yes I will need that right now thank you." It doesn't really take any more thought that that with some authors.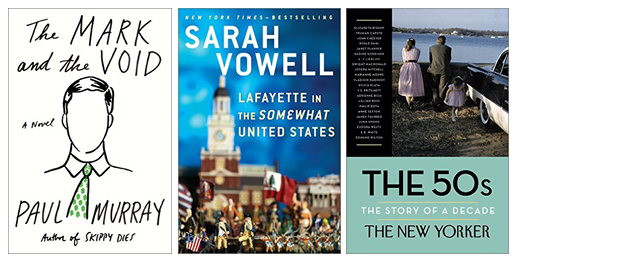 The Mark and the Void by Paul Murray (October 20)
I fell hard for Skippy Dies, which I initially bought because of the cover and the title. Luckily, I loved the inside too, most especially Paul Murray's writing and storytelling ability. This passage is one of my all time favorites, in any book. I was thrilled to get a galley of his latest novel at BEA, and I'm looking forward to reading it.
Lafayette in the Somewhat United States by Sarah Vowell (October 20)
Where Sarah Vowell leads, I will follow. (See Colum McCann above.)
The 50s: The Story of a Decade by The New Yorker (October 27)
I love a good collection of vintage writing from the New Yorker's glory days, and I'm a fan of their newest concept: collecting the fiction, essays, and reviews that best capture a decade and assembling them with introductions from current writers and editors. I have their first collection: The 40s, and it's a treat to open it up and immerse myself in whatever piece catches my eye. I'll be grabbing a copy of this one as well.
*One final note, I was majorly bummed to find out that Solutions and Other Problems by Allie Brosh (originally slated for a 10/27 release) has been moved back to April! 
//
What books are you most looking forward to this fall?