Summer is just whirling right along, isn't it? Graham and I spent the majority of July house & dog sitting – for my parents in Michigan, and for our friends Joe & Seth in New Jersey. It was a wonderful month, and now we're also kind of convinced we need a dog. ASAP. I got a decent amount of reading in last month, and some very quality books as well. Here's the rundown!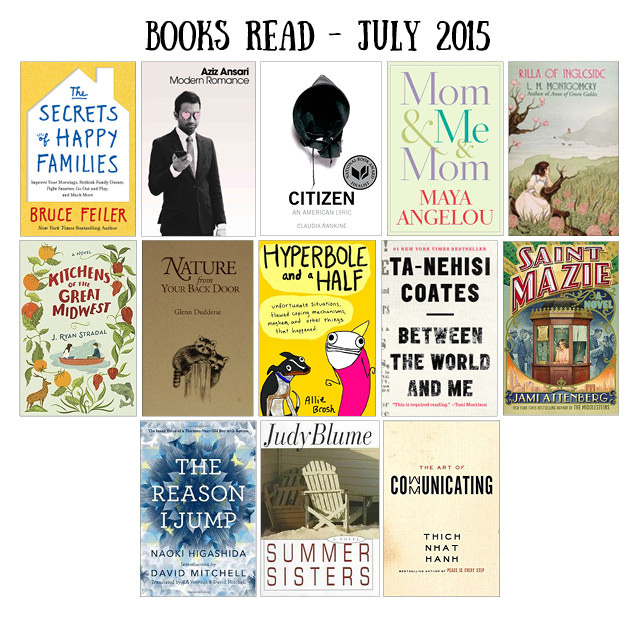 Books Read: 13
Already Reviewed:
FICTION
I picked up Saint Mazie by Jami Attenberg from the library to read while I was in Michigan. I enjoyed this one, but didn't quite *love* it. Maize is such a wonderful character – fun, loyal, sassy, and I love how independent and big-hearted she is. But something about the pacing of this one didn't quite work for me, maybe if it was a little more tightly edited, or if there was just a bit more emphasis on the bigger plot points. Still, it's definitely worth a read, particularly for the big brassy setting it conjures up in your mind: a vibrant New York City during the great depression.
I listened to the audiobook of Rilla of Ingleside, the last of the Anne of Green Gables series by L. M. Montgomery. It was an epic finale to the series, and a wonderful piece of historical fiction in its own right. I'll be sharing a post soon about all eight books.
NON-FICTION
I was curious about Bruce Feiler's book The Secret of Happy Families after hearing about how he adapted Agile development methods into his family life. (If you're curious about that too, check out his TED Talk.) I started a version of this concept myself: Graham and I plan out our upcoming week on Sundays, figuring out what events we have planned, what we want to accomplish, and what dinners we want to eat / food to buy. I've loved this routine, and I think it will be even more helpful once we're both working again. This book is much more than just that concept though: Bruce argues that there has been so much self-help focus recently on individual happiness and fulfillment, but not a lot about how to be happy & fulfilled as a family. He digs into the available research on family happiness and investigates how innovative companies approach team-building and fun, and then attempts to adapt those insights into his own family life. This book is particularly relevant to people with kids, but there's also a lot about building better romantic partnerships and relationships with your extended family. I listened to the audiobook of this one and enjoyed it; I think I might have struggled a little to get through a print copy.
I listened to Mom & Me & Mom by Maya Angelou on audiobook as well – walking the dog meant a lot of listening time in Michigan! This one is such a treat, it focuses on Maya's relationship with her mother and how her mom shaped her life. It's perfect on audiobook – hearing Maya's voice sharing the wisdom and beauty of her journey is powerful. I loved it.
I found & devoured a cute little nature guide called Nature From Your Back Door at the Friends of the Library book sale at the library my mom works at in Kalamazoo. It's written by Michigan State University professor Glenn Dudderer, and focuses on wildlife found in the state of Michigan. It explains the wildlife phenomenon you can witness from your backyard, and helps "backyard naturalists" better appreciate the complex and interesting natural world that's right outside their doors.
I picked up The Reason I Jump by Naoki Higashida from the library and read it while we were in New Jersey. Naoki Higashida, a teenage Japanese boy with Autism, wrote this insightful, beautiful book when he was 13 years old. I wish this quick little book was required reading to help everyone understand the unique ways of thinking and interacting with world experienced by kids with Autism. There's so much heart and brightness in this book, it's a wonderful read.
The Art of Communicating is the second book I've read by Thich Nhat Hanh. His Buddhist approach to life is so wise and simple that it feels obvious, but it's still powerful to read. It reminds us of things we know deep down, but that we need to hear and repeat and remind ourselves of every day to live our lives with an abundance of grace, mindfulness, kindness, and compassion. This one focuses specifically on communicating, and it's full of simple techniques for honest and mindful communication with ourselves and others.
RE-READ
I re-read the absolutely hilarious and wonderful Hyperbole and a Half by Allie Brosh in preparation for the sequel, which comes out in October. A week or so after I finished re-reading it, Graham started it on our train ride back from New Jersey. Despite the fact that I had just re-read it, I still couldn't resist reading over his shoulder and giggling again at the many funny parts. I could not be more excited for Solutions and Other Problems.
I'm putting Summer Sisters by Judy Blume in the re-reads section because before I picked it up this month I was so positive that I read it ages ago, in high school or early college. But after reading it, I'm not sure – I have NO memory of it. But that also could be a result of how much time has passed. Or maybe I owned it but never got around to reading it? Anyway – I loved it. Judy Blume is an absolute master. This book has so much heart and honesty. It's a tribute to young female friendships and captures perfectly how complex they can be. If you've never read it, grab a copy quick before summer ends – it's a perfect beach or vacation novel, and you'll want some summer sun overhead while you read it.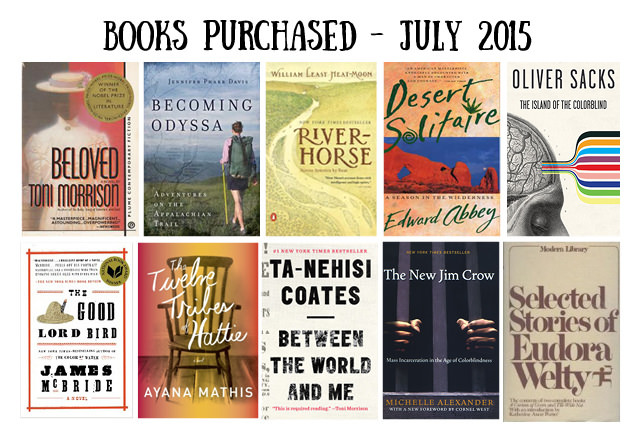 The majority of my books purchased in July were from the KPL Friends bookstore at the Kalamazoo Public Library in my hometown. We're lucky that this great book sale is open every week, Wednesday – Saturday, so we don't have to wait for occasional book sale events. That means I can go stock up on great books every time I visit home. The first 7 books in the above image were purchased there, for a grand total of less than $7. It doesn't get much better than that! I picked up Between the World and Me the day it was released and devoured it. The last two, The New Jim Crow and Selected Stories of Eudora Welty, I found at the lovely Chatham Bookseller last week, and they both became part of my book collection for under $10 total.
//
So that was July, another lovely month in books! What did you most enjoy reading in July?