I don't normally post stand alone reviews of middle grade or kid's lit books here, mainly because they don't make up a huge percentage of my reading, and I also like to pretend my reviews reflect some semblance of a strong identity as a reader. But I guess the biggest reflection my book reviews show is the true reader inside me – the one who reads widely and enjoys kid's lit, poetry, picture books, literary fiction, memoirs, graphic novels, cereal boxes, nature guides, Pulitzer winners, history books, travel writing, books about books, cookbooks, business books, self-improvement, philosophy, and on and on. And I'm ok with that. I hope people who find me here enjoy hearing about a variety of kinds of books, and don't mind skipping by the ones they aren't into.
As an adult, the perfect time to grab a middle grade or kid's lit novel is when you're maybe in a bit of a reading slump. You can't seem to get into anything you pick up. You're craving something you don't want to put down – something that hooks you immediately and brings back the joy of storytelling. That's the perfect time to dive into the excellent world of books for younger readers. After all, it's the age when many of us fell in love with reading in the first place.
So here's a new book by the wonderful Rebecca Stead. If you're already a fan of hers via her Newbery Winner, When You Reach Me, or Liar & Spy, I don't think Goodbye Stranger is likely to disappoint you. It's full of heart, and written with her particular brand of storytelling mastery.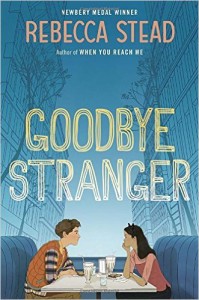 Two alternating storylines drive the plot in Goodbye Stranger, and we learn early on that they are destined to crash into each other on Valentine's Day. One storyline alternates perspective between members of a group of friends and builds consecutively through time up to February 14. The other is a single voice, shared in second person narration, taking place entirely on February 14. Despite the Valentine's Day centerpiece, the book is more about friendships than romance. It deals with so many issues on the minds of middle schoolers: the changing and evolving nature of friendships, snobby or mean "friends", true friends, the initial sparks of romantic interest, anxiety, what happens when adults let us down, and getting hit by a car because you are distracted by a cool vintage VW bug. Ok maybe the last one is not so universal. But don't worry – that's not a spoiler (it happens on page 2), and it's also not a tragic book.
Parents will probably be interested in the way Goodbye Stranger handles the issue of sexting and the way technology has changed the lives of teenagers in a way that has to be absolutely terrifying for parents. It handles this topic with so much truth and grace, and a touch of feminism too. I think it would be good for young girls to read this, and it avoids being preachy or disingenuous.
"That's what life is. Life is where you sleep and what you see when you wake up in the morning, and who you tell about your weird dream, and what you eat for breakfast and who you eat it with. Life isn't something that happens to you. It's something you make for yourself, all the time. Life is that half minute in the morning before your cat remembers she's kind of a grouch, when she pours out her love and doesn't give a flying newton who sees it." (page 281)
Affiliate links to buy Goodbye Stranger: IndieBound | Amazon
Disclosure: I received a copy of the book at Book Expo America.